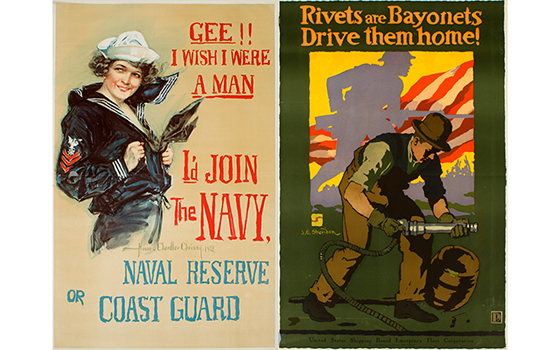 Opening Reception: Call to Action— American Posters in World War I
Thursday, September 11, 2014 at 5:00pm
Davison Art Center

FREE!
Opening Reception from 5pm to 7pm; Gallery talk by Curator Clare Rogan at 5:30pm
Following the declaration of war in Europe in August 1914, each of the rival powers adopted extensive advertising campaigns to recruit soldiers, encourage women factory workers, and raise the money essential for this new "total" war. Dramatic posters soon covered train stations, city squares, and stores, exhorting passers-by to new levels of patriotism and self-sacrifice.
After the United States entered the war in April 1917, Charles Dana Gibson founded the Division of Pictorial Publicity to organize American illustrators for war posters. Selected from the collection of the Davison Art Center, the exhibition Call to Action includes more than 30 American World War I posters designed by James Montgomery Flagg, Howard Chandler Christy, and others. These posters recruited soldiers, celebrated shipbuilding, called for women war workers, and urged homemakers to prepare alternative foods so wheat could be shipped to the army and allies overseas. With vibrant colors and dramatic strokes, the designers reinforced ideals of masculinity and femininity, as well as the integration of immigrants into a unified concept of American identity.

On display through Sunday, December 7, 2014.

Gallery open Tuesday through Sunday from Noon to 4pm.

Closed Sunday, October 19 through Tuesday, October 21; and Tuesday, November 25 through Monday, December 1, 2014.