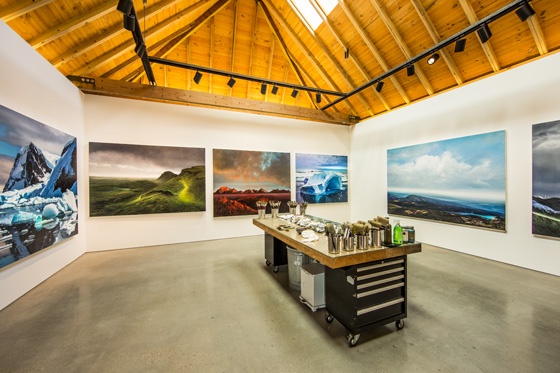 Panel Discussion: The Science of A World of Dreams
Tuesday, September 30, 2014 at 4:30pm
Main Gallery, Ezra and Cecile Zilkha Gallery
FREE!
"The Science of A World of Dreams" will include panelists Robert Schumann Professor of Environmental Studies Barry Chernoff, John Monroe Van Vleck Professor of Astronomy William Herbst, Professor of Computer Science James Lipton, and Harold T. Stearns Professor of Earth Science Johan Varekamp, and as moderator, Dean of Natural Sciences and Mathematics and Professor of Molecular Biology and Biochemistry Ishita Mukerji. The panelists will explore and discuss, from a scientific perspective, the new works created by Professor of Art Tula Telfair in the exhibition A World of Dreams.

The exhibition includes new large-scale paintings in which Ms. Telfair presents monumental landscapes and epic-scale vistas that are simultaneously awe-inspiring and intimate. She combines stillness with motion, solitude with universality, and definition with suggestion in her bold and quiet works. Ms. Telfair's paintings are fully contemporary in their inspiration and execution, demonstrating the spirit and potency of the genre adapted to a new century. Each painting evokes a sense of wonder and calls attention to the power and fragility of the environment. Her work has been described as a meditation on the field itself, fueled by memories of her experiences living on four continents. Ms. Telfair shares her private vision of the beauty and majesty of the natural world. More than a single moment in time, each scene is a continuum that develops a narrative of past, present, and future, indicative of nature itself.
Tula Telfair is a winner of the Binswanger Prize for Excellence in Teaching.  Ms. Telfair's work has been exhibited extensively in one-person and group exhibitions, and her work is in numerous public collections around the world. She is represented by Forum Gallery in New York City and Los Angeles. 

Co-sponsored by the Department of Art and Art History, and the Office of Academic Affairs.

Click here to visit the blog for this exhibition and read reflections about the works.

On display through Sunday, December 7, 2014.

Gallery open Tuesday through Sunday from Noon to 5pm.

Closed Wednesday, November 26 through Monday, December 1, 2014.