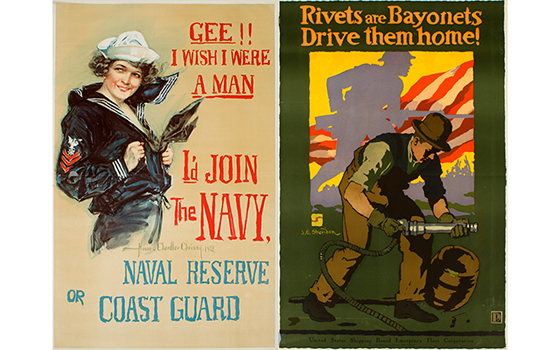 Posters, Propaganda, and the American Experience in World War I
Thursday, November 13, 2014 at 5:00pm
CFA Hall
FREE!
Roundtable discussion with Professor of English
Sean McCann
, Professor of History
Ronald Schatz
, and Olin Professor of American Studies, Emeritus
Richard S.
Slotkin
on the role of posters and propaganda in the mobilization of the United States during World War I. Topics will include the experience of immigrant and African-American soldiers, as well as the cultural response to propaganda, and tensions between state power and democracy.
The
Davison Art Center
will have extended gallery hours (from Noon to 5pm) on Thursday, November 13, 2014.
The exhibition "
Call to Action
— American Posters in World War I" is on display through Sunday, December 7, 2014.
The gallery is regularly open Tuesday through Sunday from Noon to 4pm.
Closed Sunday, October 19 through Tuesday, October 21; and Tuesday, November 25 through Monday, December 1, 2014.