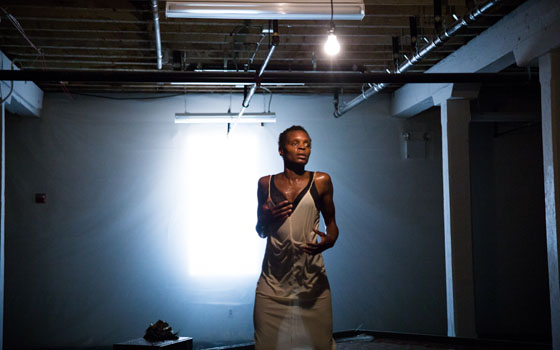 Okwui Okpokwasili: Embodied Performance/Making the Invisible Visible
Tuesday, July 21, 2015 at 12:10pm
CFA Hall
FREE!
Okwui Okpokwasili
is an active collaborator and creator in live performance, currently developing the work
Poor People's TV Room
. She is looking at the strategies of collective action among women's groups that led to the 1929 Women's War in Southeast Nigeria and the 2014 Bring Back Our Girls movement, among other historic movements, to construct an embodied narrative that investigates how to undo the erasure of women of color as active agents in their own liberation. At Wesleyan, she will discuss her attempt to make a singular performance piece that is not documentary or political agitprop, but a dynamic interrogation of the art of making a story, and the reading of race and gender in performance. Ms. Okpokwasili is the recipient of the 2015
Danspace
/
Institute for Curatorial Practice in Performance
Creative Artist Residency.
Ms. Okpokwasili is a New York-based writer, performer and choreographer. In partnership with collaborator Peter Born, she has created multidisciplinary projects, including
pent-up: a revenge dance
, which received a 2010 New York Dance and Performance "Bessie" Award for Outstanding Production. But her work in multidisciplinary performance is probably best exemplified by her ongoing artistic collaboration with Ralph Lemon, the "Bessie" Award-winning Artistic Director of Cross Performance, and longtime friend of Wesleyan University's Insitute for Curatorial Practice in Performance. After completing the 2010 tour of Mr. Lemon's
How Can You Stay...
, Ms. Okpokwasili performed an extended duet with Mr. Lemon in the Atrium at the Museum of Modern Art in conjunction with the exhibition
On Line: Drawing Through the Twentieth Century
. Ms. Okpokwasili also received a "Bessie" Award for her performance in the final part of Mr. Lemon's "Geography Trilogy,"
Come Home, Charley Patton
. Ms. Okpokwasili has performed as an actor in many productions, and has been selected for a number of artist programs and awards. She is a graduate of Yale University.