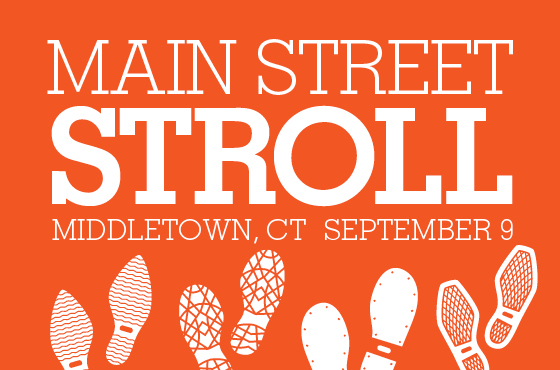 Main Street Stroll
Saturday, September 9, 2017 at 10:00am
Various locations on Main Street, Middletown
FREE!
Click here to view photos from this event on Flickr.
Stroll between Wesleyan's campus and Middletown's Main Street to enjoy two festive events in one day.
View and download a map and schedule of Main Street Stroll events.
A family-friendly celebration of Middletown's Main Street and the new Wesleyan RJ Julia Bookstore, the Main Street Stroll will feature music, street performers, specialty workshops, free admission at Kidcity Children's Museum, and much more from 10am to 4pm.
Click here to join this event on Facebook. Scroll down for details on open houses, workshops, and activiites!
Inspired by Fete de la Musique (also known as World Music Day), the sixth annual The MASH festival highlights Wesleyan's student music scene, with multiple stages on campus featuring everything from a cappella ensembles to student, faculty, and alumni bands.
Made possible by the City of Middletown, Middletown Downtown Business District, and Wesleyan University

WELCOME TO MAIN STREET STROLL!
Below is an evolving list of performers, workshops, and activities, alphabetical by location. On September 9th, a final map and schedule will be available online and in print, so you can plot an exciting route for your own Stroll. Please note that FREE DOWNTOWN PARKING will be available 9-5 at Court Street Parking Garage (courtesy of Hajjar Management)
PERFORMANCES, WORKSHOPS, DEMOS, ACTIVITIES, OPEN HOUSES (Alphabetical by location)
Adelbrook's Sense-Able Solutions (Lower Level of Riverview Center Suite 102)
Sense-Able Solutions provides occupational therapy for children and adolescents; and offers classes and play opportunities for children and families of ALL abilities. Come play with us today!
10:15-10:45am: Music and Movement Class (for kids ages 18- 38 months and their grown-ups)
11am-12pm: Yoga for Kids of ALL Abilities (for kids ages 3-12; grownups welcome)
12p-3pm: Open Gym (for all ages)  Climb on our playscape, have a scooter race with your friends, build a fort, conquer an obstacle course, play at the sensory table, or make a craft!
1-2pm: Sensory Supporter's Boot Camp Workshop
Kids can play in the gym while grown-ups learn more about sensory challenges and how to support individuals who have these challenges. This workshop is fun, interactive, and packed full of "Ah-ha, now I get it!" moments. It's open to parents, grandparents, coaches, scout leaders, business owners, religious ed/Sunday school teachers, and anyone else who works with and loves kids!
Amato's Toy and Hobby (395 Main)
12-2pm: TrainLand Display
Swing by Amato's toy store to check out their exhibit of toy trains old and new. The display features trains from the personal collection of founder and owner Vincent Amato, as well as newer models. While you're there, take advantage of the chance to browse all that this unique toy store has to offer!
ARTFARM (at Riverview Arcade)
1:30–3pm: A Couplet for a Cupcake-let!
Deliver two lines of Shakespeare to earn a mini-cupcake! Your couplet will be provided by ARTFARM, Middletown's own non-profit, professional theater company, led by Dic Wheeler and Marcella Trowbridge. Cupcakes will be provided by Fusion Bakery!
The Board Room (514 Main)
12-4pm: Free board games!
Let the games begin! Test your luck (and skill) on the Board Room's library of hundreds of new and classic board games. Food and drink are also available for purchase.
Brew Bakers (169 Main)
10am-12pm: Old-time Music Jam hosted by Brien Bradley (Wes '19)
1-2pm: Bluegrass Music Jam hosted by the Pitkin Pickers
Bring your love for string band music — and an instrument if you play — for some pickin' and singin' with these local jammers.
Butter (68 Washington)
1-4pm: Vintage Butter
Share a story inspired by a vintage treasure in this eclectic boutique (or bring a treasure in to show and tell) to enter a drawing for a $50 gift certificate.
Church of the Holy Trinity (381 Main)
9:30am-12pm on the lawn: French Connection painters
25 years ago, painters in the French Connection studied abroad together in France through Wesleyan's Graduate Liberal Studies program. Since then, they have continued to paint together, with founding members and new, in locations across Connecticut. Their work is exhibited in libraries, town halls, churches, historic buildings, and galleries — including MAC650 in Middletown, where they will exhibit their paintings during the second week of October.
10am–2pm in the Church: Middletown in Stained Glass
Drop in to join Parish Historian Diane Reed for a tour of the windows of Church of the Holy Trinity, installed between 1873-1874. Learn about their symbolism, the Middletown patrons who gave them, and the people in whose memory they were given.
10-10:45 Alastair Moock 
Alastair Moock is a 2013 GRAMMY Nominee and two-time Parents' Choice Gold Medal Winner. The New York Times calls him "a Tom Waits for kids" and The Boston Globe declares that, "in the footsteps of Pete Seeger and Woody Guthrie, Alastair Moock makes real kids music that parents can actually enjoy." Moock and Friends' live shows are rowdy, rootsy, singin' and dancin' fun for the whole family!
11am-12pm: Medusa, featuring Jocelyn Pleasant and Corey Hutchins 
Tap (re-)meets jazz in this adventurous quartet featuring Middletown percussionist and educator Jocelyn Pleasant, bassist David Uhl, guitarist Dan Liparini, and tap dancer Corey Hutchins.
12:30pm: Main Street Brass Band Parade with The Funky Dawgz, with a welcome from Wesleyan University President Roth 
Join The Funky Dawgz Brass Band and your fellow Strollers for a short sidewalk parade up one side of Main Street and down the other! Don't be shy — bring your own trumpet, guitar, kazoo, shaker, and/or dancing feet, and help us celebrate Middletown!
1-1:45pm: Funky Dawgz Brass Band 
Born at UConn, based in NYC, and with a trombonist (Marvin McNeill) beginning a PhD program at Wesleyan this fall, The Funky Dawgz are here to help Middletown party down! This internationally-touring 10-piece band plays a contagious mix of traditional New Orleans R&B, original music, hip hop, funk, and current hits with a brass twist. www.funkydawgzbrassband.com
2-2:45pm: Joyful Noise Praise Band
Holy Trinity's Joyful Noise Praise Band is a contemporary Christian band formed in 2005, based at Church of the Holy Trinity on Main Street, Middletown. The band was formed initially to add contemporary Christian music to the more traditional music of the Episcopal liturgy, and to encourage greater participation in the Church by young people. Over the years the band has grown and changed and is fully incorporated into the life of the Church, with the Sunday service on the 3rd Sunday of every month led by the Praise Band. The Praise Band also plays at other churches, coffee houses, and concerts.
3-3:45pm: Community Open Mic
It's your turn to shine! Bring your bandmates, or play solo and entertain Main Street Strollers at this community open mic. Each act plays 1-2 songs. To sign up, email rarbo@wesleyan.edu or drop by and see if there's a slot left!
Cinder + Salt (520 Main)
10am-6pm: Enchanted Forest Photo Booth
This playful design/printing company creates eco-friendly, stylish products, from T-shirts to ties, to tote bags (props: they printed our Main Street Stroll volunteer T-shirts). Drop in to snap a photo at their "Enchanted Forest Photo Booth," open all day.
Community Health Center, Inc. Rooftop Garden (675 Main)
10am-4pm: Open House
When Community Health Center, Inc. designed its new building in Middletown, it added a roof garden to absorb water runoff, cool the building, and provide educational opportunities for students and visitors. Catch this rare opportunity to enjoy the peace, quiet and beauty of this spectacular green space and snap a selfie with the Arrigoni Bridge!
11am-12:30 pm: Herb Gardening in Small Spaces (workshop)
Join Ben Davies from MARC Community Resources to learn about growing herb gardens in small spaces, how to use herbs, and their importance; plant and take home an herb of your choice. MARC: Community Resources empowers people with Intellectual and Developmental Disabilities (I/DD) to make their own life choices and aid in the fulfillment of their dreams through employment, housing, social, and community involvement and advocacy; they have been gardening on the CHC roof since 2013.
Family Wellness Center (635 Main)
10am-12:30pm: Face Painting
Drop in to Family Wellness Center for free face painting with Ana Ughetti — and find out about the free playgroups, support groups, parenting classes and children's activities offered year round here by Community Health Center, Inc.
It's Only Natural Market (575 Main)
10am-2pm: North End Farmers' Market and North End Action Team Info Table
11am-1pm: Wesleyan student musicians
This special Saturday farmers' market features Wesleyan's Long Lane Farm, Forest City Farms, and other vendors, with acoustic music from Wesleyan student musicians.
Kidcity Children's Museum (119 Washington)
9am-5pm: FREE admission
Middletown's renowned Kidcity Children's Museum offers three floors of imagination play for kids age 1 to 7 and their favorite grownups.
Klekolo World Coffee (181 Court)
12-2pm: Specialty Drink Tasting
Put a little pep in your afternoon Stroll! Middletown's renowned coffeehouse offers free samples of their specialty lattes, chais, cows, and more.
Ladybug Boutique (122 College)
12-3pm: Live music and book signing
Drop by Ladybug Boutique to enjoy the original songs and adventurous covers of singer/songwriters Dave Downs (Middletown Music Ambassador) and Danielle Krieger (Wes '19). Middletown author Elizabeth Lupaccino will be signing copies of her book, Food for the Soul: Daily Meditations for a Month of Transformation, for sale at the boutique. Light drinks and snacks will be served.
Mac 650 (650 Main)
10am-4pm: Drawing in the Gallery
Calling artists of all ages! Mac650 hosts still-life drawing from 10-4pm, and live (costumed) figure drawing from 1-4pm. Pencils and paper are provided; feel free to bring your own charcoal or other art supplies. MAC650 is an art gallery and performance space owned and operated by members of the North End Artist Cooperative, who are all working artists.

Main Street Market
2-3pm: Magic of Christopher Show
For over 30 years the Magic of Christopher has entertained audiences around the world with his incredible sleight-of-hand magic, mind-blowing mentalism, and a dry sarcastic wit. Kids will laugh at the slapstick, adults will chuckle at the one-liners, and all will be amazed by the show!  
Middletown Art Academy (508 Main)
11am, 2:15pm, 3:15pm: Sidewalk art demos  
4-5pm: Open House
Teaching artists from Middetown Art academy demonstrate pencil drawing (11:00), digital art (2:15) and mixed media (3:15) on the sidewalk; from 4-5, the public is invited upstairs to see the studio space and learn about Academy art classes for children and adults.
Middletown Fire Department Headquarters (533 Main)
10am-2pm: Firehouse Tours
Visit the Middletown Fire Department's Headquarters to catch a tour of the station, meet the firefighters on duty, and learn about the vehicles used for different emergency situations. Very child-friendly!
Middlesex Historical Society (151 Main)
1-4pm: Open House
Visit Middlesex Historical Society for free entry to A Vanished Port: Middletown & the Caribbean, 1750-1824. The exhibit showcases the luxurious life of merchants and sea captains in early Middletown through furniture and decorative art collections, and explores how Middletown's prosperity rested on the suffering of enslaved workers in the sugar monoculture of the English Caribbean.
Middlesex Music Academy (440 Main)
2-4pm: Music Teachers at the Mic
Specializing in high-quality music instruction for horns, woodwinds, strings, piano and drums, Middlesex Music Academy also offers instrument rental, sales and repairs. A rotating cast of music teachers will jam on the sidewalk — come meet these great players and browse the shop!
Middlesex YMCA (225 Main St., outside of Citizen's Bank)
10am-12:30pm: Family Games
Middlesex YMCA offers year-round programming at their headquarters on the corner of Union and Main; during Main Street Stroll, they'll be out on the sidewalk at 255 Main with a smorgasboard of fun physical games and activities (and prizes!) for the whole family.
Oddfellows Playhouse (128 Washington)
10am-2pm: Open House and Circus Arts Demos
Since 1975, Connecticut's largest year-round youth theater has offered engaging, accessible, multicultural performing arts programming that builds skills, encourages creativity, and strengthens community. Swing by for a tour led by Oddfellows' Young Artists Council; meet their fall teaching team; try on a circus costume, and test your skills at juggling, diablo, hula hooping and more! www.oddfellows.org
O'Rourkes Diner (728 Main)
2:30-3:30pm: Tea & Scones with Brian O'Rourke
Brian O'Rourke launched his restaurant career as a wee lad, peeling potatoes at his Uncle John O'Rourke's diner in the north end of Middletown. He and his cousin bought the business in 1977, and Brian has been infusing this Middletown hotspot with creative cooking and thinking ever since. Brian welcomes Strollers to join him in the side garden for Irish tea, fresh scones, and "town talk" about Middletown's past, present and future.
Pamela Roose Specialty Hand Knits and Yarn (88 Court)
11am-4pm: Make a Pompom Keychain or Backpack Pull
Pamela Roose is a yarn shop carrying a selection of high-quality yarns, from well-known yarn companies, for knitting and crochet. Stop by to make a free pom-pom key chain or backpack pull! While you're there, check out the shop's assortment of knitting needles, crochet hooks, notions, patterns, magazines & books. Lessons are available.
Parade Prep Headquarters (420 Main)
10am-12:30 pm: Free Crafts! Decorate a Hat, Paint a Parasol, Make a Wooden Harmonica
Planning to stroll in our sidewalk parade at 12:30? The headquarters is stocked with free and fabulous art supplies, so you can make your own hats, parasols, funky foot parade signs, and harmonicas and stroll in style!
Pedal Power (359 Main)
9-10am Community Bike Ride
Meet in front of Pedal Power at 9am for a relaxing ride across town and along the Connecticut River. Just a few minutes from the bustle of our lovely downtown, we'll be on River Road, pedaling through one of the many green wooded areas of central CT and keeping our eyes out for eagles and osprey. Our speed is the relaxed pace of the slowest rider, and the route is "out and back," so you can always turn around if you find it too challenging. Children under 16 are welcome with an accompanying adult. Helmets are required.
Pocketful of Posies, Main Street Market (386 Main)
1:00-2:00: Free samples for foodies!
Duck into Main Street Market, where the owners of A Pocketful of Posies and La Cucina invite you to taste gourmet goodies on their charcuterie board. Leave with your choice of a sample olive oil or vinegar.
Poets' Corner (by Liberty Bank, 315 Main)
11-2: Poetry Share
Write, listen and share with these Middletown poets!
Riverview Arcade
10am-2pm: Sidewalk Chalk Art with Middletown Recreation and Community Services
Join Middletown Recreation and Community Services in decorating our city streets! The Recreation and Community Services Department enhances the quality of life for all Middletown residents with regard to recreational, athletic, leisure, and senior services. Chalk will be available at the Riverview, so come on down and make your mark.
St. Vincent De Paul Soup Kitchen (617 Main)
2-4pm: Open House for Abby Carter portrait gallery
St. Vincent de Paul hosts a spectacular gallery of artwork that most Middletown residents never see: more than 200 sketches of soup kitchen guests by renowned children's book illustrator Abby Carter. Carter is Artist-in-Residence at SVP, where she encourages guests to create their own work — and offers to draw their portraits. The response has been tremendous, and the resulting gallery is a beautiful, moving celebration of the St. Vincent de Paul community. Assistant Director for Community Services, Lydia Brewster, will offer tours, and light refreshments will be served.
Spear Park
1-4pm: Play with Physics
Float down the sidewalk! Lift twice your weight! Play a slingshot symphony! Join Kidcity's exhibit builder Matt Niland and the Mercy High's Tech Tigers and experiment with the joys of simple machines and the wonders of physics.
Stage Left Dance (100 Riverview Center, Suite 100)
11-11:30am: Kids' Hip Hop Workshop
Get your groove on when Stage Left Dance opens their state-of-the-art dance studios for a free hip hop workshop at 11am. Their season begins September 11 with classes at both recreational and competitive levels—stop by any time to find out more!
Sweet Harmony Bakery and Cafe (330 Main)
11-12: Sweet Treat Samples
Tat Wong Kung Fu Academy (42 Washington)
11:45am-12:15pm: Free class and Kung Fu demonstration
Tat Wong Kung Fu Academy has been in Middletown for 25 years, teaching the skills, discipline, excitement and values of Kung Fu to students age 4 and up. Join Sifu Daniel Ostrow to learn about the oldest of martial arts and try a few moves yourself! We'll do a short demonstration of our style of Kung Fu, then an easy class for all ages. Bare feet, comfortable clothes, and an open mind are all you need.
Tesoro Artisan Gift Boutique (680 Main)
12-3pm: Free children's crafts
Work with an artist to make simple jewelry or a handmade card.
The Buttonwood Tree (605 Main)
12:30-2pm: Songwriting Workshop with Jess Best  
Join Jess Best (Wes '14) as she breaks down her songwriting process, showing the progression from the first seed of a song idea to a full-band arrangement. In this fun and interactive workshop, Jess will share some of the tools she and her bandmates use in their songwriting process, as well as do a group improvisation. Don't miss her performance on Wesleyan's Foss Hill at 6:30 pm! Jess Best is a NYC-based vocalist and songwriter who tells stories through sound and emotion. Her recent release, Saturday, is deeply rooted in soul and r&b while also fearlessly jumping into the pop end of the pool.
2:30-4pm: Jazz Jam hosted by Noah Baerman  
Have you always wished you could play with a great jazz combo? Here's your chance! Bring your voice and/or your instrument to The Buttonwood Tree to jam with Noah Baerman (piano), Becket Cerny (drums) and Connor Schultze (bass). Come with song or two to play (and chord chart or lead sheet to share), or just come to listen. Noah Baerman is a Jazz pianist, composer, educator, author and activist. He has released nine albums as a bandleader and ten music instructional book. He is founding Artistic Director of the non-profit Resonant Motion and director of the Wesleyan Jazz Ensemble. Becket Cerny is a drummer-percussionist, composer and educator from Los Angeles; he studies ethnomusicology at Wesleyan University and performs with various student ensembles on campus. Connor Schultze is a New York CIty-based bassist, guitarist, songwriter, and producer. A graduate of Manhattan School of Music's jazz program, he also performs with Jess Best, who is headlining The MASH festival on September 9th on Wesleyan campus.
The Coffeehouse Recording Studio (510 Main)
2-4pm: Original Songwriters Showcase
Stop by The Coffeehouse Recording Studio (510 Main Street - down the tunnel) to experience five area music artists performing and recording their original material in an intimate, open-house setting. Visitors can enjoy walking through the studio and control room while the recorded live performances take place. As an added bonus, The Coffeehouse's neighbor Brewbakers Café will be manning a free iced coffee station just outside the studio doors, next to outdoor loudspeakers broadcasting the music — providing another fun way to enjoy each other, and the recorded performances within. Artists: Kevin Day (also of the group Gigglejuice), Ashley Hamel, The Wyrd Brothers, Terry Rand (also of The Terry Rand Band), Moses Randolph. Recordings will be Produced and Engineered by The Coffeehouse's owner, Michael Arafeh.
Tschudin Chocolates & Confections (100 Riverview Center)
11am-4pm: Chocolate-making demonstrations
Wander into the wonderful world of chocolate at this small artisanal chocolate factory. Look for ongoing chocolate-making and sculpture demonstrations throughout the day!
Various Locations
10am-4pm: Middletown Sound
Anthony Dean (Wes '17) designed this audio installation to re-interpret, re-hear, and re-present the soundscape of Middletown, CT using field recordings, sound collage and digital manipulation. Put on a helmet in any of the four locations to experience your surroundings in an entirely new way. Look for two installations downtown and two on camps: at Wesleyan RJ Julia Bookstore, Community Health Center Rooftop, Wesleyan's Exeley Science Center patio, and Wesleyan's Usdan Huss Courtyard.
Vinnie's Jump and Jive (424 Main)
10am-5pm: Dance Class Demos
Middletown's own community dance studio offers a full day of dance class demos! No experience needed — just drop in for a half hour of belly dancing, salsa, swing, B-boy/b-girl, hip hop, line dancing, and more. Vinnies' motto is "All kinds of dance. All kinds of people." Don't be shy — that means YOU! www.vinniesjumpandjive.com. Here is the full schedule:
9-9:30am: 'Syncopation' cardio dance & body sculpting with Sue Cox  
9:45-10:15 am: Power Yoga with Rachel Hedrick  
10:30-11:15am: Zumba, Kids Dance with Merly De La Hoz Cookson
11:30am-12:00pm: Tap with Kate Cavenaugh
12:30-1:00pm: Country Line with Jim Gregory
1:15-1:45pm: Hip Hop with Nicole Cellini 
2:00-2:30pm:  Breakdancing with Bryan  Giles
2:45-3:15pm: Belly Dancing with Ghia Khalsa
3:30-4:30pm:  Swing Dance with Janet Hay
At Wesleyan RJ Julia Bookstore (413 Main)
10:30-11am: Children's Story Hour
RJ Julia hosts weekly Saturday morning read-aloud stories for kids; for Main Street Stroll, we welcome Middletown Mayor Dan Drew as our VIP reader!
11-11:45am: Polly Fiveash and Anand Nayak
Polly Fiveash (Wes '98) & Anand Nayak (Wes '96) have been making music together ever since they started in the stairwells of Butterfield more than 20 years ago. Their songs are deceptively simple, often blending the sublime and the ridiculous. Anand's spare guitar arrangements and harmony frame Polly's achingly beautiful lyrics and voice.
12-12:45pm: Anitra Brooks
In delivering her truthful, courageous original songs, Anitra Brooks' warm, resonant contralto ranges from ethereal and tantalizing to soulful and grounded. The Connecticut-based singer-songwriter accompanies herself on ukulele and piano, blending pop, jazz, folk and blues with a side of reggae and Latin. Her music - which often comes to her while she is dreaming - is infused with inspiration drawn from some of her favorite artists: Lila Downs, Lhasa de Sela, Bjork, Ozomatli, Peter Gabriel, Esthero, D'Angelo, and Prince. www.anitrabrooksmusic.com
1-1:30pm: Chamber music with Nadya Potemkina 
Violist Nadya Potemkina directs the Wesleyan Orchestra and Concert Choir; for this short program of classical music, she is joined by Wesleyan student instrumentalists.
2-3:30pm: Author Talk Featuring Anthony Renzoni, author of Connecticut Rock n' Roll: A History 
Find Tony Renzoni at RJ Julia Bookstore to learn about rock n' roll in Connecticut, including the Highwaymen folk group that came together as freshman at Wesleyan! Long neglected in the annals of American music, the Nutmeg State's influence on the history of rock'n'roll deserves recognition. A graduate of Sacred Heart University, Tony Renzoni is a rock 'n' roll enthusiast and an avid collector of rock memorabilia, amassing a record collection of over ten thousand vinyl records. With in-depth interviews as well as rare, never-before-seen photos, Renzoni leads a sonic trip that captures the spirit and zenith of the local scene.
WESU Radio Station (45 Broad)
11am-1pm: Radio Station Tours
Middletown's community/college radio station will be open for tours from 11am-1pm. This beloved local radio station serves our community with an eclectic range of music, political engagement, and opportunities to learn about radio production through practice. Speakers outside the studios let you listen to 88.1, so enjoy music while you wait (the station is small, so tours take 5-6 people at a time.
Yoga in Middletown (438 Main)
1-2:30pm: "Ask a Yoga Expert" with Sandra Koppell
Curious about yoga? Stop by to learn more! Studio owner and instructor Sandra Kopell will answer questions in an informal group setting about ways your skeletal alignment can be improved through yoga to benefit your overall health (please note: this is not medical advice). Questions about yoga history and philosophy are welcome, as well. No yoga experience is necessary, but do wear stretchy, comfortable, clothes if you would like to try some poses. This day will also initiate a sale of used books about yoga, ayurveda, spirituality, Eastern thought, the human body and human  movement (cash only). Proceeds will go to the Immigrant Bail Fund (immigrantbailfund.org) Unsold books will remain at the studio so students can peruse them at their leisure throughout the fall. Sandra Kopell, E-RYT, M.A.L.S.. has been teaching yoga since 1991, and practicing yoga since 1985. She is a graduate of the B. K. S. Iyengar Teacher Training Program of Greater Boston and holds an M.A.L.S. From Wesleyan University in Dance and Movement Studies. http://yogainmiddletown.com/
Other cool things to check out downtown on September 9th
Middlesex Historical Society (151 Main)
10am-12:30pm: Civil War Preservation March
Learn about our Middletown's Civil War history as you accompany members of Company G of the 14th Regiment Connecticut Volunteer Infantry in this annual Civil War Presentation March. The march begins at the General Joseph Mansfield House (151 Main Street) and ends at the grave of General Mansfield in Indian Hill Cemetery (383 Washington Street). Admission is $10.
Russell Library (123 Broad)
10am-2pm: Friends of the Russell Library Book Sale
Stop by Russell Library's monthly book sale for great deals on gently-used books for all ages.
Wesleyan University Campus 2-7:30pm: The MASH
Inspired by Fête de la Musique (also known as World Music Day), the MASH is back for its sixth annual celebration of Wesleyan student music. Three stages around Wesleyan's campus will host an eclectic mix of student sound (featuring alum Jess Best '14!), as well as poetry, visual art, and dance, plus a community drum circle from 2-4! Visit the MASH 2017 Facebook event page for performance schedules, ways to get involved and all updates on this year's MASH!