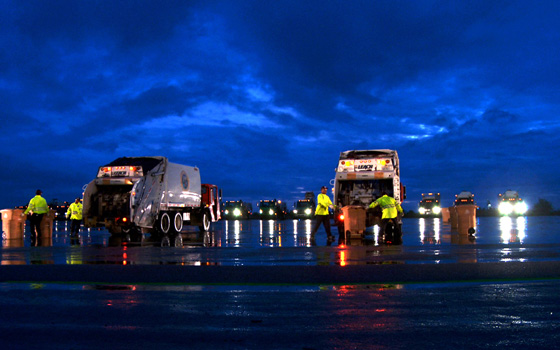 Film Screening: Trash Dance
Wednesday, September 13, 2017 at 5:00pm
Usdan University Center, Room 108, 45 Wyllys Avenue, Middletown
FREE!
Inspiration can be found in unexpected places. Choreographer and '15-'16 College of the Environment Fellow Allison Orr finds beauty and grace in garbage trucks, and in the unseen men and women who pick up our trash. In Trash Dance, filmmaker Andrew Garrison follows her as she rides along with Austin sanitation workers on their daily routes to observe and later convince them to perform a most unlikely spectacle.

A light dinner will be provided. Following the film screening, from 6:30pm to 7pm, there will be a Q&A and info session for the weekend "How to Pull Off the Impossible" workshop.
Film screening sponsored by Wesleyan University's Center for the Arts, Dance Department, and College of the Environment.

"How to Pull Off the Impossible" is a workshop for artists, activists, and artist-activists led by community-based artists Allison Orr and Clara Pinsky '16 of Forklift Danceworks. The workshop will be held on Friday, September 15 from 4pm to 8pm (including dinner); Saturday, September 16 and Sunday, September 17, 2017 from 2pm to 5pm. Contact Gretchen LaMotte '18 for more information. Workshop space is limited, please register by midnight on Thursday, September 14, 2017.

"Trash Dance" was screened, followed by a conversation with Forklift Danceworks, on Tuesday, October 20, 2020 at 8pm.