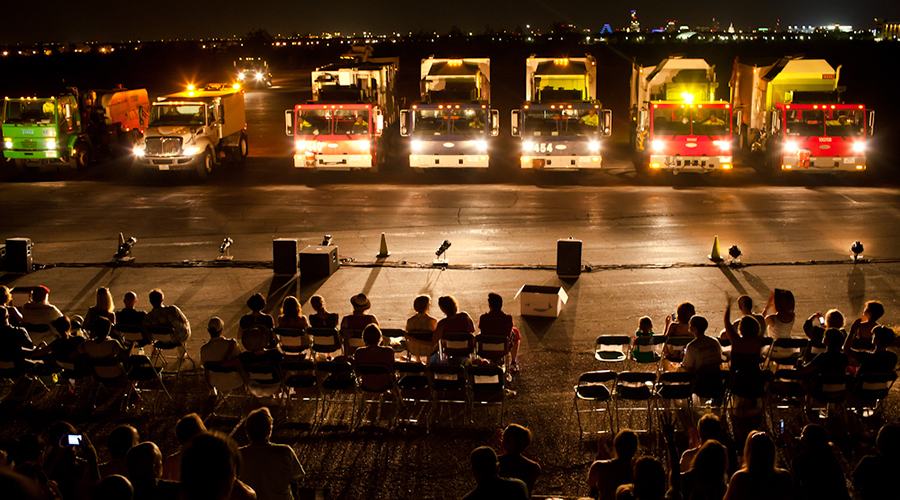 "Trash Dance" Film Screening and Conversation with Forklift Danceworks
Tuesday, October 20, 2020 at 8:00pm
Conversation on YouTube Live

FREE!
Stream Trash Dance from Olin Library anytime with a Wesleyan ID here.
Before the conversation, join the Amazon Prime watch party at 7pm (you must be a member of Amazon Prime) by signing up on this Google form. Details will be e-mailed to you on the day before the screening.
A virtual conversation with members of Forklift Danceworks about their film Trash Dance offers a chance to learn more about their community-engaged choreography in advance of their artist residency at Wesleyan in 2021.

Forklift finds creative inspiration in unexpected places. In Trash Dance (2012), choreographer Allison Orr finds beauty and grace in garbage trucks, and in the unseen men and women who pick up our trash. Filmmaker Andrew Garrison follows Orr as she rides along with Austin sanitation workers on their daily routes to observe and later convince them to perform a most unlikely spectacle. 

Panelists for the conversation include Forklift Danceworks' Artistic Director and Wesleyan Distinguished Fellow in the College of the Environment Allison Orr, Forklift's Community Engagement Advisor Don Anderson (who also stars in Trash Dance), Wesleyan Plumbing Shop Foreperson Dean Canalia, and Tamara Rivera '21. Moderated by Chair of the Dance Department and Professor of Feminist, Gender, and Sexuality Studies Hari Krishnan. Questions from the audience will be taken from the YouTube and Facebook live comments.
Conversation also available to view on Facebook Live.

Trash Dance was previously screened in the Usdan University Center on Wednesday, September 13, 2017 at 5pm.


 
Photo above by Leon Alesi.