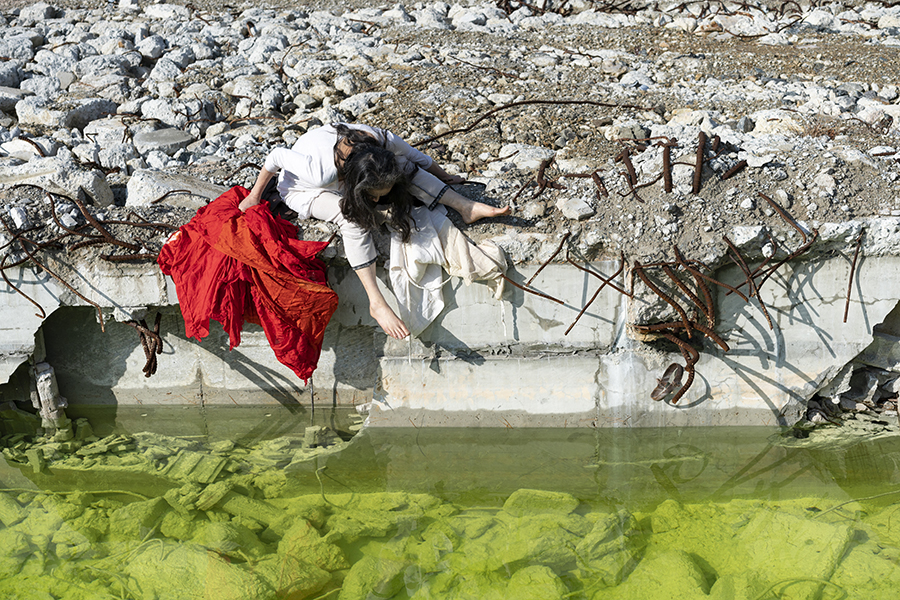 A Body with Fukushima: Film and Performance [NEW DATE - SOLD OUT]
Saturday, May 22, 2021 at 8:30pm
Outdoors between World Music Hall (40 Wyllys Avevnue) and the Music Studios building
[SOLD OUT] FREE! RSVP required. For Wesleyan students, faculty, and staff.
Rain date: Sunday, May 23, 2021 at 8:30pm

"Ms. Otake...often goes where death has been, attuned to the histories, however painful, of her chosen place."
—The New York Times review by Siobhan Burke: "In This Dance, Death Is Out in the Open." Eiko Otake's performance at Green-Wood Cemetery in Brooklyn honored the ghosts in our midst.
A Body with Fukushima is a live performance work by Eiko Otake with projections of A Body in Fukushima, a video she edited from selected photographs taken by William Johnston during their five trips to Fukushima. Marking ten years since the triple disaster—the earthquake, tsunami, and nuclear meltdowns—in March 2011, Eiko will perform outdoors while projecting the Fukushima landscape and her body in Fukushima onto the wall of the Music Studios building. The performance features an original score by violinist David Harrington, founder and artistic director of the Kronos Quartet, who played thinking of the grave nuclear disaster and his friend Eiko performing in desolate Fukushima.

Eiko's intention is to make her body a conduit between viewers' now/here to post-nuclear meltdown Fukushima. Eiko will move at times with the projection, or against it, coming to stillness, sometimes moving the projection itself by pushing a cart with a projector on it. She layers images and further distorts the already broken landscape of Fukushima. The never before seen images captured during their most recent trip in December 2019 visit reveal the ongoing nature of this nuclear disaster and how Fukushima's landscape has been further altered.

This special screening is the United States premiere and the first outdoor performance of the work.

Eiko Otake, Visiting Artist in Residence in Dance, edited this newly updated 75-minute rendering of A Body in Fukushima over the course of 2020 during her virtual creative residency at Wesleyan. The film includes hundreds of photographs taken by John E. Andrus Professor of History and Professor of East Asian Studies, Science in Society, and Environmental Studies William Johnston of Eiko in the surreal, irradiated landscapes of post-nuclear meltdown Fukushima, Japan. The work traces their trips to the evacuated, desolate environment.
View the A Body with Fukushima program notes here.
The book A Body in Fukushima by Eiko Otake and William Johnston, a photographic account of the extended solo performance in irradiated Fukushima between 2014 and 2019, will be published by Wesleyan University Press on June 1, 2021.
for Asia Society with photo credit from Eiko and Koma on Vimeo.
Further reading:

The exhibition A Body in Fukushima featuring color photographs and videos from 2014 was on display in Wesleyan's Ezra and Cecile Zilkha Gallery, Davison Art Center, and College of East Asian Studies Gallery at Mansfield Freeman Center from February through May 2015.

In November 2016, Eiko Otake and William Johnston showed images from their third visit to Fukushima in August 2016 in Ring Family Performing Arts Hall as part of "Why Collaborate?—Why Fukushima? Dance, Photography, History."

Work from their visits in the summers of 2016 and 2017 were displayed in the South Gallery of the Ezra and Cecile Zilkha Gallery in January and February 2018 in the exhibition A Body in Fukushima: Recent Work.

In 2017, Eiko started The Duet Project, an open-ended series of cross-disciplinary, cross-cultural, and cross generational experiments with radically diverse artists both living and dead. Listen to Eiko's Fireside Chat on the Artists in Presidents website.

Invited by the Center for the Arts, Eiko started work on her virtual creative residency in March 2020. Her Virtual Studio is where she posts her new creations, dialogues, and reflections. The studio also includes her work with collaborators and their voices. In working at her Virtual Studio, Eiko says she is no longer content being just a dancer/choreographer. From the studio, she observes and reaches out to the world, the world full of movements—social, political, natural, and emotional. Read more about the project from Interim Director Jennifer Calienes on the Center for the Arts blog.

Eiko Otake presented "An Artist's Practice in the Year of Pandemic and Political Cries," a tour and post-election conversation in her Virtual Studio with two of her collaborators, DonChristian Jones '12 and Iris McCloughan '10, who also moderated the discussion on Sunday, November 15, 2020 at 7pm:



Eiko joined Shawn Womack, a professor of Colorado College's Theatre and Dance Department, to discuss Eiko's history of solo work, her relationship with site—from Philadelphia's 30th Street Station in 2014 to Green-Wood Cemetery in 2020—and performance as a practice of dying. Their conversation, followed by Eiko's edited video work "Attending," was presented online by the Colorado Springs Fine Arts Center at Colorado College. "Attending" was the third piece Eiko edited during her 2020 virtual creative residency hosted by Wesleyan University's Center for the Arts. Video and sound edit by Eiko Otake. Soundscape created in collaboration between Eiko Otake and David Harrington. Photos by William Johnston.

Image: Eiko at Tomioka Sanitation Plant Ruins , 2019 1223, No. 0034. Photo by William Johnston.