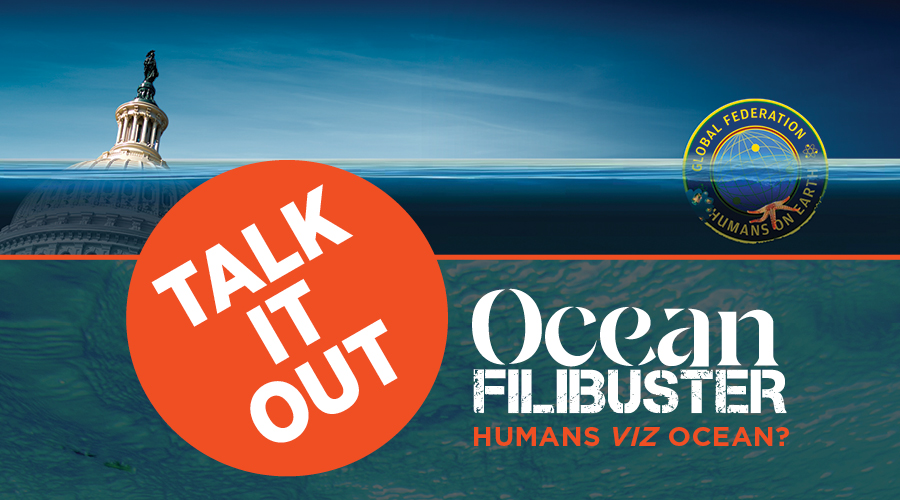 Talk It Out and Artist Book Open House: Humans viz Ocean?
Thursday, April 6, 2023 at 5:30pm
Olin Library, Special Collections and Develin Room, 252 Church Street, Middletown, Connecticut

FREE! Reservations required.
5:30pm to 6:30pm: Art Book Open House in Special Collections and Archives 
6:30pm to 8pm: pizza dinner and "Talk It Out" in Develin Room (Olin 204)
Associate Professor of Anthropology and Science in Society Joseph Weiss, Associate Professor of Philosophy and Feminist, Gender, and Sexuality Studies Elise Springer, and the Ocean Filibuster cast will talk out the human/ocean relationship at 6:30pm in the Develin Room, following a hands-on viewing of ocean-related artist books from Wesleyan Library's Special Collections and Archives at 5:30pm.

Read "Artists and Academics Discuss Climate Change" in The Wesleyan Connection.
This event is part of the Ocean Filibuster: Art and Action series, a semester of art and activism, science and storytelling—building to the Connecticut premiere performance of PearlDamour's Ocean Filibuster in the CFA Theater on May 4–6, 2023. For more information and related events, visit wesleyan.edu/cfa/ocean.
Read "Connecticut Premiere of 'Ocean Filibuster' Takes Place May 4-6" in The Wesleyan Connection.

Ocean Filibuster and related events are supported by Wesleyan University's Center for the Arts, Theater Department, College of the Environment, and Allbritton Center for the Study of Public Life. Additional support provided by the New England Foundation for the Arts and National Endowment for the Arts.
Read about some resources and ways to get involved and support the environment.