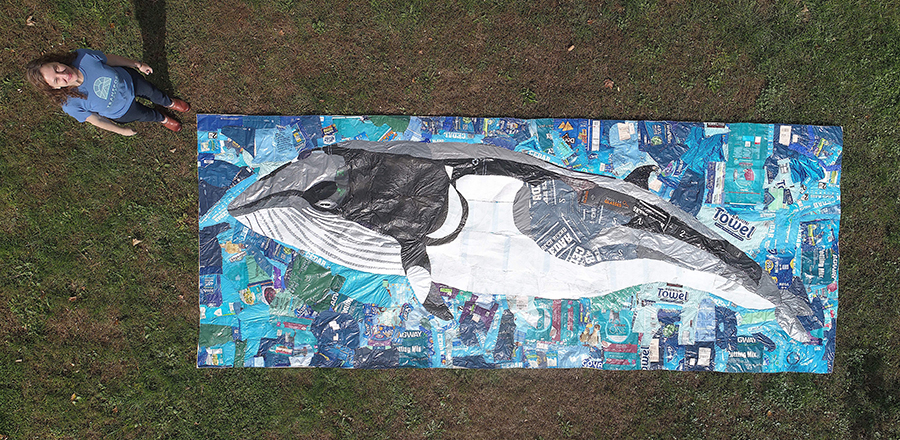 Sea Creature Sewing: Entangled and Ingested
Friday, April 14, 2023 at 11:00am
Huss Courtyard—outside of Usdan University Center, 45 Wyllys Avenue, Middletown

FREE!
Rain location: Fayerweather Studio, 55 Wyllys Avenue, Middletown

Researcher and artist Dr. Katharine Owens is creating a series of life-sized murals of sea animals harmed by plastic pollution. Help sew a new ocean mural from discarded plastic and learn more about plastic pollution. No sewing skills or experience are required.
Dr. Katharine Owens is a National Geographic Explorer, a Fulbright-Nehru fellow, and a Professor in the Department of Politics, Economics, and International Studies at the University of Hartford in Connecticut. She is an interdisciplinary scholar who merges science, policy, and the arts on the topic of plastic pollution.

Read "Artists and Academics Discuss Climate Change" in The Wesleyan Connection.
Learn more about Owens' previous Middletown installation in the Middletown Press and fox61.com.
This event is part of the Ocean Filibuster: Art and Action series, a semester of art and activism, science and storytelling—building to the Connecticut premiere performance of PearlDamour's Ocean Filibuster in the CFA Theater on May 4–6, 2023. For more information and related events, visit www.wesleyan.edu/cfa/ocean.

Read "Connecticut Premiere of 'Ocean Filibuster' Takes Place May 4-6" in The Wesleyan Connection.
Ocean Filibuster and related events are supported by Wesleyan University's Center for the Arts, Theater Department, College of the Environment, and Allbritton Center for the Study of Public Life. Additional support provided by the New England Foundation for the Arts and National Endowment for the Arts.
Read about some resources and ways to get involved and support the environment.