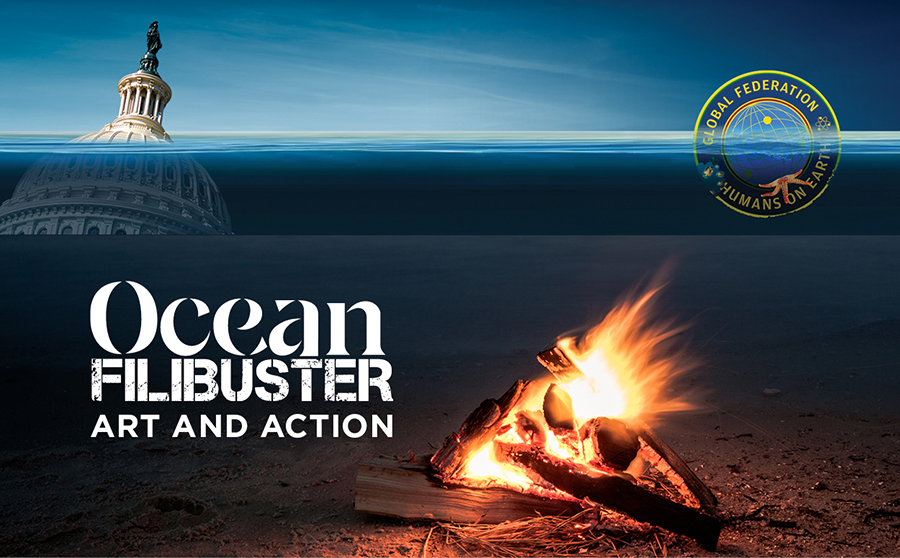 Fireside Ocean Jam
Friday, April 21, 2023 at 8:00pm
CFA Courtyard Pop-Up Fire Pit, 283 Washington Terrace, Middletown, Connecticut

FREE!
Rain location: World Music Hall, 40 Wyllys Avenue, Middletown, Connecticut

Assistant Professor of Earth and Environmental Sciences Raquel Bryant and Assistant Professor of Theater Katie Pearl host an informal fireside cabaret. Sing, tell stories, and dive deep into a celebration of the ocean-human ecosystem from 8pm to 11pm.

Read "Artists and Academics Discuss Climate Change" in The Wesleyan Connection.
This event is part of the Ocean Filibuster: Art and Action series, a semester of art and activism, science and storytelling—building to the Connecticut premiere performance of PearlDamour's Ocean Filibuster in the CFA Theater on May 4–6, 2023. For more information and related events, visit www.wesleyan.edu/cfa/ocean.

Read "Connecticut Premiere of 'Ocean Filibuster' Takes Place May 4-6" in The Wesleyan Connection.
Ocean Filibuster and related events are supported by Wesleyan University's Center for the Arts, Theater Department, College of the Environment, and Allbritton Center for the Study of Public Life. Additional support provided by the New England Foundation for the Arts and National Endowment for the Arts.
Read about some resources and ways to get involved and support the environment.