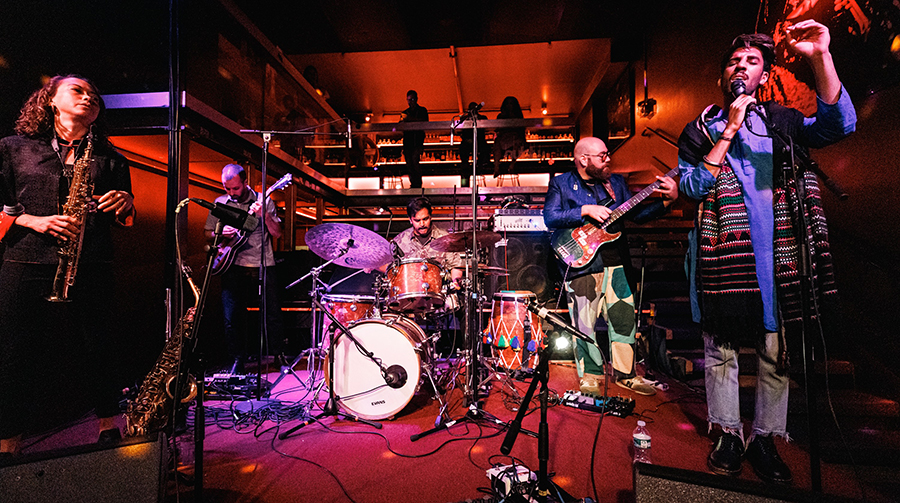 Concert by Sunny Jain's "Wild Wild East"
Saturday, September 23, 2023 at 2:00pm
Crowell Concert Hall

FREE!
This event will move indoors due to the forecasted rain. 

"Many of these compositions are intellectually thrilling to unravel. In 'Wild Wild East,' shimmering walls of sound feel like floating face-down in a pool and watching light patterns dance on the floor."
—Pitchfork

The Center for the Arts' 50th Birthday Party kicks off with a free, jubilant performance by Brooklyn-based composer and dhol (double-headed drum) player Sunny Jain's "Wild Wild East," which has turned the myth of the American West on its head to reflect on his experience as a first-generation South Asian-American and global musician. The band's inspirations range from Punjabi folk traditions and the scores of Bollywood classics and Spaghetti Westerns to jazz improvisation and rollicking psychedelic styles. This performance in Crowell Concert Hall at Wesleyan is the band's Connecticut debut.

Dance with family and friends at this concert. The afternoon's activities will also include art activities and tours of several spaces in the eleven-building complex, which was designed by Kevin Roche/John Dinkeloo and Associates and opened in September 1973. See a full listing of events and activities.

One of Jain's earlier projects, the band Red Baraat, has combined bhangra (Punjabi folk dance), hip hop, jazz, and rock since 2008. Jain has also performed with Peter Gabriel, Planet Drum, Norah Jones, Vijay Iyer, and Himanshu Suri '07 (of Das Racist), among many other artists.
Read a blog post about Sunny Jain by Wesleyan Jazz Ensemble Director Noah Baerman.