WesPortal
WesPortal is your online gateway to the University, with important academic processes including your academic history, course pre-registration, drop/add, and housing assignment. WesPortal also helps you monitor progress towards graduation. Beyond these core academic functions, your WesPortal also provides access to your Wesleyan email and Google Docs accounts, class blogs, enrollment and personal data information, and student account balance and payment tools. 
Mid-June you will receive an email including the credentials for your Wesleyan email account. You will use these credentials to login to your WesPortal.
When you login to WesPortal you will see the New Student Checklist and Resources needed for all your activities this summer. 
New Student Checklist and Resources
An example screen shot of the New Student Checklist and Resources in WesPortal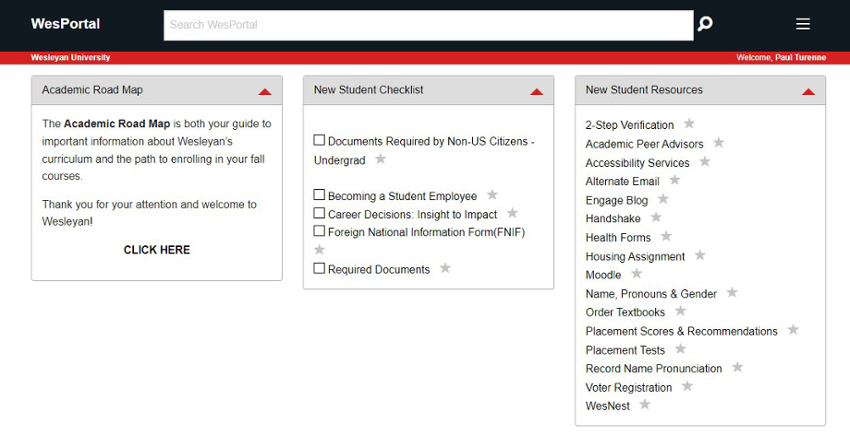 Academic Road Map
Throughout the summer, you will complete the three phases of the Academic Road Map to better learn about the Wesleyan curriculum, course registration, and academic support resources. This comprehensive tool includes academic highlights, detailed course information, reflection questions, and the an introduction to the pre-registration system. Exploration is a hallmark of liberal learning and this work is the first step toward your academic success.
By the end of the summer, your efforts will result in:
a blossoming partnership with your liberal arts advisor,
the beginnings of a fall course schedule,
an informed foundation for your academic journey, and
identifying academic services and programs.
An example screen shot of the Academic Road Map