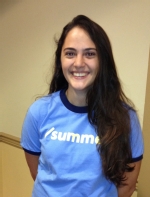 Marissa "Danger" Napolitano '13:
An Accidental Student in Digital Photography
"I'm a Studio Art and Religion Major. I had almost everything fulfilled just because I like art and art history but then I found out that I needed to take an extra studio class. And then it turned out that I didn't. But I wouldn't do it differently if I could!
I was always into photography, but just had a point and shoot camera for the longest time. But I was completely inexperienced and really scared of things like Photoshop. For class, you have to get a good camera, and I wanted one, and I got a good one for cheap.
Every summer before last summer I worked as an administrative assistant for an irrigation company in upstate New York. I made a lot of money. Actually, I made money doing that to pay for my summer class.
I'll be honest – Summer Session was my favorite time to be on campus. Everything looks better and more beautiful – everyone's happier – it's so comfortable to be here, and there's a certain camaraderie. I still talk to a lot of the people who were in my class – that doesn't usually happen. Class was very, very intense. We spent a lot of time together when we were getting ready for critiques – there's that sort of bonding in any studio art class – but even more so because it's much more intensive. When you're taking 75 pictures a day, you need to leave campus, and only a few of us had cars, so we went on mini-trips together.
I am sad that I can't do Summer Session again!"