People of all genders and majors are welcome! To RSVP to our events, please contact
 

Anika Dane

 

(adane@wesleyan.edu).
Upcoming Events
WesWIS presents a Non-Academic Career Panel March 30, 5:30pm-7:30pm, Woodhead Lounge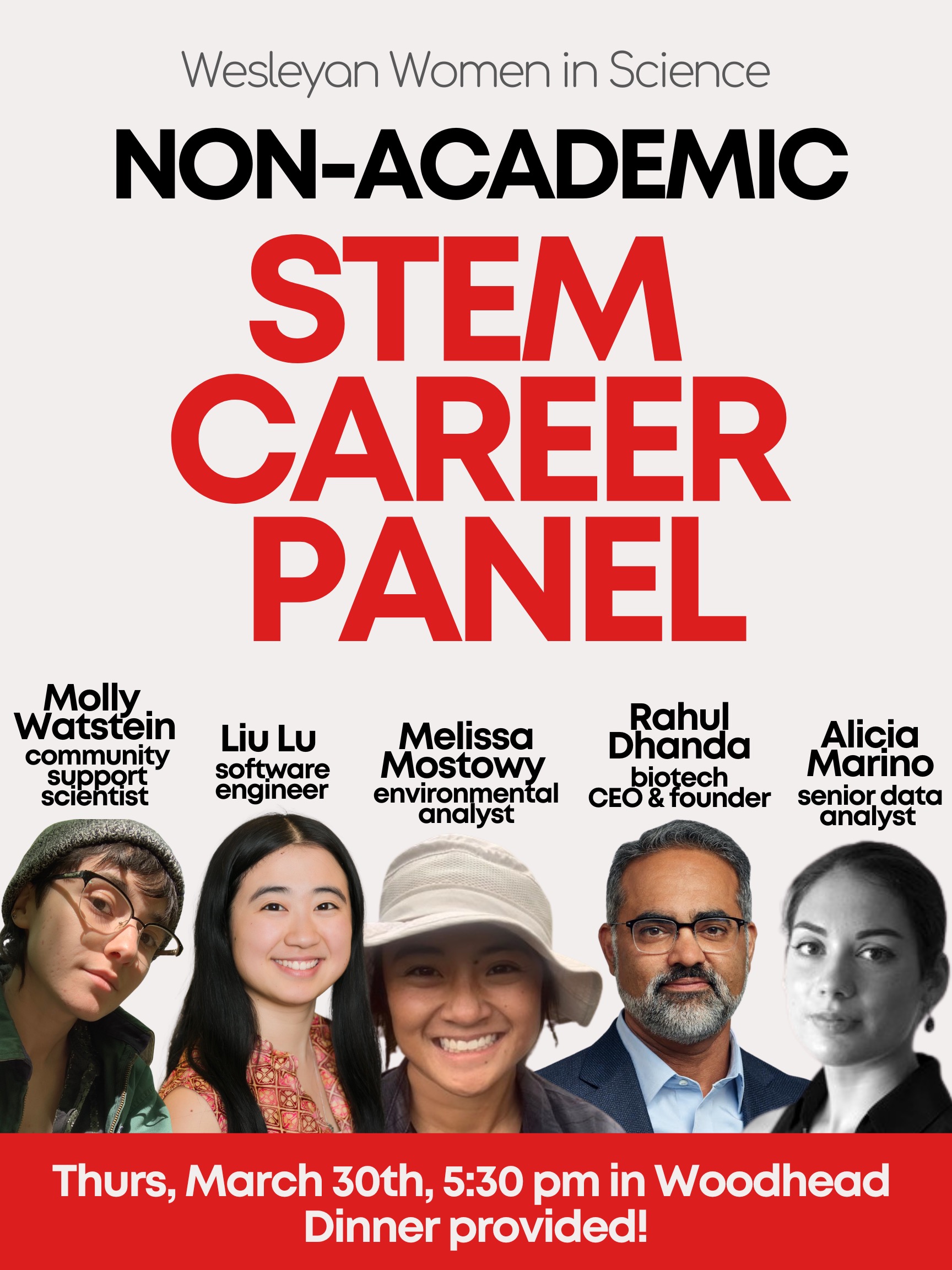 WesCourses April 7, 12:00pm, space TBA
Lab Tours

Chemistry Lab Tour with Professor O'Neil on Wednesday, March 8th at 4:30pm in Hall-Atwater 22 - THIS EVENT IS POSTPONED; NEW DATE TBD
Biology Lab Tour with Professor Mitchel, date TBA 

These events are open to all majors and genders! Please email

 

idave@wesleyan.edu

 to RSVP!

Fall Tours

Physics Lab Tour with Professor Sher on Tuesday, November 8th at 12:30pm in Exley Science Center Room 05
MB&B Lab Tour with Professor MacQueen on Wednesday, November 30th, 11am at Hall-Atwater 238.

Faculty Lunches

Rosemary Ostfeld, date TBA
"Whine and Cheese" with Andrea Roberts, date TBA

 

Recent Events

WesWIS Annual Faculty-Student Tea

Friday, February 10, 4:30-5:30pm, Van Vleck Observatory Library

. There will be STEM faculty from all NSM departments, and this event will give you an opportunity to chat with professors in a more informal setting. Tea and cookies will be provided. 

Thursday, September 29, 9:00pm: 

Star Gazing & 

Hot

 

Chocolate

Join us at

Van Vleck Observatory to use the telescopes, enjoy 

hot

 

chocolate

, and chat with other women in science! The event is open to all majors and genders, so bring your friends! 

We will be there rain or shine! If the weather doesn't cooperate, we will be setting up the planetarium inside. We hope to see you there! 

Friday, October 14, 2:30pm: 

Speedfriending

Getting involved with research at Wesleyan

October 27, 2022, 12-1pm, Exley Science Center 109

Wescourses

November 4, 2022, 12:00pm, Exley Science Center 109

Tuesday, November 15th, 12pm, Daniel Family Commons

Lunch with Professor Kelly Thayer 

Are you interested in learning more about

 

MB&B research?

Join us for a

 Lab Tour with

 

Professor MacQueen on Wednesday, November 30th, 11am at Hall-Atwater 238. 

---

Need a new headshot? Or need to learn how to build your resume? Join us

 this Friday, Dec 2 

in the

 Gordon Career Center! 

We'll be taking your headshots and GCC staff will be hosting a resume workshop, all to help you build the perfect resume! We'll be at the GCC from

 12-1 pm.