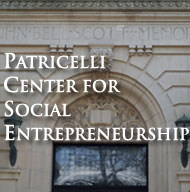 Grants And Competitions
Seed Grant Competition
$5,000 grants to fund the launch or early stage growth of a Wesleyan-connected social enterprise, project, program, or venture.  One seed grant per year is provided by the Norman Ernst Priebatsch Fund for Entrepreneurship established by Ilene Rosenthal '74 P'17 and Steven Rosenthal P'17 in memory of Norman Priebatsch, a serial entrepreneur and lifelong philanthropist, 
2014 details, eligibility, and application 
2014 finalists announced and 2014 grant winners
Student Enrichment Grant Program
Small stipends intended to subsidize experiences for motivated students who seek to build their own skills, experience, and aptitude for social change by attending off-campus workshops, conferences, or other personal development opportunities. These grants are smaller than the PCSE Seed Grants or Internship Grants, but there are more available each year.  
As of February 3, 2014, we have maxed out our enrichment grant fund for fiscal year 2014. We will not be accepting any more Enrichment Grant applications until July 1, 2014. 
Student Enrichment Grant Application Form
Davis Projects for Peace Grant
$10,000 grants for grassroots summer projects anywhere in the world which promote peace and address the root causes of conflict among parties.  We encourage applicants to use their creativity to design projects and employ innovative techniques for engaging project participants in ways that focus on conflict resolution, reconciliation, building understanding and breaking down barriers, which cause conflict, and finding solutions for resolving conflict and maintaining peace. 
Davis Projects for Peace website with FAQ's and application form
Past winners 2007 2008 2009 2010 2011 2012 2013
Internship Grant Program
$4,000 grants for Wesleyan sophomores and juniors currently receiving need-based financial aid who plan to do socially innovative or socially responsible work during summer break. To apply, follow the procedures for the Wesleyan Summer Experience Grant program outlined in detail here. 
SOCAP Volunteer Tickets
The Patricelli Center for Social Entrepreneurship awarded two SOCAP13 tickets to Wesleyan GOLD alumni (Graduates of the Last Decade). 
2013 details and application form
Announcement of winners