AFAM Open House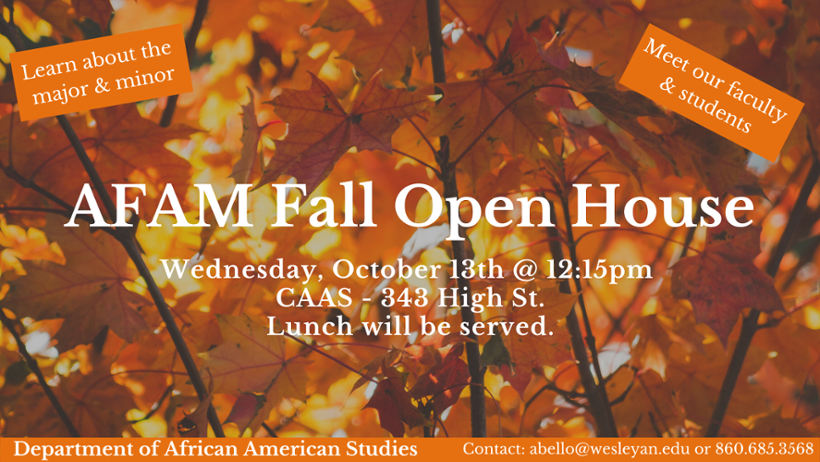 We are hiring!
We are excited to announce the search for for a tenure-track appointment at the level of Assistant Professor in the department beginning 1 July 2022. We especially seek candidates with research and teaching expertise in Black Ecologies, environmental justice, public policy, and activism.  We welcome applicants with a Ph.D. in African American Studies, Environmental Studies, or in other social science fields in which they have a demonstrated record of emphasis in African American topics. The teaching load is two courses per semester with an expectation of advising and supervision of independent studies and honors theses.  Wesleyan values both scholarship and teaching very highly, has a strong, diverse undergraduate student body, and offers a generous sabbatical program and competitive salaries and benefits.
African American Studies
The African American Studies Program at Wesleyan offers a dynamic interdisciplinary approach to the study of people of African descent in the Black Atlantic world, especially in the United States and in the Caribbean.  The major enables undergraduates to bring the methodologies, theories, and insights of diverse disciplines to bear on their studies of the history, literature, politics, culture, and art of peoples of African descent.  Courses, which range from seminars to larger discussion classes, are informed by theoretical and empirical approaches and explore topics such as conceptualizations of race, issues of race and identity, as well as the social structures, cultural traditions, and political realities of Africans in the Diaspora.