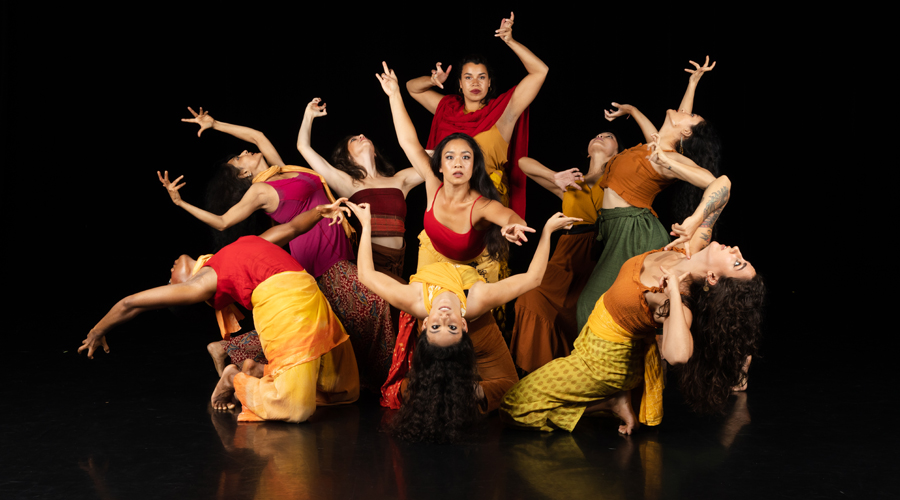 Ananya Dance Theatre: Dastak—I Wish You Me [CANCELED]
Friday, February 4, 2022 at 7:00pm
CFA Theater

FREE! Reservations required. For Wesleyan students, faculty, and staff only.
PLEASE NOTE: This event has been canceled.
 "Ananya Dance Theatre has been taking on social justice issues as a core part of its creative voice ever since its inception in 2004 as a community-based ensemble."
—Minneapolis Star Tribune

Choreographed by Artistic Director Ananya Chatterjea and performed by the artists of Minneapolis' Ananya Dance Theatre, Dastak: I Wish You Me (2021) is a meditation on borders, loss, belonging, home, and liberation. Structured through four elemental journeys (earth, water, fire, and air), the work traces the knockings (dastak in Farsi) of global injustices on our hearts, and echoes the subtitle created by writer and dramaturg Sharon Bridgforth, "I Wish You Me," indicating the cross-generational love that has carried communities through difficult migrations. Dastak invites viewers to imagine what freedom is possible as it expands the realms of intention and trans-dimensional connection through spells that invoke rest, forgiveness, love, and freedom.


Dastak excerpt from Ananya Dance Theatre on Vimeo.
The performance of
Dastak
is 75 minutes with no intermission, and will be followed by a talkback moderated by Professor and Chair of the Dance Department and Professor of Feminist, Gender, and Sexuality Studies
Hari Krishnan
.
Ananya Chatterjea previously presented the
virtual movement workshop "Feminist Rage and Healing" on Zoom in March 2021
, and was also in
conversation with Hari Krishnan in October 2020 as part of the 44th annual Navaratri Festival
at Wesleyan University.
Dastak
features the work of a powerful team of collaborators, including sound artist Spirit McIntyre, stage director Marcus Young, lighting designer Kevin A. Jones, costume designer Annie Cady, scenery designer Chelsea Warren, and film designer Darren Johnson.
Ananya Dance Theatre is a company of cultural activists and BIPOC (Black, Indigenous, People of Color) women, womxn, and femme artists who believe in the transformative power of dance and create original, contemporary dance theater at the intersection of artistic excellence and social justice. Dancing stories, where the lives and dreams of women and femmes in a global context occupy the center, shifts the landscape of mainstream culture, builds understanding about arts and social justice, and empowers artistic voices.
Images of
Dastak
by Isabel Fajardo courtesy of Ananya Dance Theatre.