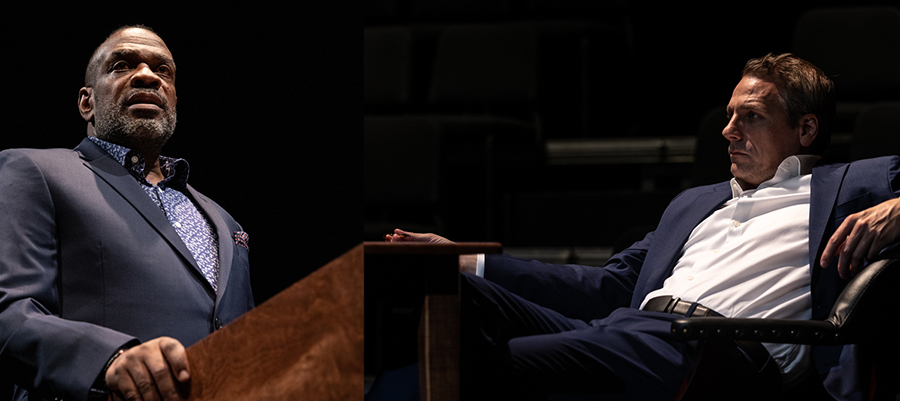 Elevator Repair Service: Baldwin and Buckley at Cambridge
Thursday, February 24, 2022 at 7:00pm
CFA Theater

RESERVE NOW
FREE! Reservations required. For Wesleyan students, faculty, and staff.
Friday, February 25, 2022 at 7:00pm
CFA Theater

RESERVE NOW
FREE! Reservations required. For Wesleyan students, faculty, and staff.
Conceived by Greig Sargeant with Elevator Repair Service
Directed by John Collins

"Visceral and immediate and contemporarily relevant...it's a testament to live, in-person theater that the artform can imbue widely available texts with such unusual and distinctive power...[The play] transforms an historical record into a living experience."
—phindie (Philadelphia)

In February 1965, writers James Baldwin and William F. Buckley, Jr. were invited to the Cambridge University Union in England to debate the proposition "The American Dream is at the expense of the American Negro." Actors Greig Sargeant and Ben Jalosa Williams of Elevator Repair Service perform a verbatim staging of the incendiary and revealing confrontation between one of the most powerful figures of the Civil Rights Movement and the father of 20th century patrician conservatism. The New England premiere of Baldwin and Buckley at Cambridge (2021) presents the debate as real, immediate, and of this moment; inviting a reckoning with the timeliness of Baldwin's arguments and the power of debate to illuminate truth and point towards justice. The ensemble performing at Wesleyan also features Daphne Gaines, Gavin Price, and Christopher-Rashee Stevenson.

Based in New York, Elevator Repair Service has a rich history of adapting unconventional texts (including F. Scott Fitzgerald's The Great Gatsby, the U.S. Supreme Court case Barnes v. Glen Theatre Inc., and William Faulkner's The Sound and the Fury). Sargeant and Williams performed short excerpts from the show, and spoke with director and company founder John Collins about the development and process of creating the work in progress in A Conversation about History and Process in March 2021.



"In January 2020, just before the COVID-19 pandemic closed theaters around the world, I saw an early open rehearsal of a new work by renowned theater company Elevator Repair Service...[Baldwin and Buckley at Cambridge] was a performance filled with emotion, expression, desire, and an impassioned assertion of civil rights that I felt was important for our Wesleyan students and community to experience." Read more from Associate Director for Programming and Performing Arts and Adjunct Assistant Professor of Theater Fiona Coffey on the Center for the Arts blog.

Images above by Maria Baranova.
Thumbnail image by Johanna Austin.