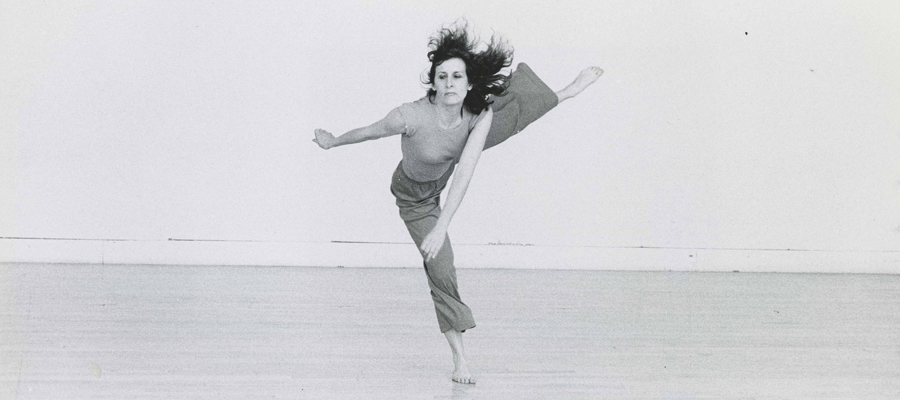 Trisha Brown's Skymap
Saturday, September 23, 2023 at 2:00pm
CFA Theater

FREE!
Drop in to the CFA Theater to experience Trisha Brown's Skymap (1969) as part of the Center for the Arts' 50th Birthday Party. The Trisha Brown Dance Company performed at Wesleyan University's Center for the Arts in 1983 and 2003. See a full listing of events and activities.

Trisha Brown's Skymap is a dance with no dance. Its choreography unfolds only in the mind of the audience, who are instructed to lay on the floor and stare at the ceiling. In order to make the ceiling a site for her work, Trisha Brown recorded her own voice on audio tape, instructing audiences "to mentally construct an overhead map of the United States." First performed at Newark State College, Brown elsewhere remarked, "I had performed on the walls, the floor, and at eye level, I know that the ceiling was next, but I just couldn't bring myself to enter into that kind of physical training with that kind of danger below. I sent words up there instead." 

The Center for the Arts 50th Birthday Party will include a concert by Sunny Jain's "Wild Wild East" (the band's Connecticut debut) in Crowell Concert Hall, along with a variety of art activities, including tours of several spaces in the eleven-building complex, which was designed by Kevin Roche/John Dinkeloo and Associates and opened in September 1973. Other media works playing on loops in the CFA venues will include Merce Cunningham's Walkaround Time (1973) and John Cage's Empty Words (1974).

Sunny Jain provided musical direction for the Trisha Brown Dance Company's "Foray Forêt" at The Joyce Theater in New York in 2022. The band circled the outside of the theater for the duration of the piece, prompting viewers to wonder if it's intentional or not, until the band comes on stage at the end. 

Image credit: Trisha Brown, Watermotor (1978). Photo by Robert Alexander.