Security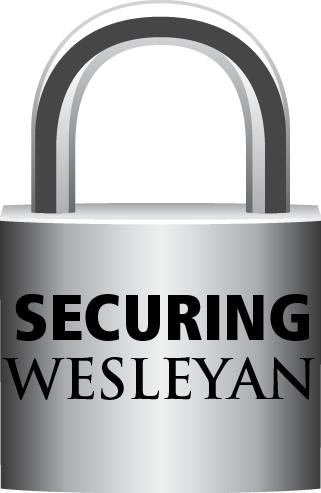 Wesleyan University's information security program works to protect the confidentiality, integrity, and availability of the university's information resources. This site provides resources designed to help our constituents minimize risk to information resources with minimal impact on its productive use.
Wesleyan Security Policies
Wesleyan University takes the security and privacy of our information and resources seriously. The purpose of these policies is to inform our constituents of our rules and procedures relating to usage, compliance, and security. Our policies can be found at www.wesleyan.edu/its/policies/
Information Security Breach Procedure
Information security incidents or breaches are events that could have an adverse effect on the confidentiality, integrity, or availability of information resources at Wesleyan. Resources could be things like data, individual computers, servers, media, and mobile devices, as well as, spoken information or paper. Prompt detection and appropriate handling of these security incidents or breaches are necessary to protect the institution's information and constituents. If you see or hear something that doesn't seem right, tell security@wesleyan.edu.
Identity Finder
Wesleyan University is using Identity Finder as our data security tool. Identity Finder is a tool to scan personal computers and servers for personally identifiable information (PII). PII is defined as personal or university information that may be considered potentially damaging if accessed by unauthorized individuals. PII includes social security, credit card, bank account numbers, and passwords. Wesleyan considers it a top priority to protect the privacy of our students, faculty, and staff. Identity Finder provides us with an additional tool to help ensure that protection. Learn more about Identity Finder.
Resources on Cyber Security