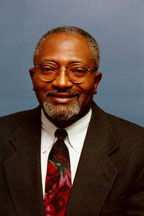 In Celebration of the Life of
Dr. Martin Luther King Jr.

Tuesday, January 27th, 2009
4:15pm, Memorial Chapel
Keynote Address by:
Dr. Robert D. Bullard
Click here to learn more about Dr. Bullard's visit to campus.
Dr. Robert D. Bullard is the Ware Distinguished Professor of Sociology and Director of the Environmental Justice Resource Center at Clark Atlanta University.  Prior to joining the faculty at CAU in 1994, he served as a professor of sociology at the University of California, Riverside, as well as visiting professor in Center for Afro-American Studies at UCLA.  His scholarship has distinguished him as one of the leading experts on environmental justice and race and the environment. He is one of the planners of the First and Second National People of Color Environmental Leadership Summit. Dr. Bullard served on President Clinton's Transition Team in the Natural Resources and Environment Cluster (Department of Energy, Interior, Agriculture and Environmental Protection Agency).  He served on the U.S. EPA National Environment Justice Advisory Council (NEJAC) where he chaired the Health and Research Subcommittee.
Professor Bullard has testified and served as an expert witness in dozens of civil rights cases over the past decade. He is the author of fourteen books that address environmental justice, environmental racism, urban land use, facility permitting, community reinvestment, housing, transportation, suburban sprawl, and smart growth.  His book,
Dumping in Dixie:  Race, Class and Environmental Quality
(Westview Press, 2000), is a standard text in the environmental justice field.  His most recent books include
Just Sustainabilities:  Development in an Unequal World
(MIT Press, 2003),
Highway Robbery:  Transportation Racism and New Routes to Equity
(South End Press, 2004),
The Quest for Environmental Justice:  Human Rights and the Politics of Pollution
(Sierra Club Books, 2005),
Growing Smarter:  Achieving Livable Communities, Environmental Justice, and Regional Equity
(MIT Press, 2007), and
The Black Metropolis in the Twenty-First Century:  Race, Power, and the Politics of Place
(Rowman & Littlefield, 2007).  Professor Bullard is the co-author of
Toxic Wastes and Race at Twenty, 1987-2007
(United Church of Christ, 2007).  In July 2007, he was featured in CNN "People You Should Know."