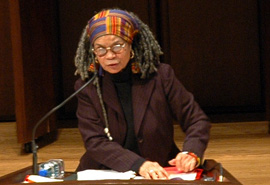 In Celebration of the Life of
Dr. Martin Luther King Jr.

Tuesday, January 30th, 2007
4:15pm, Memorial Chapel
Keynote Address by:
Sonia Sanchez
Additional programs to celebrate Dr. King's life include: a lunch discussion with Ms. Sanchez and a display of Civil Rights Landmarks in Zelnick Pavillion

Click here to learn more about Sonia Sanchez's visit to campus.
Sonia Sanchez was born Wilsonia Benita Driver on September 9, 1934, in Birmingham, Alabama. After her mother died in childbirth a year later, Sanchez lived with her paternal grandmother and other relatives for several years. In 1943, she moved to Harlem with her sister to live with their father and his third wife.
She earned a B.A. in political science from Hunter College in 1955. She also did postgraduate work at New York University and studied poetry with Louise Bogan. Sanchez formed a writers' workshop in Greenwich Village, attended by such poets as Amiri Baraka (LeRoi Jones), Haki R. Madhubuti (Don L. Lee), and Larry Neal. Along with Madhubuti, Nikki Giovanni, and Etheridge Knight, she formed the "Broadside Quartet" of young poets, introduced and promoted by Dudley Randall.
She married and divorced Albert Sanchez, a Puerto Rican immigrant whose surname she has used when writing. She was also married for two years to poet Etheridge Knight.
During the early 1960s she was an integrationist, supporting the philosophy of the Congress of Racial Equality (CORE). But after considering the ideas of Black Muslim leader Malcolm X, who believed blacks would never be truly accepted by whites in the United States, she focused more on her black heritage from a separatist point of view.
Sanchez began teaching in the San Francisco area in 1965 and was a pioneer in developing black studies courses at what is now San Francisco State University, where she was an instructor from 1968 to 1969. In 1971, she joined the Nation of Islam, but by 1976 she had left the Nation, largely because of its repression of women.
Sanchez is the author of more than a dozen books of poetry, including Morning Haiku (2010); Shake Loose My Skin: New and Selected Poems (1999); Does your house have lions? (1995), which was nominated for both the NAACP Image and National Book Critics Circle Award; Homegirls & Handgrenades (1984), which won an American Book Award from the Before Columbus Foundation; I've Been a Woman: New and Selected Poems (1978); A Blues Book for Blue Black Magical Women (1973); Love Poems (1973); We a BaddDDD People (1970); and Homecoming (1969).
Her published plays are Black Cats Back and Uneasy Landings (1995), I'm Black When I'm Singing, I'm Blue When I Ain't (1982), Malcolm Man/Don't Live Here No Mo' (1979), Uh Huh: But How Do It Free Us? (1974), Dirty Hearts '72 (1973), The Bronx Is Next (1970),and Sister Son/ji (1969).
Sanchez's books for children include A Sound Investment and Other Stories (1979), The Adventures of Fat Head, Small Head, and Square Head (1973), and It's a New Day: Poems for Young Brothas and Sistuhs (1971). She has also edited two anthologies: We Be Word Sorcerers: Twenty-five Stories by Black Americans (1973) and Three Hundred Sixty Degrees of Blackness Comin' at You (1971).
Among the many honors she has received are the Robert Creeley Award, the Frost Medal, the Community Service Award from the National Black Caucus of State Legislators, the Lucretia Mott Award, the Outstanding Arts Award from the Pennsylvania Coalition of 100 Black Women, the Peace and Freedom Award from Women International League for Peace and Freedom (WILPF), the Pennsylvania Governor's Award for Excellence in the Humanities, a National Endowment for the Arts Award, and a Pew Fellowship in the Arts.
Sanchez has lectured at more than five hundred universities and colleges in the United States and had traveled extensively, reading her poetry in Africa, Cuba, England, the Caribbean, Australia, Nicaragua, the People's Republic of China, Norway, and Canada. She was the first Presidential Fellow at Temple University, where she began teaching in 1977, and held the Laura Carnell Chair in English there until her retirement in 1999. She lives in Philadephia.
Biography from Poets.org