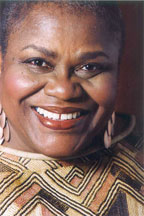 In Celebration of the Life of
Dr. Martin Luther King Jr.

Tuesday, January 29th, 2008
4:15pm, Memorial Chapel
Keynote Address by:
Bernice Johnson Reagon
Additional programs to celebrate Dr. King's life include: a lunch discussion with Dr. Reagon and a display of Civil Rights Landmarks in Zelnick Pavillion)
Click here to learn more about Dr. Reagon's visit to campus.
Reagon is Professor Emeritus of history at American University. The recipient of the 2003 Heinz Award for the Arts and Humanities (Heinz Family Foundation) for her work as a scholar and artist in African American cultural history and music; Reagon serves as Curator Emeritus at the Smithsonian Institution's National Museum of American History in Washington DC, and formerly the Cosby Chair Professor of Fine Arts at Spelman College in Atlanta GA.
A singer and composer, Reagon recently retired after 30 years from performing with Sweet Honey In The Rock, the internationally renowned a cappella ensemble she founded in 1973. She produced most of the groups recording including the Grammy nominated Still The Same Me (Rounder Records release for younger audiences, 2001). Her work as a scholar and composer is reflected in publications and productions on African American culture and history, including: a collection of essays entitled If You Don't Go, Don't Hinder Me: The African American Sacred Song Tradition, (Univ. of Nebraska Press, 2001); We'll Under-stand It Better By and By: Pioneering African-American Gospel Composers (Smithsonian Press, 1992); We Who Believe in Freedom: Sweet Honey In The Rock: Still On the Journey (Anchor Books, 1993), and Voices of the Civil Rights Movement, Black American Freedom Songs (Smithsonian/Folkways Recordings, 1980, 1994) a 2-CD anthology with booklet.
Reagon has served as music consultant, composer and performer for several radio, film and video projects, including the path breaking Peabody Award-winning 1994 radio series Wade in the Water: African American Sacred Music Traditions (produced by National Public Radio and the Smithsonian Institution); composer, compiler and performer in the creation of the sound scores for WGBH's Peabody Award-winning Africans in America film series for PBS (1998); and Freedom Never Dies: The Legacy of Harry T. Moore,(The Documentary Institute at the University of Florida and WUFT-TV, 2001). In 2003 Reagon composed the music and libretto for Temptations of St Anthony, a Robert Wilson musical production that premiered in Germany June 2003, and was performed at the Warsaw Opera House in 2006.  She also produced and directed, Evening Song a special cross-genre (a capella and rock) production in celebration of the 30th anniversary of Sweet Honey In The Rock in collaboration with Toshi Reagon and her rock band, Big Lovely. The production which premiered at the University of Michigan January, 03 was presented in 13 cities during the ensemble's 2003/4 30th anniversary tour. BEAH: A Black Woman Speaks, a film produced by LisaGay Hamilton and Jonathan Demme, for which Reagon was co-creator of the score with Toshi Reagon and Geri Allen aired as the HBO 2004 Black History Month Film. Her most recent work, "Liberty or Death" commissioned by the Muse Women Choir of Cincinnati in observance of the opening of the National Underground Railroad Freedom Center, had its premier performance June, 2004.