Money Orders
Many students will choose to make large payments using money orders. This includes those applying for Optional Practical Training (OPT) and OPT STEM Extension when paying for their Form I-765, Application for Employment Authorization filing fee as well as their OISA OPT Processing Fee or STEM OPT Processing Fee.
Purchasing a Money Order
Money orders can be purchased at drug stores, grocery stores, big box stores (like Walmart or Target), and some United States Post Office locations. Retail stores often have Western Union or MoneyGram money orders available while U.S. Post Office locations sell Postal Money Orders. Not all Post Office locations sell money orders, so it is important to make sure that they are available at the location you plan to visit.
The fee to purchase a money order is usually between $1 and $2. You will typically use cash or a debit card to pay for the amount that you would like your money order to be for plus the money order fee.
The money order must be drawn on a bank or other financial institution located in the United States and must be payable in U.S. currency. 
Filling Out a Money Order to Pay the Form I-765 Filing Fee
Below is information on filling out sections of a money order. Different types of money orders will request slightly different information.
Sections of a money order and what to write:
Pay to: In the case of your I-765 Filing Fee, you should write "U.S. Department of Homeland Security." It is important to s

pell out U.S. Department of Homeland Security. Do not use the initials "USDHS" or "DHS."

If the money order asks for an address in the "Pay to" section, you should list the address where you are mailing your OPT application to. Please visit https://www.uscis.gov/i-765-addresses for more information.
Memo/Payment for: Write your SEVIS ID number, the

9-digit number beginning with "N," which is located in the upper right-hand corner of your I-20.

Purchaser/Purchaser's Signature: Sign your name
Purchaser's Address: If the money order requests this, include the address that you have written on question number #5 on the Form I-765.
Important:
Detach and keep the receipt portion of the money order for your records. This is the only way you can track your payment or have the money order canceled if it gets lost.
Make sure not to sign the back of the money order. This part of the money order should be left entirely blank.
Your money order should be included with your application materials when applying for OPT and should not be sent separately.
Sample Money Orders
Please note that the sample money orders below are all for the amount of $1.00. Make sure that the money order that you purchase displays the accurate amount of the payment that you are making.
The images are examples for U.S. Department of Homeland Security. For the money order for OISA, please put "Office of International Student Affairs." The address of OISA is "237 High Street, Middletown, CT 06459" if you need to mail the money order to the office.
Western Union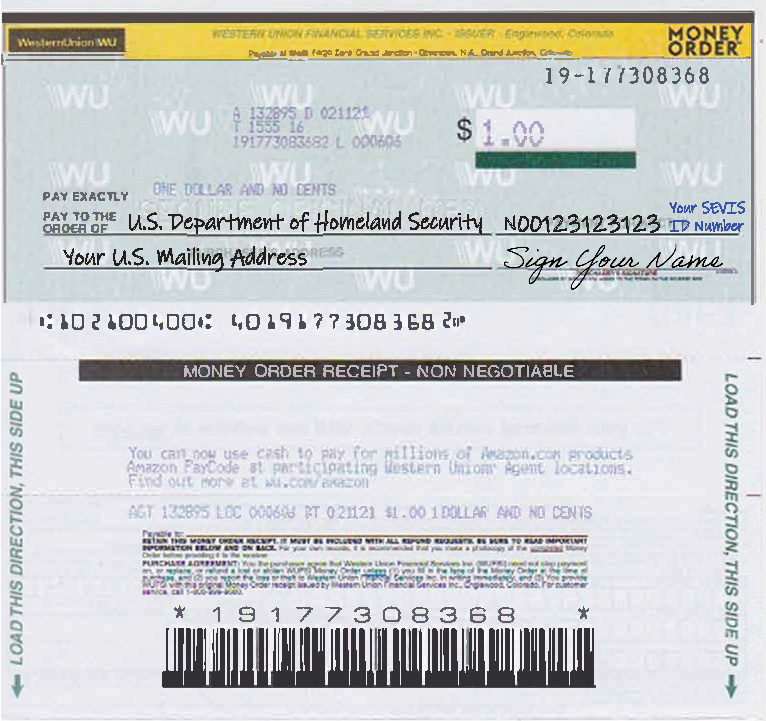 Money Gram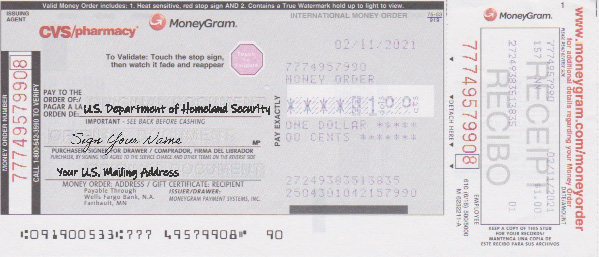 USPS Postal Money Order