Student Opportunities in Planetary Science
Graduate Program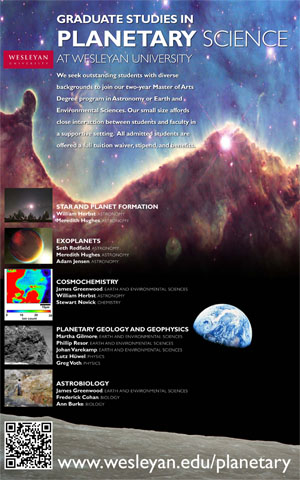 The Departments of Astronomy and Earth and Environmental Sciences offer courses of study leading to a Master's Degree. The Chemistry, Physics and Biology Departments offer both the Master's and Ph.D.  Full consideration for research funding for students entering in the Fall Semester will be given to applications received by February 15 for E&ES and Astronomy. Students are encouraged to directly contact individual faculty that share their interests during the application process.
Further information and Applications can be found here:
Undergraduate Research
Undergraduates interested in planetary sciences research are encouraged to contact individual faculty. Students within the Departments of Astronomy or Earth and Environmental Sciences have the option of completing their senior thesis work in a relevant area of planetary sciences.
Specific opportunities for graduate and undergraduate research will be posted here when they become available.
Summer 2021 (and more) opportunities:
NASA Internships, Fellowships and Scholarships
Research Experiences for Undergraduates (REU) Sites in Astronomy; in Earth Sciences; at SETI
Lunar and Planetary Institute Summer Intern Program in Planetary Science - Application deadline: December 11, 2020
Exploration Science Summer Intern Program - Application deadline: January 15, 2021
NASA History Division Internship - Application deadline: March 5, 2021 (Summer),  July 6, 2021 (Fall Semester), December 1, 2021 (Spring Semester)
The National Academies Berkner Space Policy Internship Program - Application deadline: February 12, 2021 (summer), June 1, 2020 (Fall)
Summer Undergraduate Program for Planetary Research (SUPPR) - Application deadline: February 12, 2021
Summer Undergraduate Research Program (SURF) at Caltech/JPL - Application deadline: March 15, 2021
Applied Physics Laboratory Summer Internship Program - Application deadline: March 31, 2021
JPL Planetary Science Summer School - Application deadline: April 1, 2021
Other fellowships, internships, and jobs
Ronald E. McNair Post-Baccalaureate Achievement Program at Wesleyan
CT Space Grant Graduate and Undergraduate Fellowhips and Travel Grants
NASA Minority University Research and Education Project
Student and career opportunities at Jet Propulsion Laboratory
Universities Space Research Association Internship Programs
Aeronautics Student Competitions