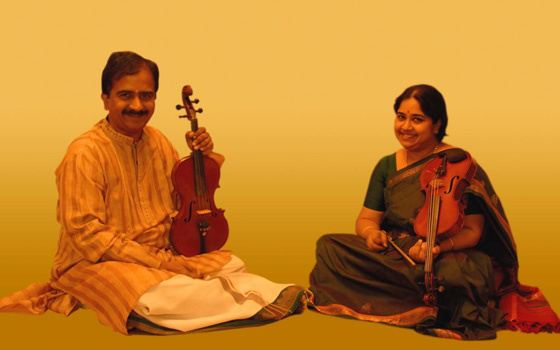 Lalgudi Duo
Saturday, September 30, 2017 at 8:00pm
Crowell Concert Hall
Buy Tickets
$28 general public; $26 senior citizens, Wesleyan faculty/staff/alumni, non-Wesleyan students; $6 Wesleyan students, youth under 18
"Their style is...characterised by boundless innovation, yet strictly adhering to tradition."
—The Hindu (India)

Lalgudi G.J.R. Krishnan and his sister Lalgudi Vijayalakshmi perform as a violin duo, blending tradition and innovation, and mesmerize the audience, bringing each raga—a pattern of notes used as a basis for improvisation in Indian music—to life. The siblings share an extraordinary coordination and almost telepathic understanding.

This event is part of the 41st annual Navaratri Festival at Wesleyan. 
A World of Arts in the Heart of Connecticut