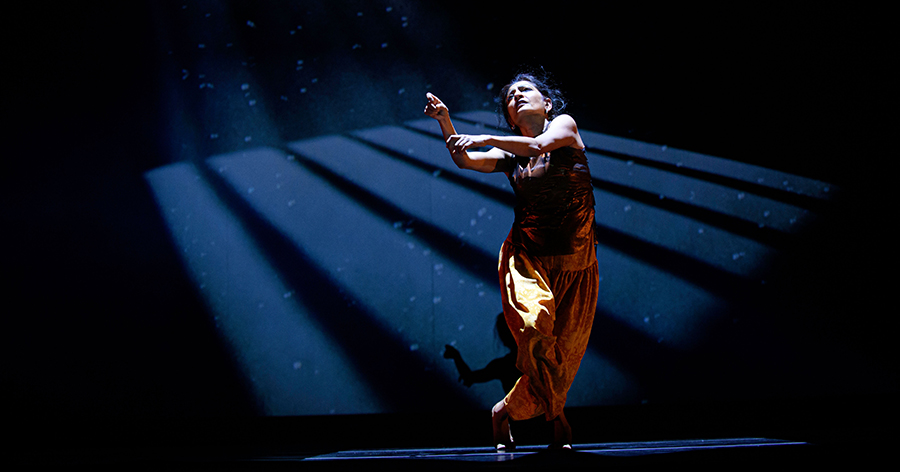 Cynthia Novack Lecture in Memoriam: "Dancing A Love Like That" — A Talk and Workshop with Ananya Chatterjea
Tuesday, March 29, 2022 at 4:40pm
Bessie Schönberg Dance Studio, 247 Pine Street, Middletown
FREE! Limited spaces available, reservations required. For Wesleyan students, faculty, and staff. Masks required.
Presented by the Dance Department, this year's Cynthia Novack Lecture in Memoriam will be a talk and workshop. "Dancing A Love Like That" will feature Ananya Chatterjea, artistic director of Ananya Dance Theatre, a dance company of BIPOC [Black, Indigenous, People of Color] femmes, and co-founder of the Shawngrām Institute for Performance and Social Justice. Chatterjea is also a Professor in the Department of Theatre Arts and Dance at the University of Minnesota. Her talk at Wesleyan will be held in conjunction with the class DANC 379 "Dance as Activism," taught by Visiting Assistant Professor of Dance and African American Studies Joya Powell.

Please note there is a no-shoe policy in the dance studio. Participants should arrive early and wear comfortable clothing, since there will be options for movement exploration during the lecture/workshop. Participants may also bring water.
DANCING A LOVE LIKE THAT
Even after all this time/ the Sun never says/ To the Earth,
"You owe me."
Look what happens / With a Love like that.
It Lights / the Whole Sky.
—Hafiz  
"In this part-talk, part-workshop, I will share some core learnings from my journey in social justice choreography in order that we may collectively ask: How do dance and performance circulate in today's troubled world? What is at stake for dance in aligning with particular political articulations? What might be accomplished through activist dancing and performance? On the other hand, how might we prepare ourselves for such work? What might be some key considerations in building projects that are community-engaged and justice-oriented? What is the richness that embodied, metaphoric practices such as dance and performance can bring to activism? I will offer some provocations for audiences to engage with, perhaps as brief movement explorations, or as writing exercises, in order to investigate some of the epistemologies of social justice choreography." 

—Ananya Chatterjea
Ananya Chatterjea's work brings together contemporary dance, social justice choreography, and healing justice. Her most recent work, Dastak: I Wish You Me (October 2021), was originally scheduled to receive its New England premiere at Wesleyan in February 2022. The work was created with the support of an NPN Creation Fund, NDP Production Award, and a MANCC Residency; and will tour to five prestigious national locations during the 2022-2023 season. She is the recipient of the 2021 A. P. Andersen Award and a 2021 McKnight Choreography Fellowship. Her second book, Heat and Alterity in Contemporary Dance: South-South Choreographies, was published in 2020. A co-edited anthology, Dancing Transnational Feminisms, was published in 2022. She teaches Dance Studies courses such as "Choreographing Social Justice" and "Contemporary Practice" at the University of Minnesota.

Ananya Chatterjea previously presented the virtual movement workshop "Feminist Rage and Healing" on Zoom in March 2021, and was also in conversation with Hari Krishnan in October 2020 as part of the 44th annual Navaratri Festival at Wesleyan University.


The general public is welcome to attend events at the Center for the Arts and to view exhibitions in both the Ezra and Cecile Zilkha Gallery and the College of East Asian Studies Gallery at Mansfield Freeman Center. All patrons must adhere to and follow the University COVID-19 safety guidelines. Wesleyan requires all visitors to be fully vaccinated including booster shots. All visitors will need to provide proof of having been fully vaccinated. All patrons are required to wears masks while visiting indoor Center for the Arts exhibitions and during the entirety of any performance. By purchasing a ticket or making a reservation, patrons confirm that they are fully vaccinated for COVID-19 and will be able to provide proof of vaccination at the event. Due to current CDC age limits on vaccinations, individuals under the age of five will not be permitted at indoor events or in the galleries.

Image: Ananya Chatterjea. Photo by Bruce Silcox.