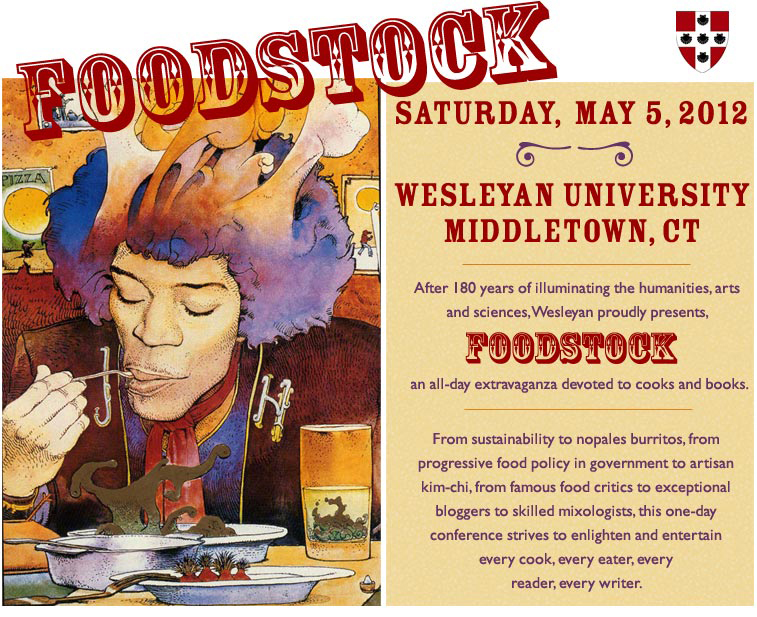 FOODSTOCK 2012 will feature:
         * Talks
                           * Panel Discussions
                                                       * Workshops 
                                                                                  * Book Signings 
                                                                                                                    * Farmers Market 
                                                                                                                                                      * Food Trucks
Speakers and Guests
Eric Asimov '79 P'13 * Dorie Greenspan P '01 * Ruth Reichl P '11 * Molly O'Neill * Faith Middleton
Jane Stern * Chef Bobo * Christopher Prosperi * Paolo Villoresi * Sara Kate Gillingham-Ryan '97
 Cara Eisenpress * Pippa Lord * Chi-Hoon Kim '06 * Ashley Rodriguez
Chichi Wang * Donald Siegel * Gaye Tuchman * Terry Walters
John Finn * Amy Kundrat and many more! 
Vendors
 

Popup Cookbook Store by R.J. Julia Booksellers  * CT Farm Fresh, LLC * The Kitchen Store
Lucky Taco Food Truck * Munchies Food Truck * Lalibela Ethiopian Cart
The Whey Station Food Cart *NoRA Cupcake Co.  * Kit Kat Ice Cream
Mamoun's * Perk on Main
Naples Pizza Truck * Middlesex Hospital 
 Young Robertson Gallery * Sticky Nuts
Wesleyan Farmers Market
Espwesso

 and many more! 
Donate a non-perishable food item at registration, and receive a FREE raffle ticket. 
All donations will go to Amazing Grace Food Pantry in Middletown, CT. 
Nonperishable food items are always sought after by the food pantry, in particular, tuna fish, 
peanut butter, soup, canned fruit and vegetables, cereal, beans, rice, and pasta sauces.
Be a part of our exciting event by securing a business card ad in our FOODSTOCK Program
by donating $20.00 to the Amazing Grace Food Pantry. 
For complete information, email us at foodstock@wesleyan.edu.
Wesleyan University Supporters:
Hosted by Amy Bloom (Kim-Frank University Writer-in-Residence),
Academic Affairs, The Allbritton Center, Alumni and Parent Programs,
 The Center for Community Partnerships, The Shapiro Creative Writing Center, 
The Wesleyan Career Center, The Wesleyan Writers Conference, and Writing at Wesleyan.