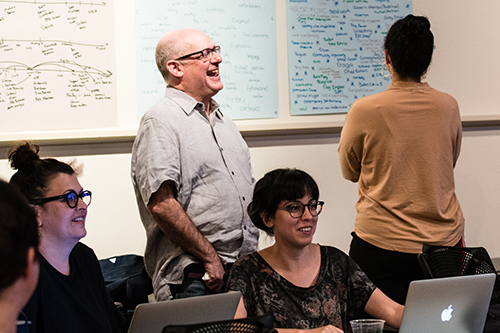 Sam Miller 
Sam Miller, Director and Co-Founder of the Institute for Curatorial Practice in Performance at Wesleyan University, passed away on May 1, 2018 at the age of 65. Sam was a system changer; an arts advocate; mentor to many; and friend to many more.
Sarah Curran, Managing Director of ICPP and Director of the Center for the Arts, said "Sam Miller, our co-founder, colleague, and friend has passed away. This program would not exist were it not for his leadership, imagination, tenacity, and dedication to serving artists and the field of performance curation. As a student of ICPP I experienced the generosity of his mentorship firsthand. It wasn't until I worked with him on the program that I truly understood the depth and breadth of that generosity—to so many people—students, artists, and funders, across the field and over time. It was truly incredible. Through ICPP we will uphold his legacy, fostering the future of performance curation."

Pamela Tatge writes, "Sam Miller's impact was vast…from his years as a student; to making it possible for many artists including those from his beloved Cambodia to tour to Wesleyan; to his work to found and then direct ICPP. Thanks to Sam's tenacity and vision, Wesleyan performance curators are already leading major performing arts programs around the country. These students were lucky enough to learn from Sam many many lessons, including how to be artist-centric, how to consider place and space, how to be entrepreneurial and build partnerships that generously and humbly support performing artists so they can make their best work. Beyond his work for Wesleyan, it can be argued that Sam did more for the field of dance than any other single individual in our country. That legacy lives on."

Sam majored in theater at Wesleyan, where he co-founded Second Stage with with Jan Eliasberg '74, and was the first student to direct a play at the then newly built Center for the Arts. Jean Adams Shaw, Director of the Center for the Arts from 1985 to 1999, said Miller was "a 'promoter' the day he arrived in my office at the Center for the Arts in 1974. Sam was a man of substance. Those of us who knew him well will miss him profoundly."

Sam's long career began at Trinity Repertory Company in Providence, Rhode Island where he was raised. He served as President of the Lower Manhattan Cultural Council where he produced the River to River Festival. He also served as President of Leveraging Investments in Creativity, a ten -year initiative to improve conditions for individual artists in the United States. He also served as President of the New England Foundation for the Arts where he founded the National Dance Project, and as President and Executive Director of the Jacobs Pillow Dance Festival.

Sam was a trustee of Danspace Project (New York City) and AMRITA (Phnom Penh), and on the Advisory Boards of the Creative Capital Initiative, Reggie Wilson's Fist &Heel, and ODC/SF. He was Senior Advisor to the Philadelphia Contemporary project, and co-director of the CODA/21, a collaborative research project between choreographers and neuroscientists at CAP UCLA.

He produced the Dance, the Spirit of Cambodia tour and the Eiko and Koma Retrospective and worked as a consultant for the Ford Foundation, The Andrew W. Mellon Foundation, and the Pew Center for Culture and Heritage.

He is survived by his wife Anne, and sons Alex and Owen. The Miller family requests that memorial contributions be made in Sam's name to the Wesleyan Memorial Fund at Wesleyan University in support of the Institute for Curatorial Practice in Performance.
Contributions may be made online here or mailed to the care of Marcy Herlihy, University Relations, 330 High Street, Middletown, CT 06459.
Image: Sam Miller in class during ICPP 2017 Summer Session (photo by Brendan Plake)