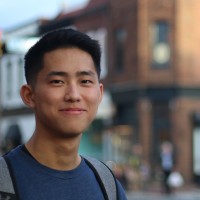 During the 65th Biophysical Society Annual Meeting held virtually Feb. 22–26, 2021 Shawn H. Lin '22 was honored with an Undergraduate Poster Award for his work on "Elucidation of Interactions Between Integration Host Factor and a DNA Four-Way Junction." Lin, a Wesleyan Freeman Scholar, is among only six undergraduate students internationally to receive the award.
Lin won a second award from the American Society of Biochemistry and Molecular Biology, announced April 28, 2021, in the category of DNA, Chromosomes and Gene Regulation. 
Lin's advisors are Ishita Mukerji, Fisk Professor of Natural Science, professor of molecular biology and biochemistry, and Candice Etson, assistant professor of physics. You can see the poster on Wesleyan's blog here.