Wesleyan Passover 2022
Passover this year begins on the evening of Friday, April 15, and ends on the evening of Saturday, April 23rd (or the Friday evening April 22 in the Reform tradition).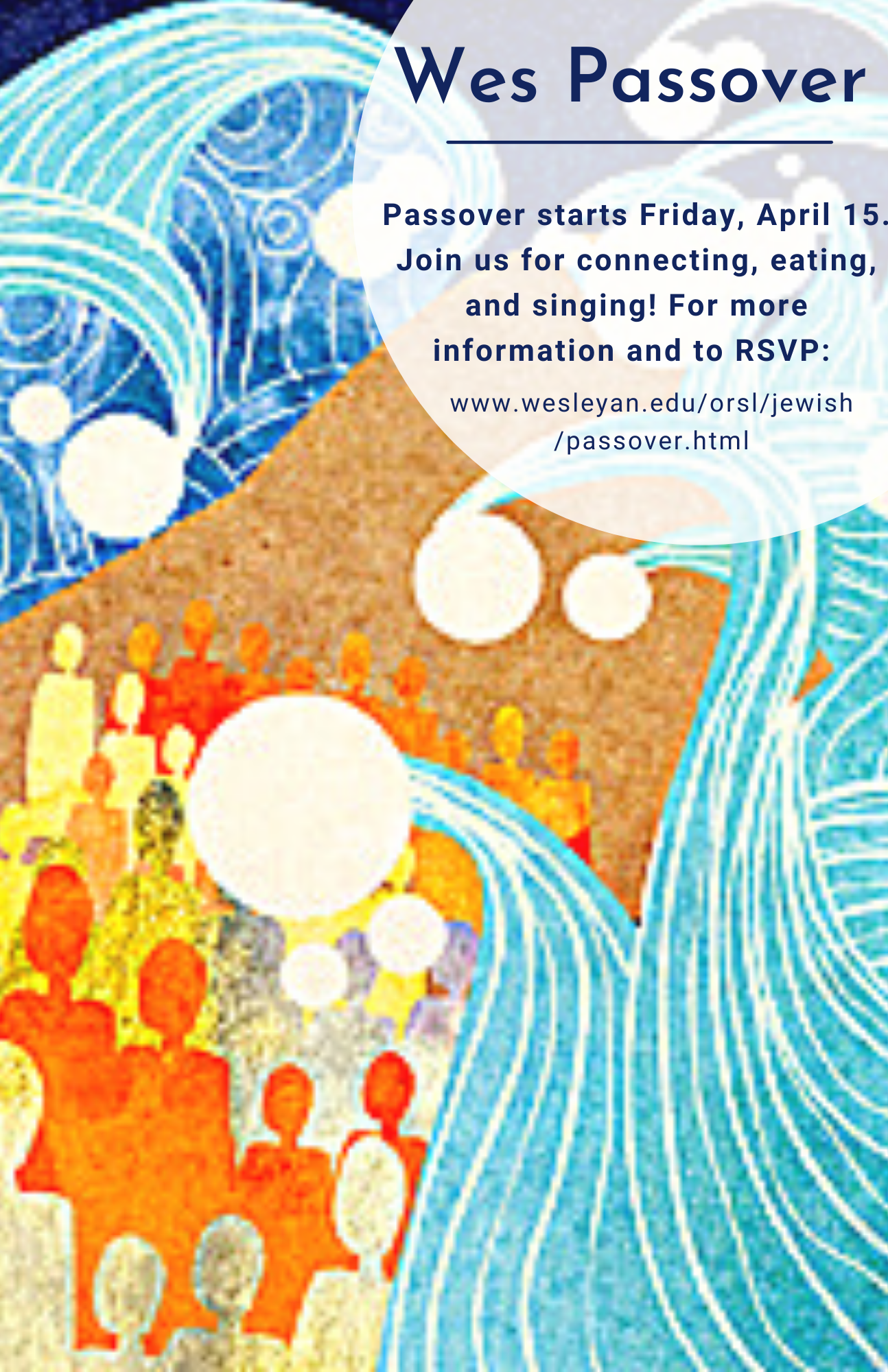 What You Need to Know about Pesach at Wesleyan:
Seder I: Friday Eve April 15: Wesleyan Community Seder 5:30 pm. Location: DFC
The Seder is a community celebration that celebrates the Jewish People's liberation from Egypt. Join us for singing, great discussions, and a whole lot of fun. Open to only members of the Wesleyan Community. To RSVP, please fill out this form April 14.The cost is: $16.95 in points/Middletown Cash or 1 meal and $6.95 in points/Middletown Cash. 
RSVP REQUIRED! Please RSVP by April 14! See above for link to form
**If you have any allergies or food concerns, please share them with Danielle Garten, our food allergy specialist, at dgarten@wesleyan.edu by April 4. 
Want to help contribute to Seder? Or consider bringing to the Wesleyan Seder a short reading, an activity, or an object meaningful to you?  To sign up, click here.
Seder II: Saturday, April 16: Seder to Go Kits Available 
Individuals or groups that pre-register by April 11 at Noon can get a Seder Kit (bottle of grape juice, Matzo and Passover Haggadah manuals). Only 1 kit per person/group. To RSVP please fill out this form Kits must be picked up at Usdan Kosher Station on April 16 from 5:00-6:30pm.  Please bring bags as you will have many things to carry. The Kosher station will also have all the foods you need for your Seder.
Passover Co-Op 
During the week of Passover (April 15 - 23) the Bayit kitchen will become kashered (to some extent for Passover). It will be a space for people to cook food for themselves, including kitniyot (read more about kitniyot here: https://www.myjewishlearning.com/article/kitniyot-not-quite-hametz/) during the holiday.

Students who observe Passover and have dietary restrictions are highly encouraged to connect with the Passover co-op. This co-op is intended for students who eat only kosher food on Passover and to supplement (not replace) Usdan food.

If you plan to keep Pesach (in any form) and are interested in being a part of this kitnyot cooking space, please fill out this form! This will be a communal effort so please let us know how you will be able to contribute.

We will be collecting a $10 donation in support of aid efforts in Ukraine to help run the co-op. This is a suggestion, not a requirement.
PLEASE SIGN UP HERE. Contact Danielle Garten or Orly Meyer with any questions (dgarten@wesleyan.edu and omeyer@wesleyan.edu) 
Meals During Passover (at Usdan)
Shalom Salaam, located in the Usdan Marketplace, will be open for all of Passover and will be serving "Kosher for Passover" food for the length of the holiday. If this is a hardship for anyone, please be in touch with Rabbi David.
Help/Volunteers Needed
Want to help contribute to Seder? Or consider bringing to the Wesleyan Seder a short reading, an activity, or an object meaningful to you?  To sign up, click here.
We need help with leading the Passover Seder. If you're interested in planning or participating in the Seder, please email Danielle Garten at dgarten@wesleyan.edu, Orly Meyer at omeyer@wesleyan.edu, or Rabbi David at dleipziger@wesleyan.edu. No background or Hebrew skills required.
Passover at Weshop
Weshop will carry a limited number of Kosher for Passover products. Feel free to check them out.
Design your own Haggadah. Impress your family:
So what is Passover anyway? Cool Passover Websites
https://www.rebooters.net/plastover
http://kolaleph.org/2013/03/06/palms-passover-and-climate-change/
http://www.myjewishlearning.com/holidays/Jewish_Holidays/Passover.html
http://www.ritualwell.org/ritual/midrashim-and-prayer-passover
https://www.tikkun.org/nextgen/passover-haggadah-supplement-2011-2
Stay tuned for more updates here.