Wesleyan Jewish Community 2020/5781
High Holy Day Schedule
Scroll down past the poster for important details about each event!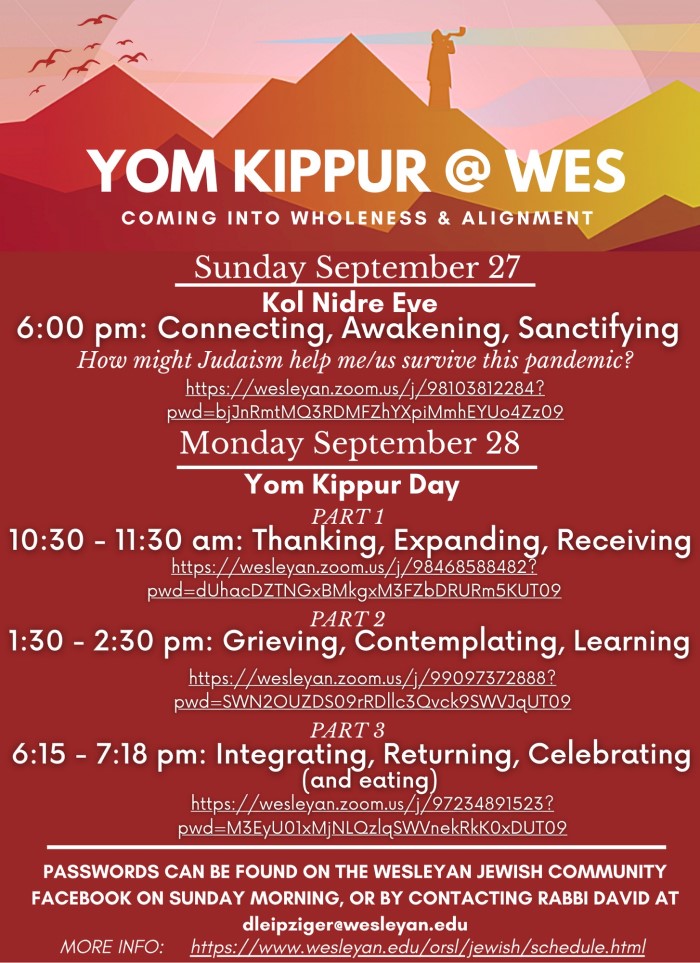 About Our Services:
We are so excited to come together to celebrate the Jewish High Holidays with you. Although we may be physically apart, Jewish tradition and ritual provide us with wonderful opportunities to join together in meaningful community.
The services at the WJC (Wesleyan Jewish Community) are meant to be inclusive, interactive, welcoming, as well as innovative. During the past few weeks, students have collaborated through our Elul Pods and created creative content and teachings that we will showcase and premier throughout our services. With our wonderful Chazan Sharon McCord, we look forward to coming together for song, ritual, and sweetness. 
Prayer Book Distribution:
In preparation for the Holidays, we encourage you to pick up a copy of the Machzor prayer book that we will be using. Please contact Megan Levan (mlevan@wesleyan.edu) before Sunday at noon.
Technical Support:
If you have specific technical questions about zoom or how to log onto any of the Wesleyan services, please contact Rome Duong at rduong@wesleyan.edu. Or William Liang at jliang@wesleyan.edu
General Information:
Passwords for zoom meetings can be found on the WJC Facebook as of Sunday morning at 11am, or by contacting Rabbi David at dleipziger@wesleyan.edu
For a list of additional inspirational resources click here.
Yom Kippur *
Sunday September 27 
6:oo pm:     Kol Nidre  Service.
 9:00 pm:    Annual Crossing Lines Event (a WJC creation and tradition) For more info check out WJC FB.
Monday September 28
10:30 am:   Yom Kippur Morning Service 
1:30 pm:     Yom Kippur Afternoon Service
6:15 pm:     Concluding Service
7:18 pm:      End of Fast


For those looking for a longer and more traditional Yom Kippur service, Adath Israel Middletown's Conservative synagogue has offered to share their live stream with students. They will be livestreamed on their website. For more info about Adath Israel services: office@adathisraelct.org 

*Please note, no tickets or reservations are required for any of the services.
If you're interested in volunteering in any way, please contact Rabbi David at the address below.
Shanah Tova!
Rabbi David       dleipziger@wesleyan.edu