Group Counseling
Students may choose to participate in one of our psychoeducational, psychotherapeutic, or support groups. Offerings for Fall 2021 Groups/Workshop Series are posted below.  Please check back frequently as more will be added as the semester begins.
Groups vary a great deal in content and format. Some are educational and curriculum-based and may feel like small seminars in which the leader instructs the participants with some discussion. Groups designed to teach study skills or coping strategies are examples. Other groups are designed to provide support for particular populations of students, such as international or LGBTQIA+ students. Support groups are generally unstructured and informal, and the content is largely determined by the students in attendance. Other groups are more traditionally psychotherapeutic in nature, and the leader or co-leaders guide the participants in discussions of relevant topics. Whatever the format and content, group counseling can be intimidating to students at first because it may feel frightening to share personal thoughts, feelings, and experiences with a number of peers at once. However, once the initial anxiety is overcome, groups can provide relief, comfort, and support to participants. Most people find it very reassuring to talk with others who have similar feelings and life experiences, and a group can be a powerful tool for healing and change.
The makeup of groups will change from year to year and even semester to semester. Students who are currently seeing a CAPS therapist can speak directly to him or her about the possibility of joining a group. Other interested students should see check out the groups below and then call Chariklia Flanagan at 860.685.3143 to inquire about participation. It is likely that interested students will be asked to meet briefly with a therapist to ensure that participation in a group is the right decision.
Current - Fall 2021 Groups/Workshop Series: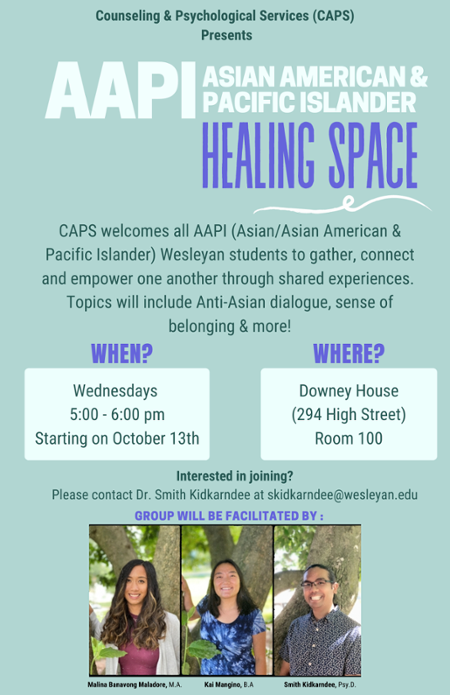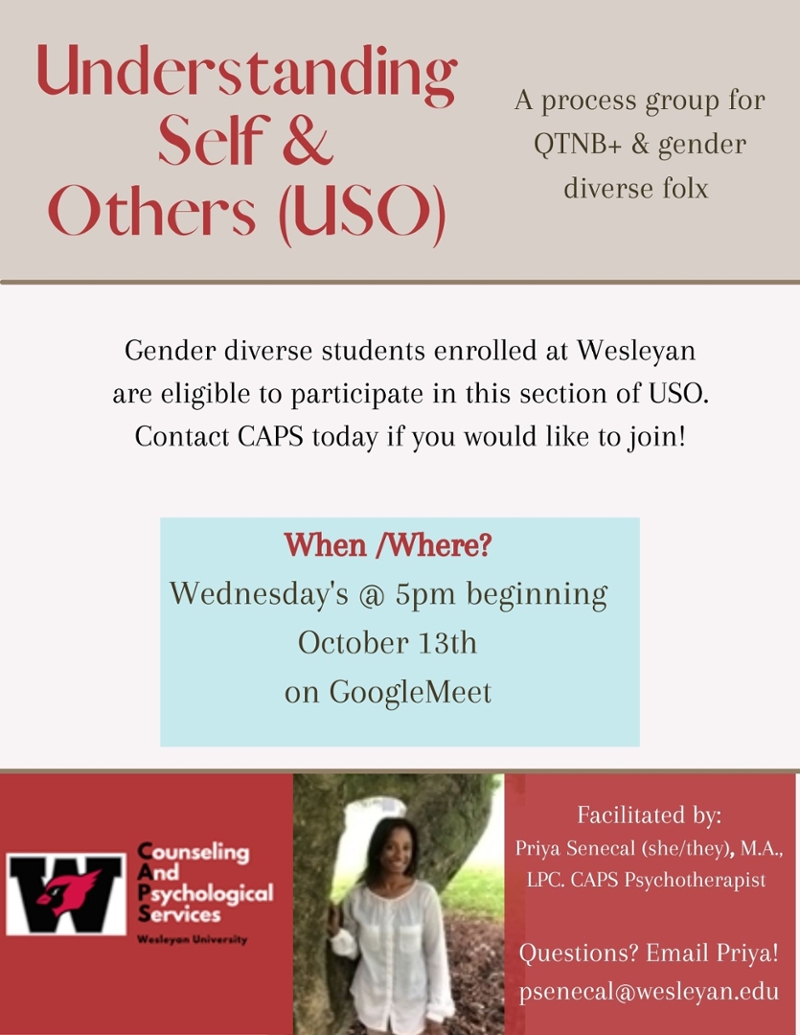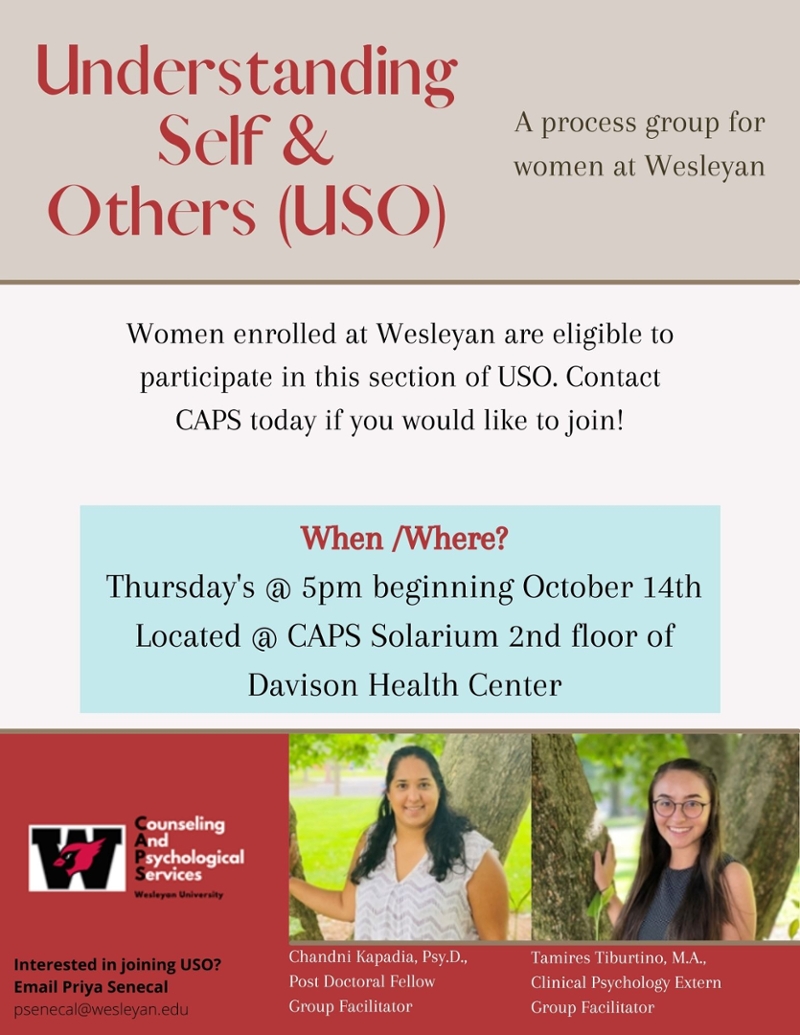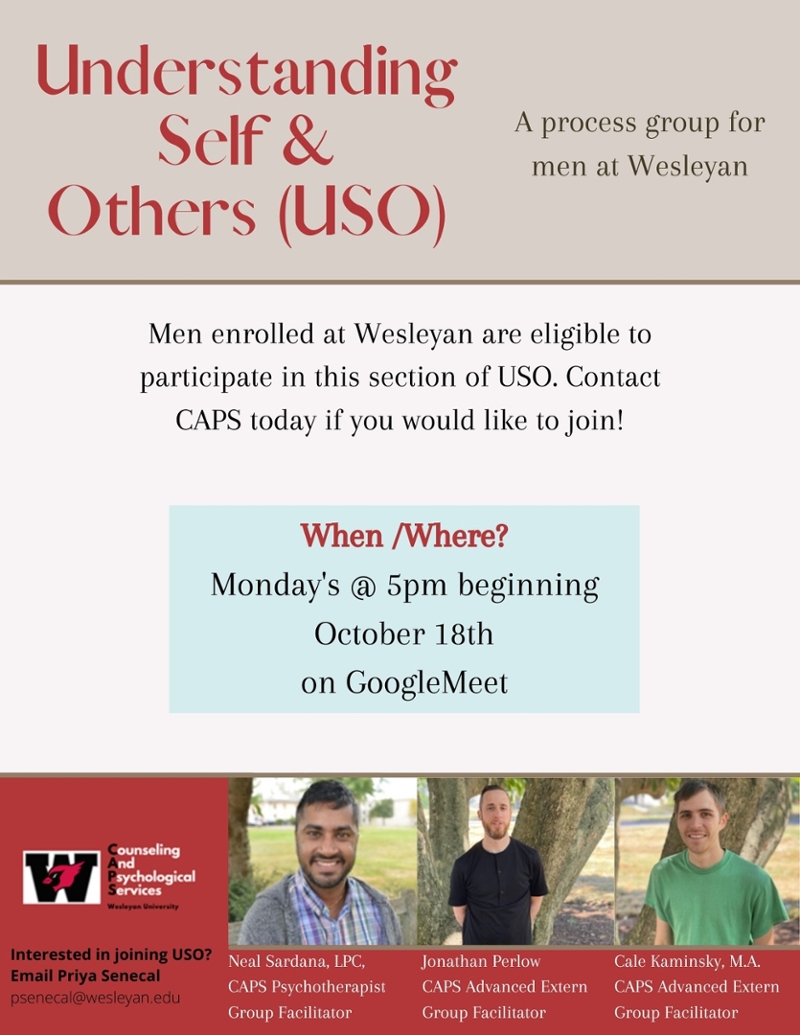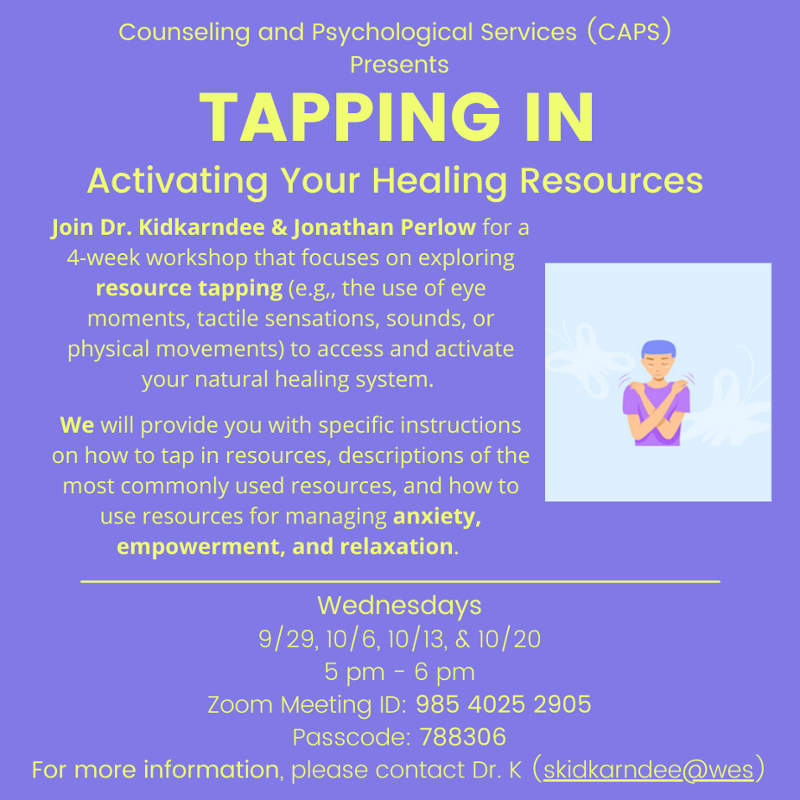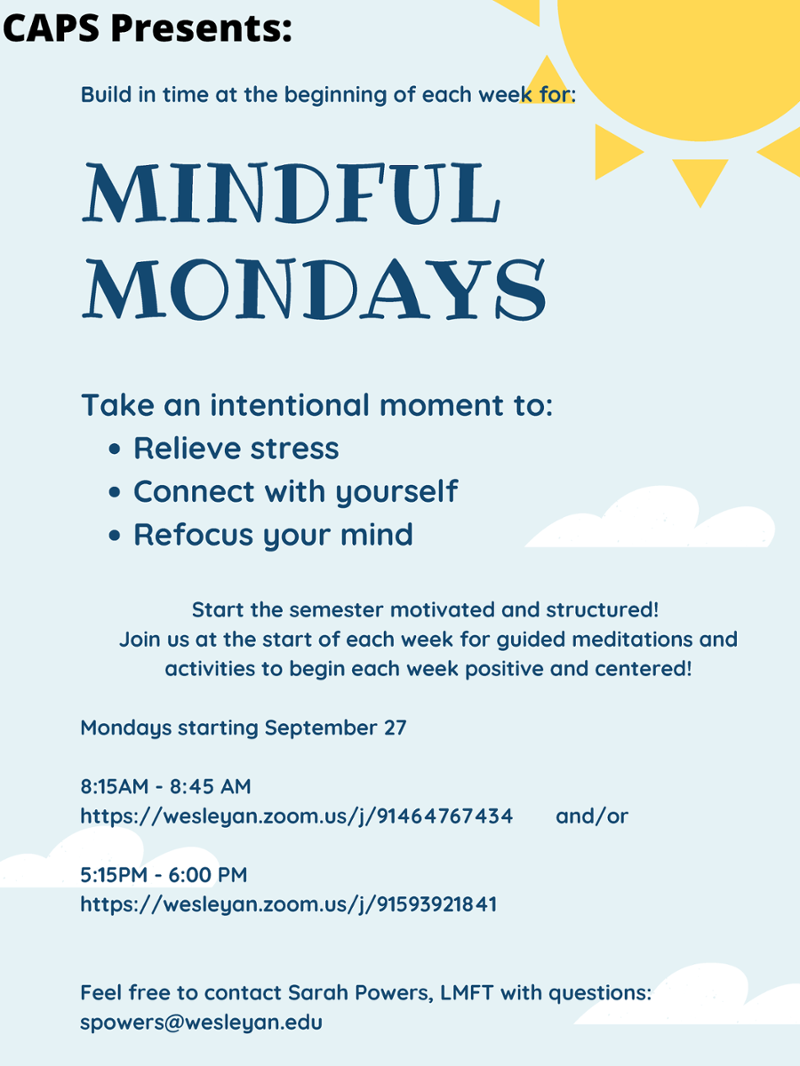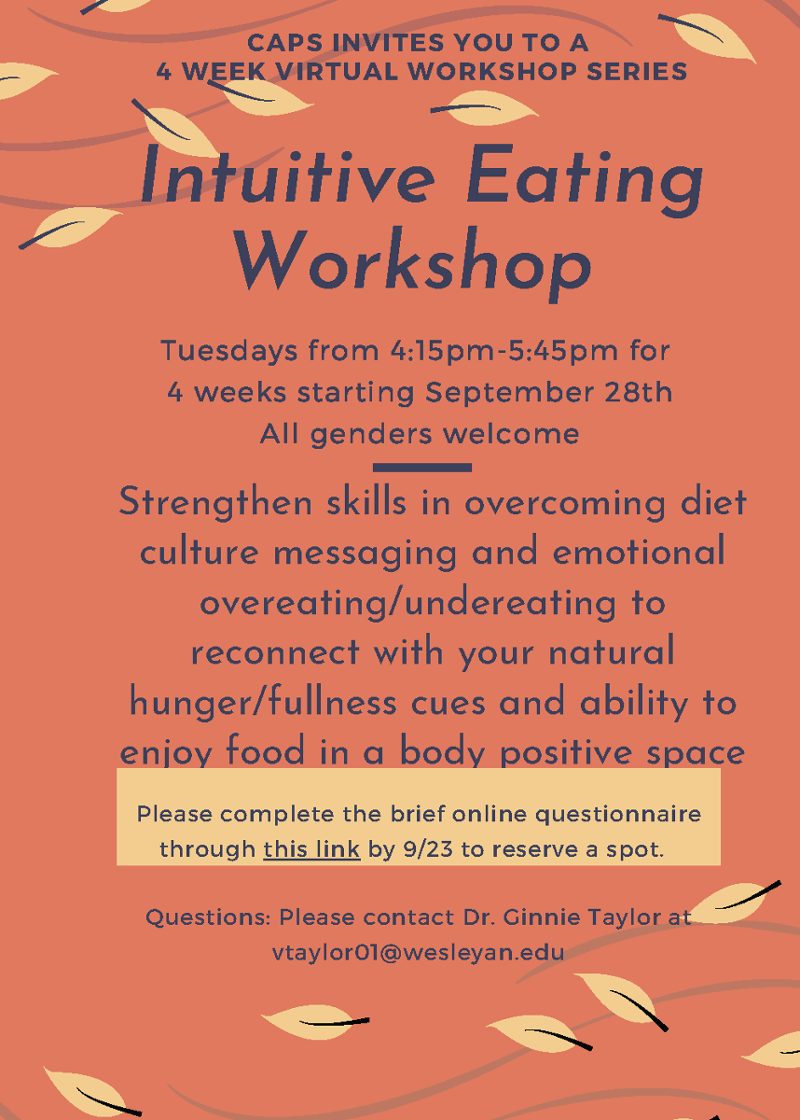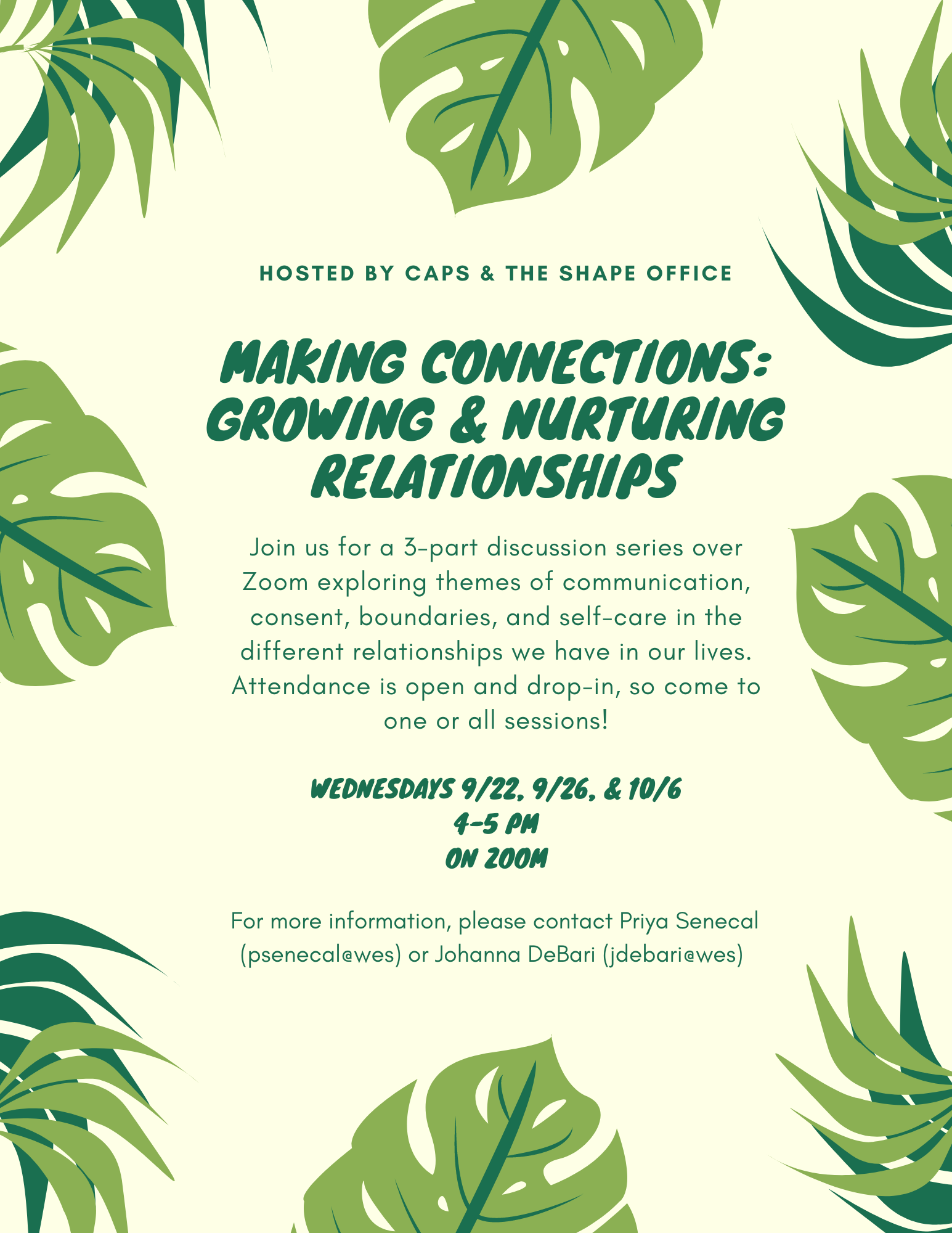 Making Connections: Growing & Nurturing Relationships
Hosted by CAPS & the SHAPE Office
Wednesdays 9/22, 9/26, & 10/6
4-5 PM
On Zoom
Join us for a 3-part discussion series over Zoom exploring themes of communication, consent, boundaries, and self-care in the different relationships we have in our lives. Attendance is open and drop-in, so come to one or all sessions!
For more information, please contact Priya Senecal (psenecal@wes) or Johanna DeBari (jdebari@wes).
Past - Fall/Spring 2020 Groups/Workshop Series: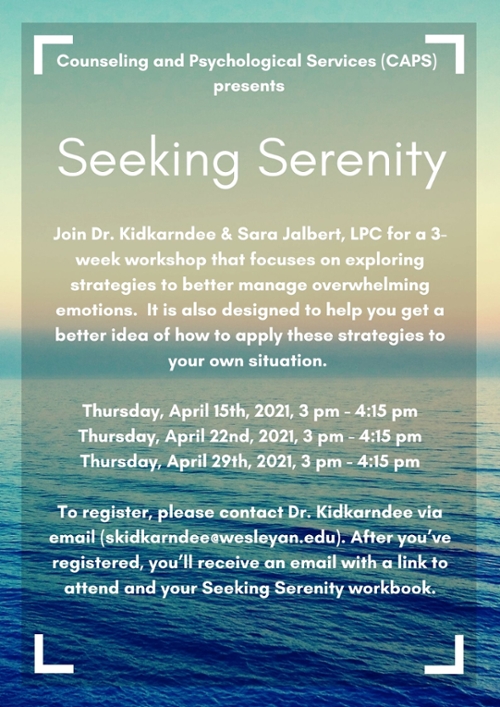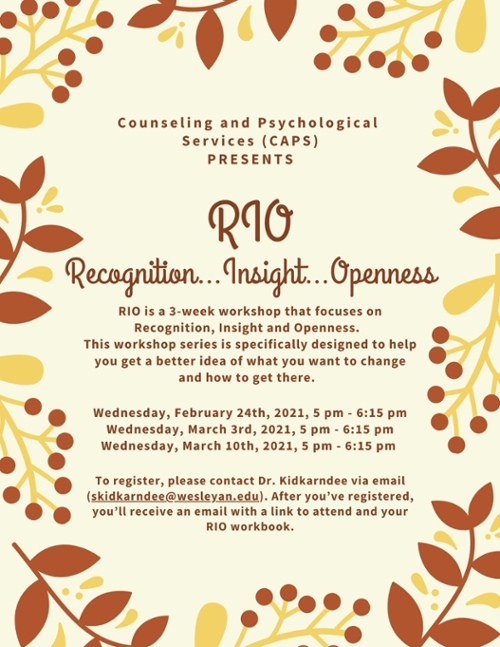 Past - Fall/Spring 2020 Groups/Workshop Series: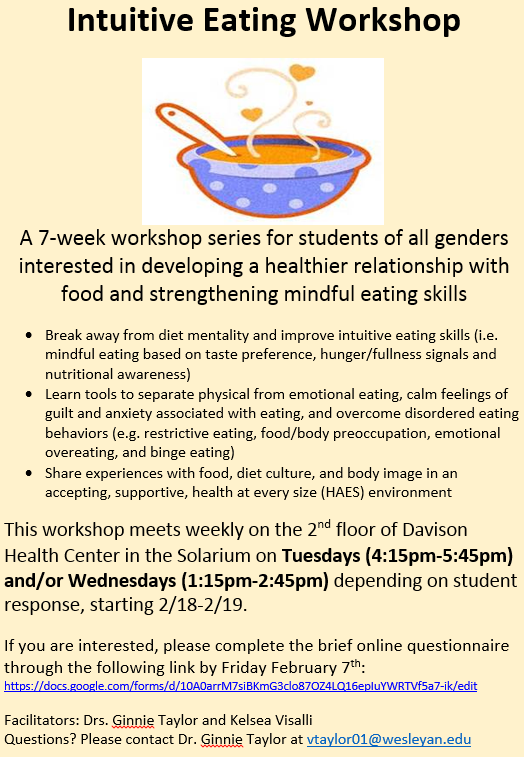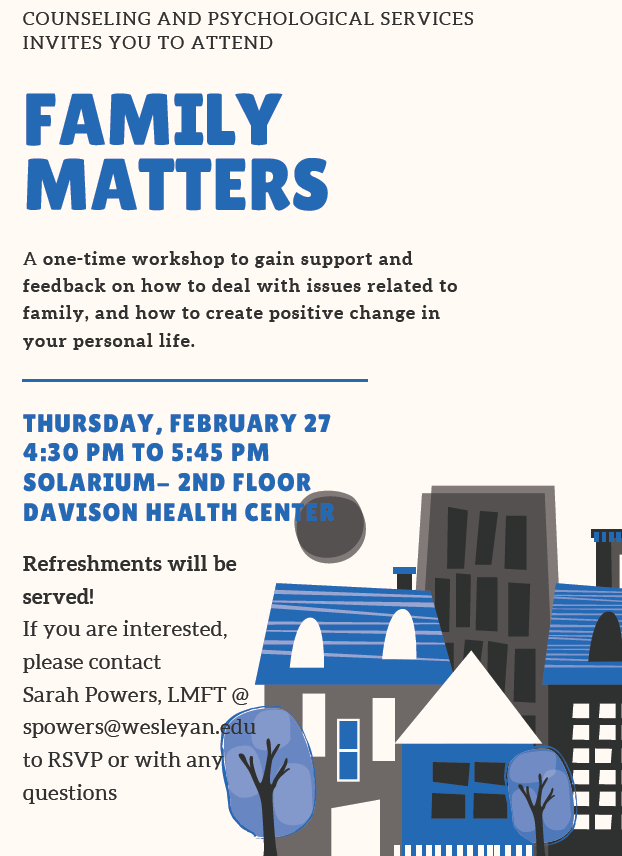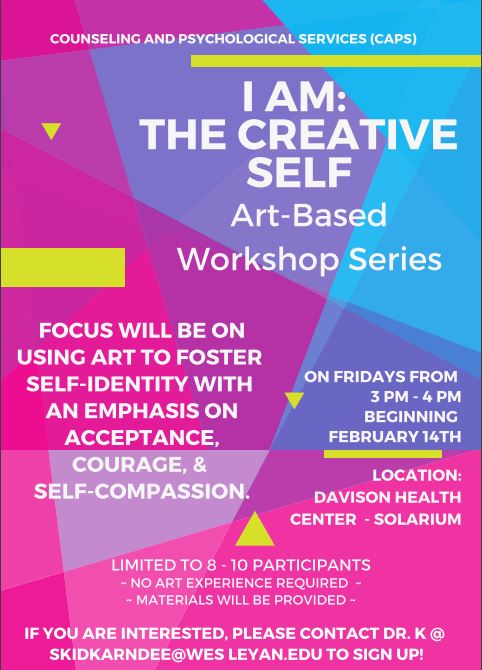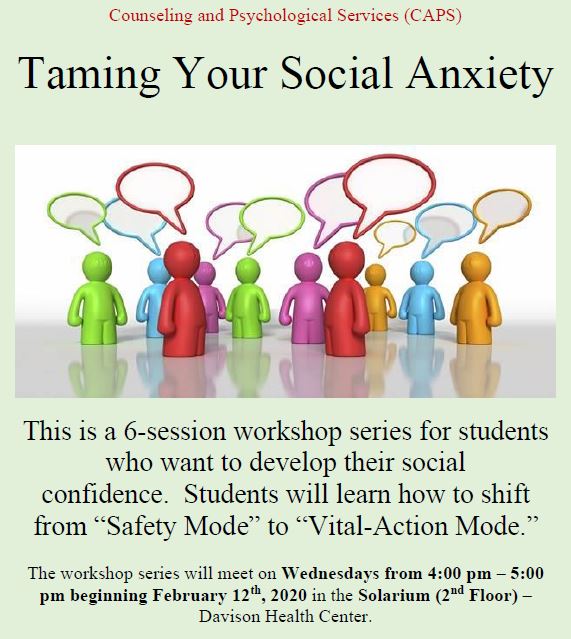 If you are interested, please complete the brief online questionnaire at  https://goo.gl/forms/16XV4BCGJd4dgErl2   by 5 pm on Saturday, February 8th.
Questions? Please contact Dr. Smith Kidkarndee at skidkarndee@wesleyan.edu

STUDENT-RUN GRIEF SUPPORT GROUP
(sponsored by Counseling and Psychological Services)
Meets: Weekly (Thursdays beginning January 30th)
Time: 7:30 PM
Location: Davison Health Center Solarium - 2nd-floor room 201
This student-led group creates a network of support for those who have experienced the death of a loved one.  Please feel free to come and leave when it is convenient for you.
For more information please contact:
vdaar@wesleyan.edu
syeskelmedni@wesleyan.edu
shair@wesleyan.edu
Past - Fall 2019 Groups/Workshop Series: