Group Counseling
Students may choose to participate in one of our psychoeducational, psychotherapeutic, or support groups. Offerings for Spring 2022 Groups/Workshop Series are posted below.  Please check back frequently as more will be added as the semester begins.
Groups vary a great deal in content and format. Some are educational and curriculum-based and may feel like small seminars in which the leader instructs the participants with some discussion. Groups designed to teach study skills or coping strategies are examples. Other groups are designed to provide support for particular populations of students, such as international or LGBTQIA+ students. Support groups are generally unstructured and informal, and the content is largely determined by the students in attendance. Other groups are more traditionally psychotherapeutic in nature, and the leader or co-leaders guide the participants in discussions of relevant topics. Whatever the format and content, group counseling can be intimidating to students at first because it may feel frightening to share personal thoughts, feelings, and experiences with a number of peers at once. However, once the initial anxiety is overcome, groups can provide relief, comfort, and support to participants. Most people find it very reassuring to talk with others who have similar feelings and life experiences, and a group can be a powerful tool for healing and change.
The makeup of groups will change from year to year and even semester to semester. Students who are currently seeing a CAPS therapist can speak directly to him or her about the possibility of joining a group. Other interested students should see check out the groups below and then call Chariklia Flanagan at 860.685.3143 to inquire about participation. It is likely that interested students will be asked to meet briefly with a therapist to ensure that participation in a group is the right decision.
Current - Spring 2022 Group/Workshop Series: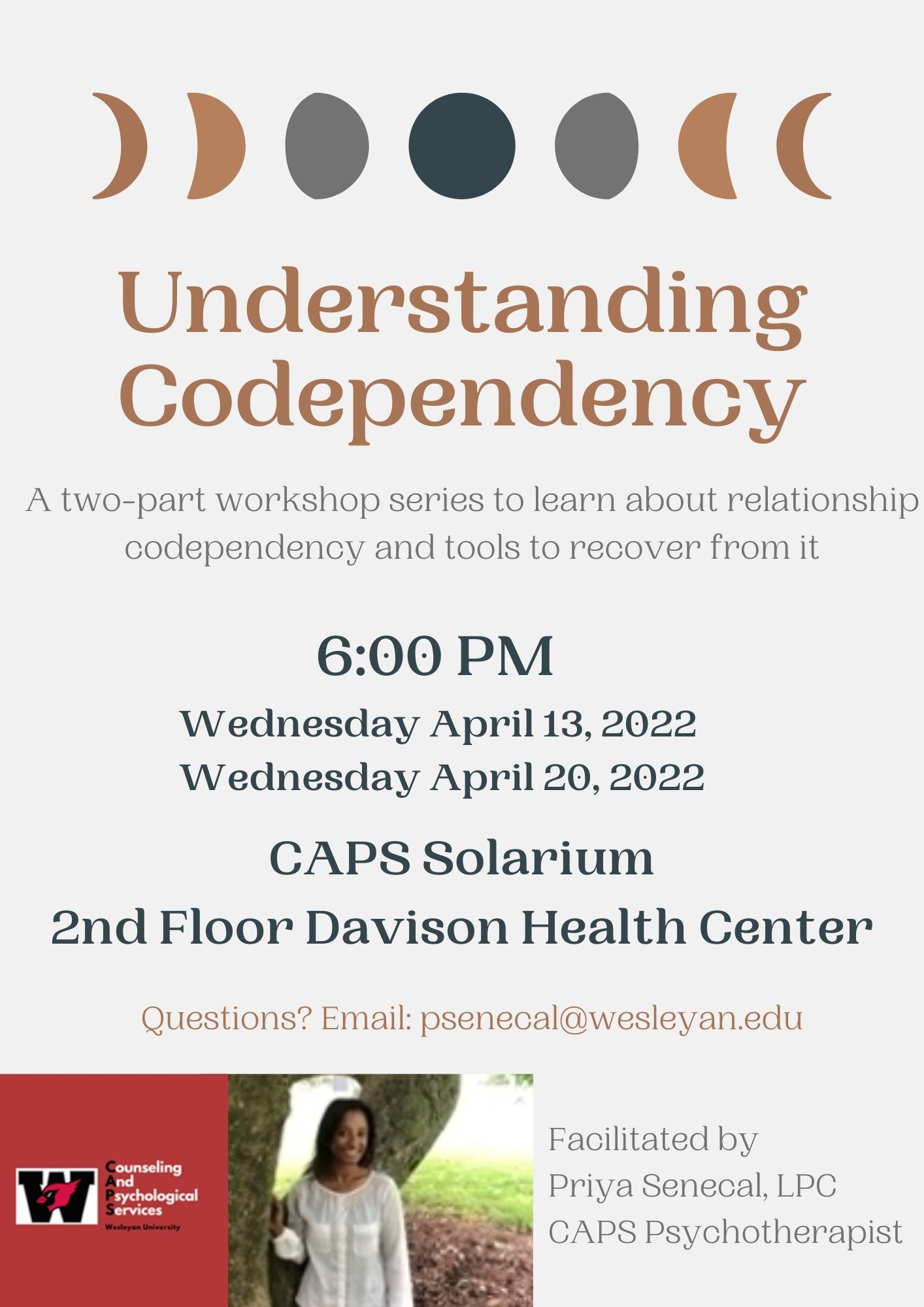 Understanding Codependency: A two-part workshop series to learn about relationship codependency and tools to recover from it.
Time: 6:00 pm
Dates: Wednesday, April 13, 2022 & Wednesday, April 20, 2022
Location: Solarium, Second Floor, Davison Health Center
Questions?  Email: psenecal@wesleyan.edu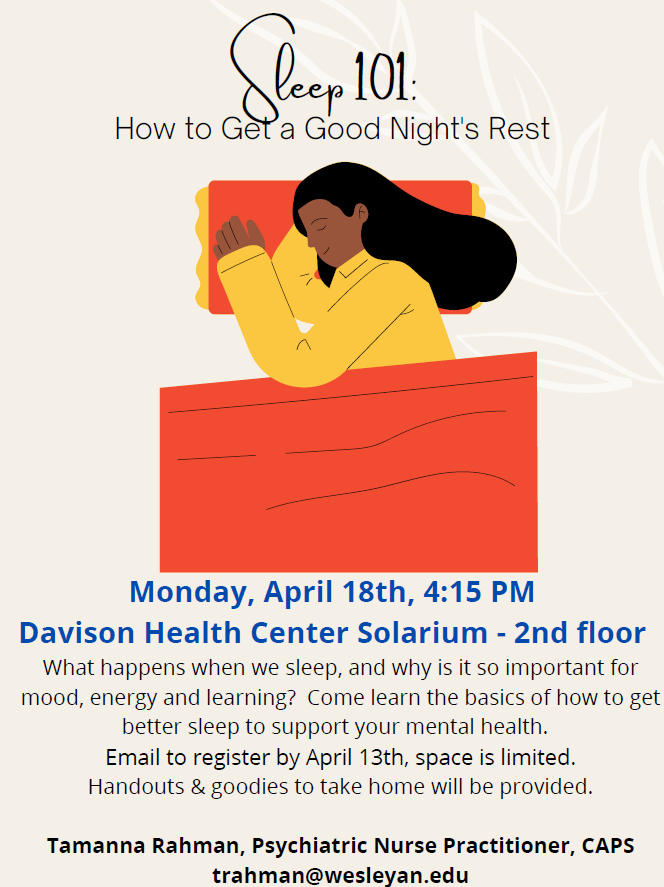 Sleep 101: How to Get a Good Night's Rest 
What happens when we sleep, and why is it so important for mood, energy and learning?  Come learn the basics of how to get better sleep to support your mental health.
Date: Monday, April 18, 2022
Time: 4:15 pm
Location: Davison Health Center, Solarium, Second Floor
Email to register by April 13th, space is limited.
Handouts & goodies to take home will be provided.
Tamanna Rahman, Psychiatric Nurse Practitioner, CAPS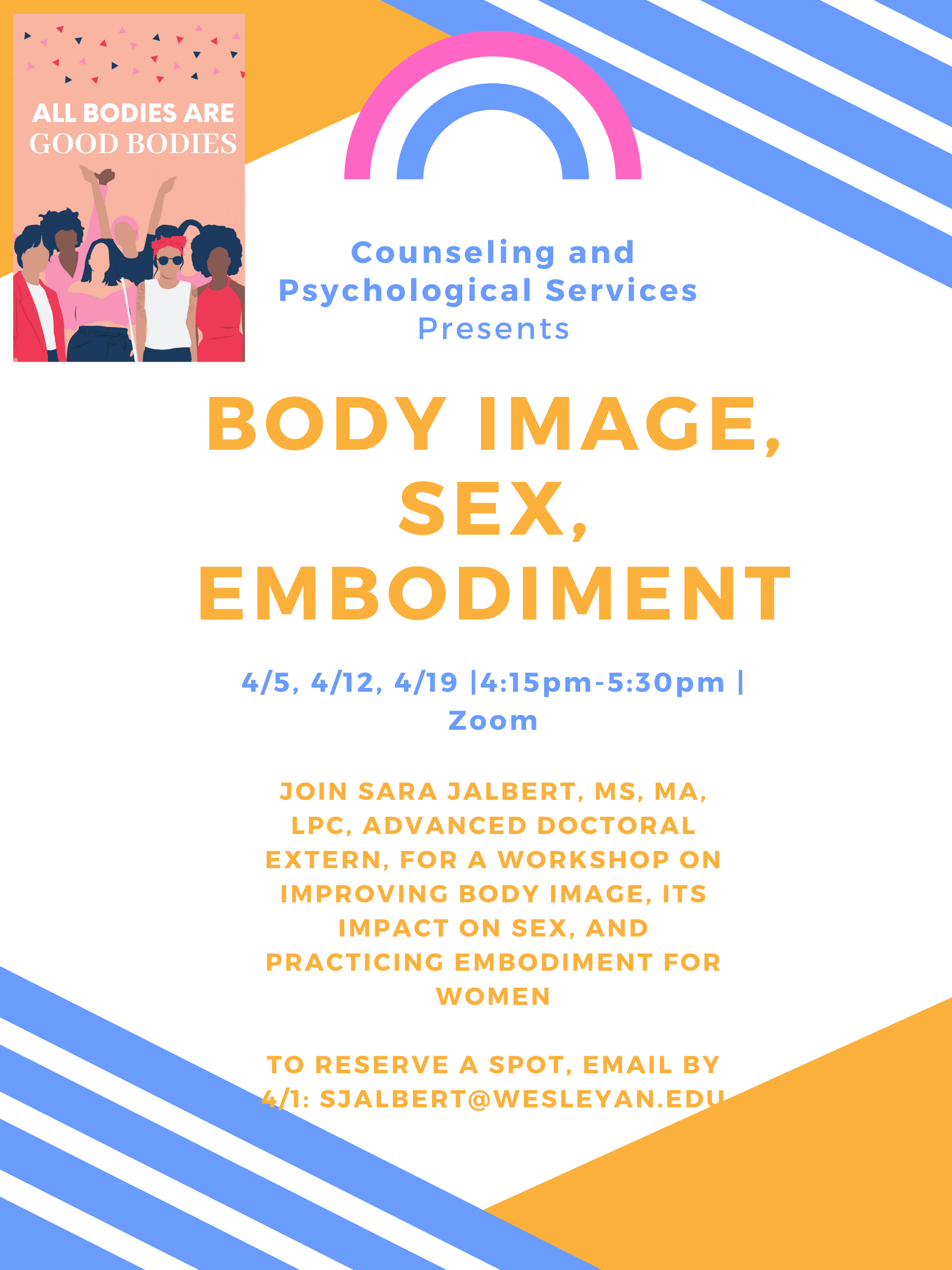 Body Image, Sex, Embodiment
Join Sara Jalbert, MS, MA, LPC, Advanced Doctoral Extern, for a workshop on improving body image, its impact on sex, and practicing embodiment for women.
Dates: 4/12, 4/19, & 4/26
Time: 4:15pm-5:30pm
Location: Zoom
To reserve a spot, email by Thursday, April 7th: sjalbert@wesleyan.edu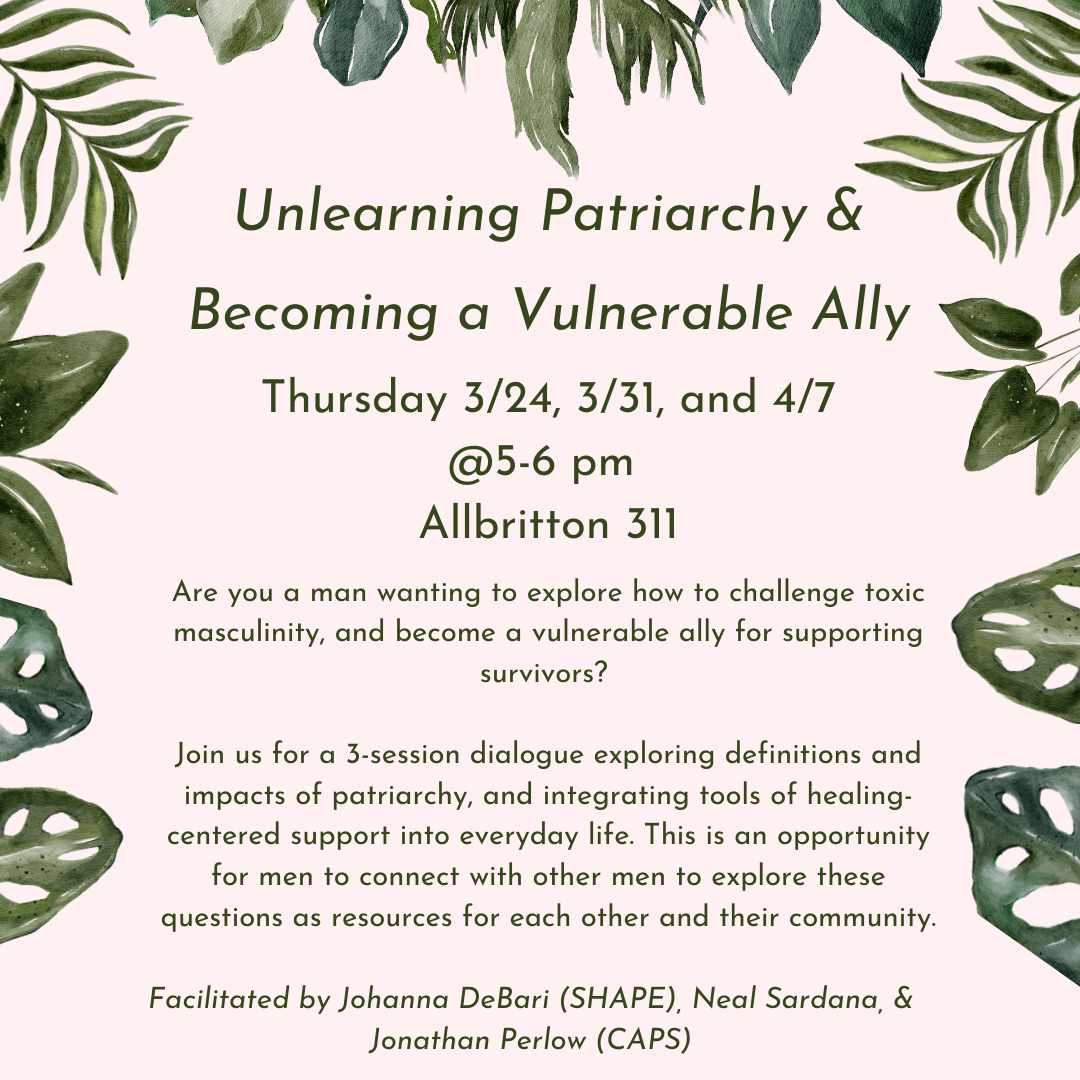 Unlearning Patriarchy & Becoming a Vulnerable Ally
Thursday 3/24. 3/31, and 4/7 @ 5 - 6 pm
Allbritton 311
Are you a man wanting to explore how to challenge toxic masculinity, and become a vulnerable ally for supporting survivors?
Join us for a 3-session dialogue exploring definitions and impacts of patriarchy, and integrating tools of healing centered support into everyday life. This is an opportunity for men to connect with other men to explore these questions as resources for each other and their community.
Facilitated by Johanna DeBari (SHAPE), Neal Sardana, & Jonathan Perlow (CAPS)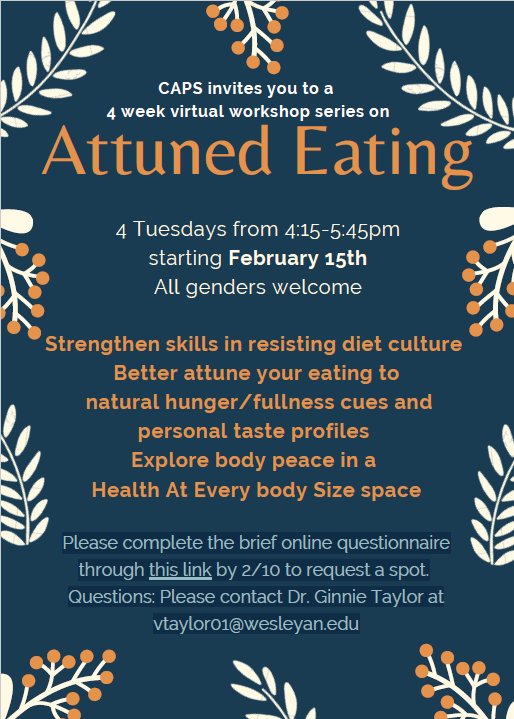 CAPS invites you to a 4-week virtual workshop series on Attuned Eating
4 Tuesdays from 4:15 pm - 5:45 pm starting February 15th
All genders welcome
- Strengthen skills in resisting diet culture
- Better attune your eating to natural hunger/fullness cues and personal taste profiles
- Explore body peace in a Health At Every body Size space
Please complete the brief online questionnaire (Click Here!) by 2/10 to request a spot.
Questions: Please contact Dr. Ginnie Taylor at vtaylor01@wesleyan.edu

CAPS Presents Taming Your Social Anxiety
This is a 6-session workshop series for students who want to develop their social confidence. Students will learn how to shift from "Safety Mode" to "Vital-Action Mode."
The workshop series will meet on Wednesdays from 4:30 pm – 5:30 pm beginning February 16th, 2022 in the Downey Lounge (Room 200).
If you are interested, please complete the brief online questionnaire at https://forms.gle/dfHURNTcyYqLecJm8 by
5 pm on Sunday, February 13th.
Questions?  Please contact Dr. Smith Kidkarndee at skidkarndee@wesleyan.edu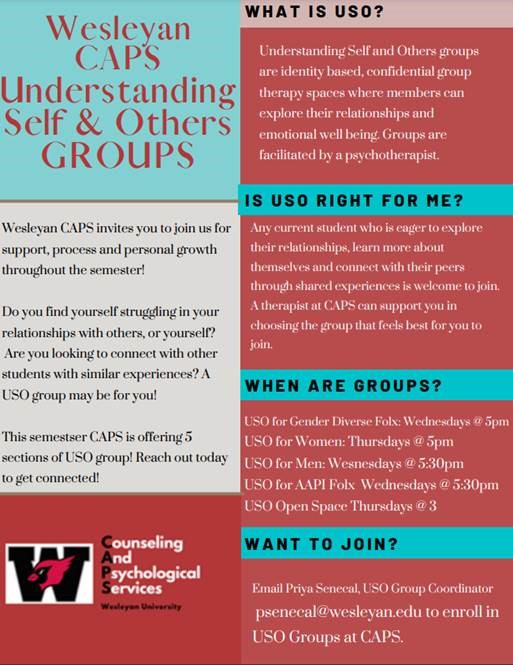 Understanding Self & Others (USO) GROUPS
Wesleyan CAPS invites you to join us for support, process and personal growth throughout the semester!
Do you find yourself struggling in your relationships with others, or yourself?   Are you looking to connect with other students with similar experiences?  A USO group may be for you!  
This semester CAPS is offering 5 sections of USO group!  Reach out today to get connected!
USO for Gender Diverse Folx: Wednesdays @ 5 pm
USO for Women: Thursdays @ 5 pm
USO for Men: Wednesdays @ 5:30 pm
USO for AAPI Folx  Wednesdays @ 5:30 pm
USO Open Space Thursdays @ 3 pm
Email Priya Senecal, USO Group Coordinator, psenecal@wesleyan.edu to enroll in USO Groups at CAPS.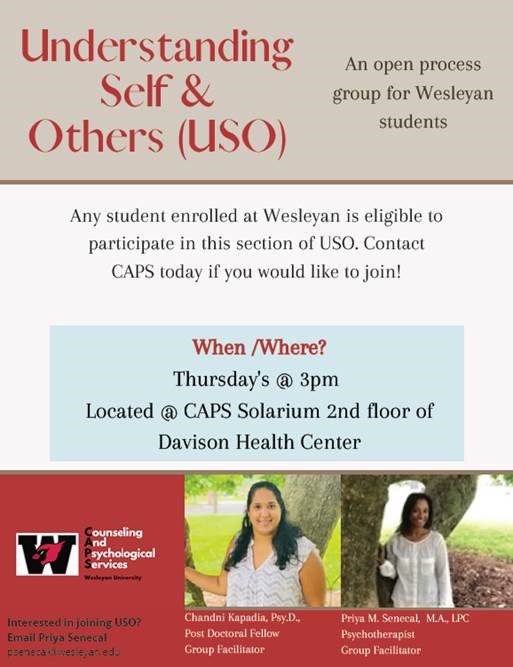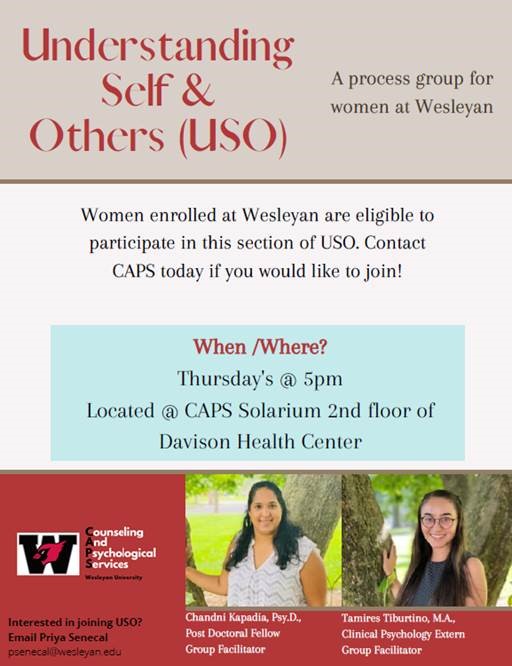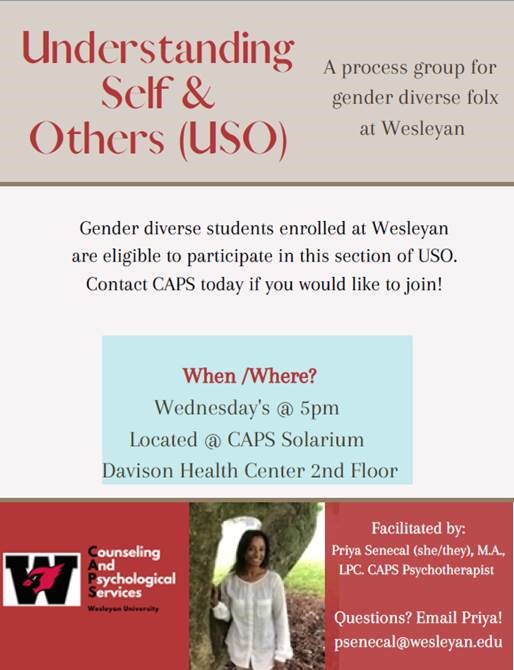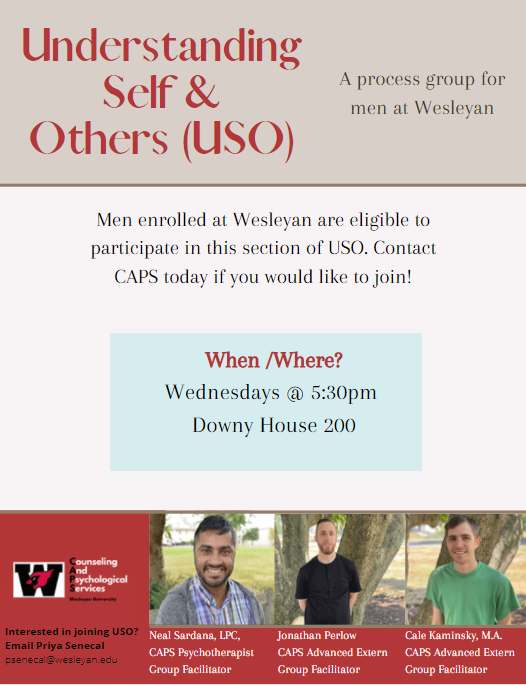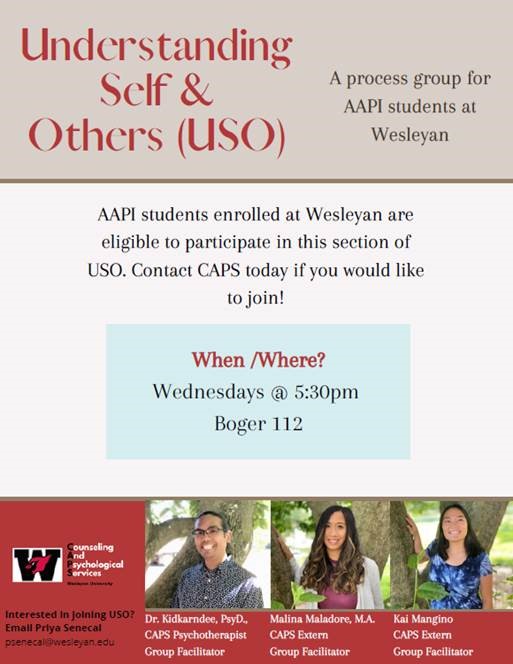 Fall 2021 Groups/Workshop Series: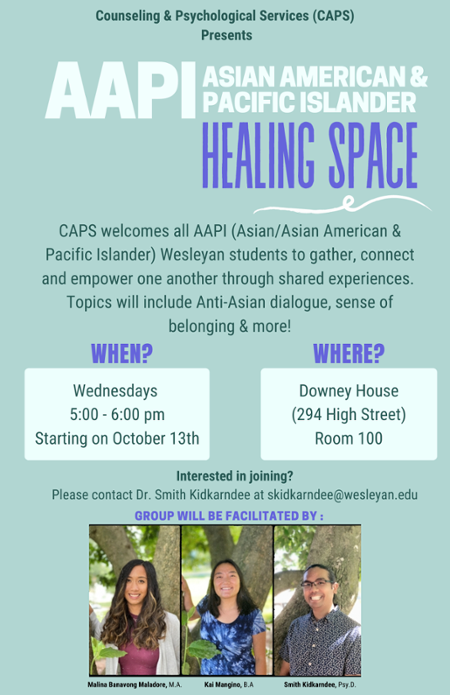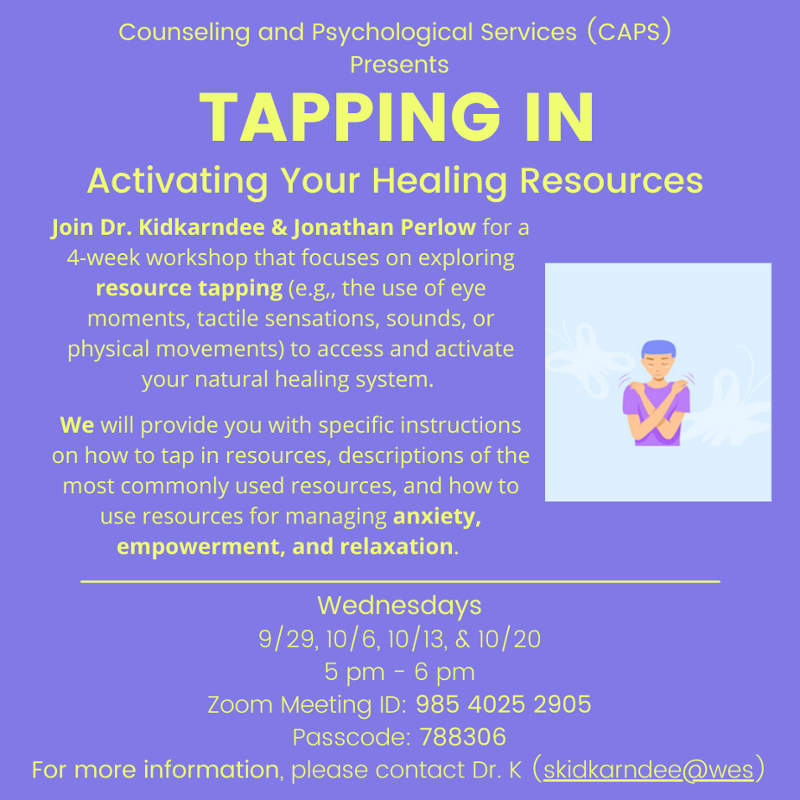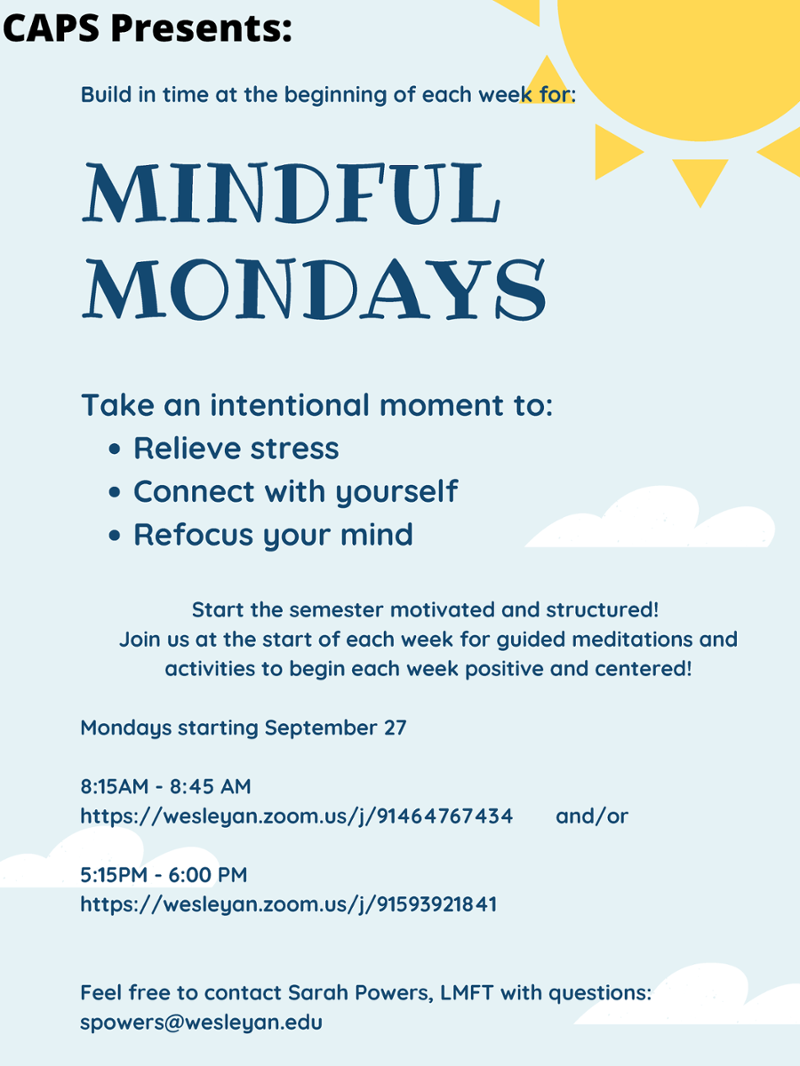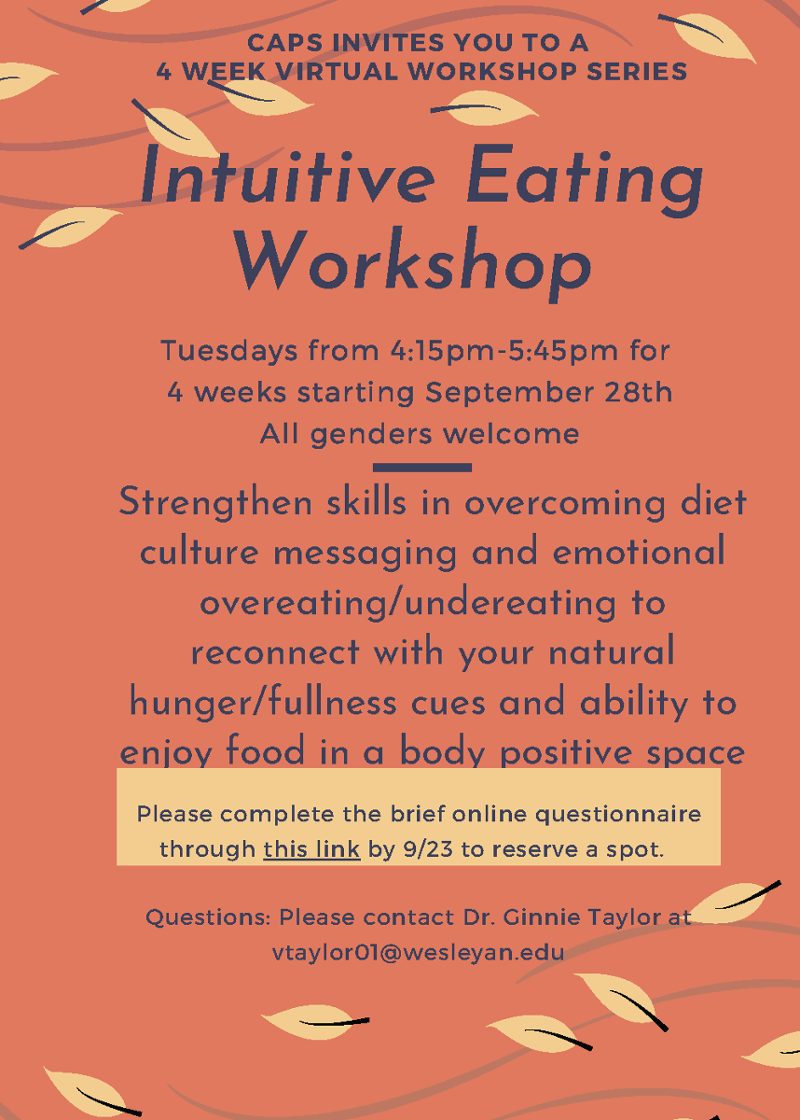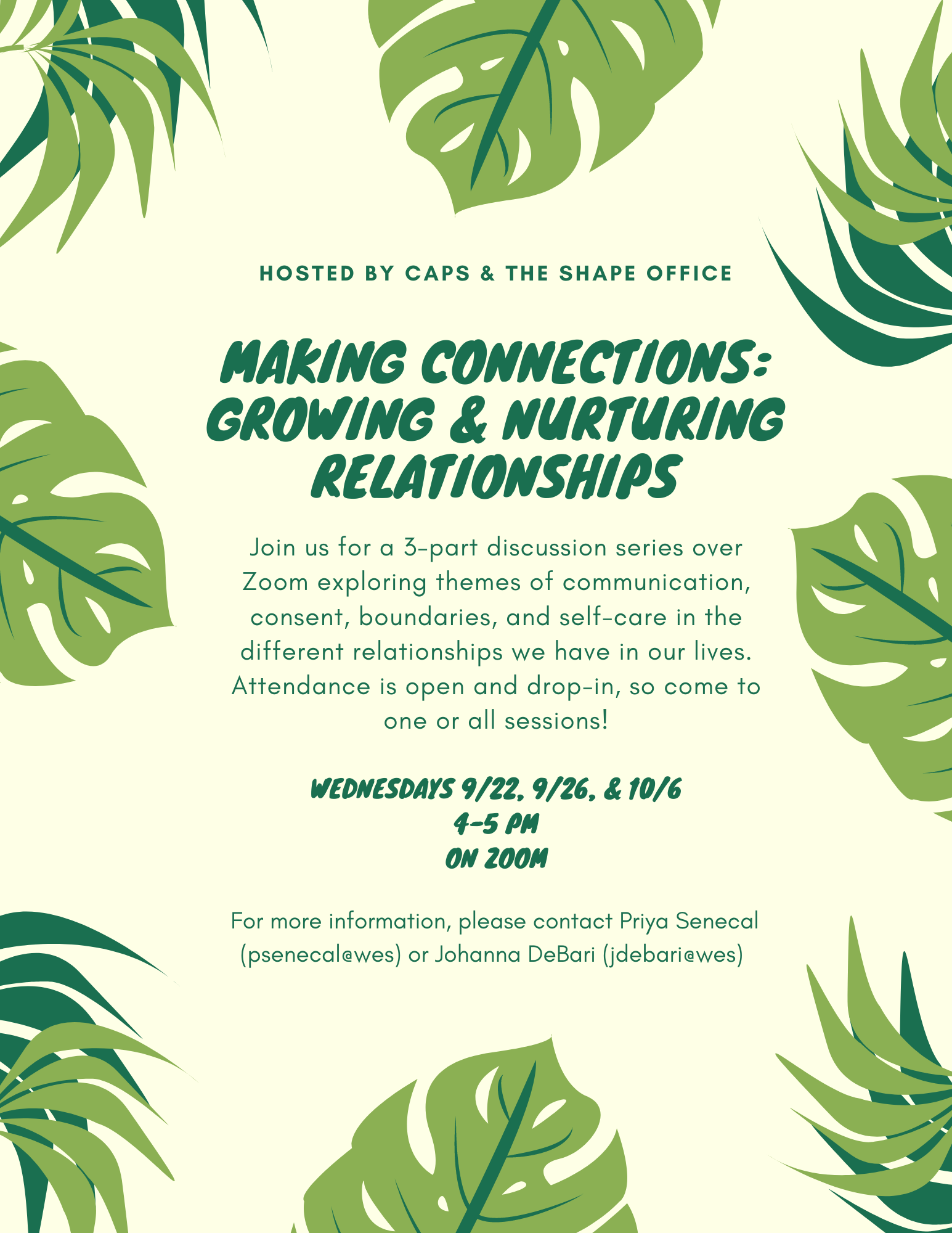 Making Connections: Growing & Nurturing Relationships
Hosted by CAPS & the SHAPE Office
Wednesdays 9/22, 9/26, & 10/6
4-5 PM
On Zoom
Join us for a 3-part discussion series over Zoom exploring themes of communication, consent, boundaries, and self-care in the different relationships we have in our lives. Attendance is open and drop-in, so come to one or all sessions!
For more information, please contact Priya Senecal (psenecal@wes) or Johanna DeBari (jdebari@wes).
Past - Fall/Spring 2020 Groups/Workshop Series: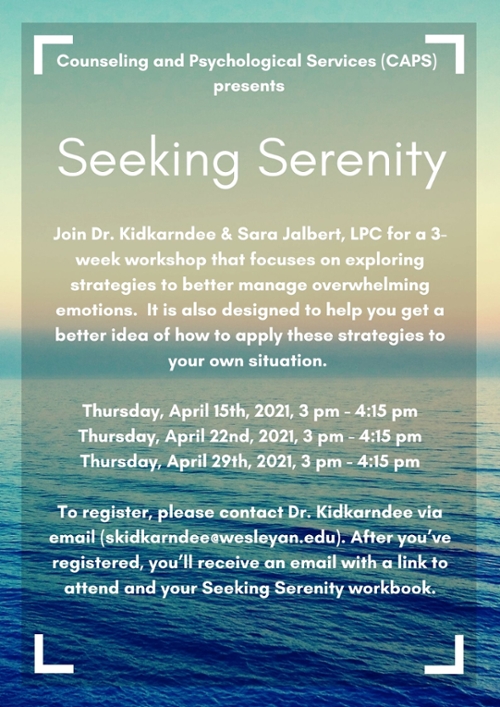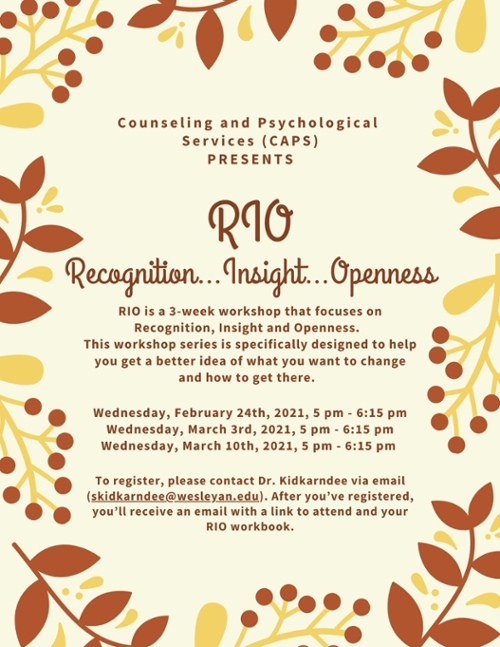 Past - Fall/Spring 2020 Groups/Workshop Series: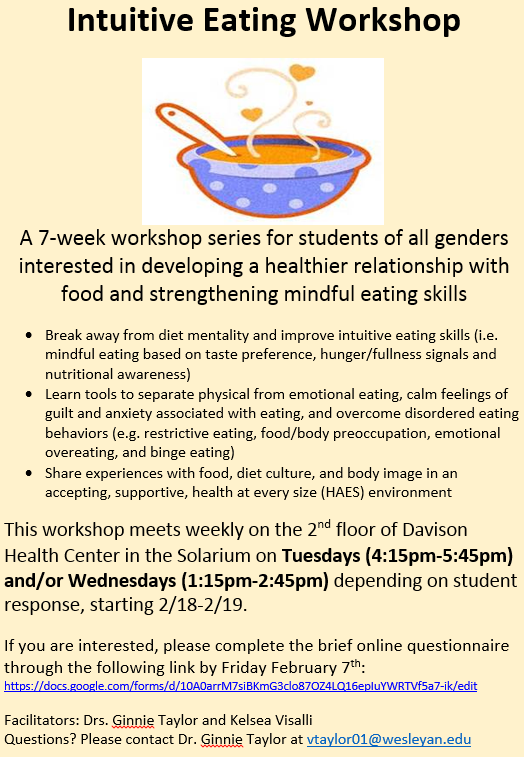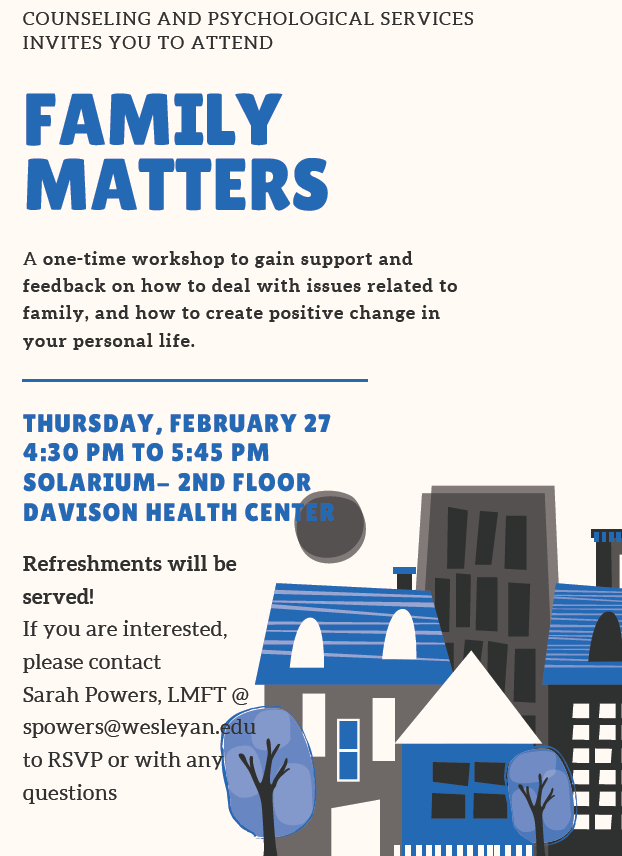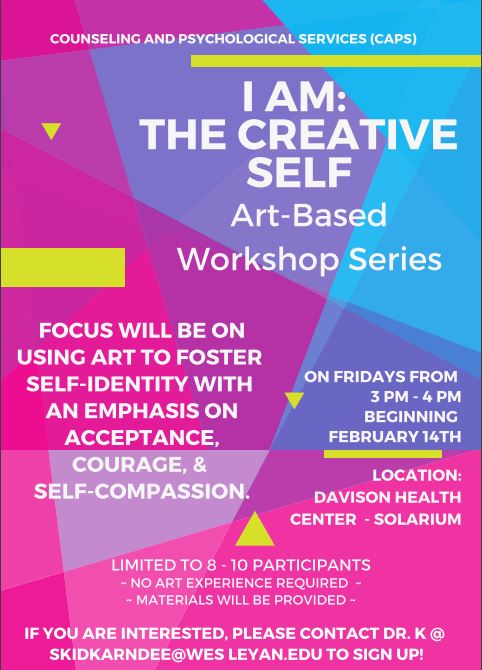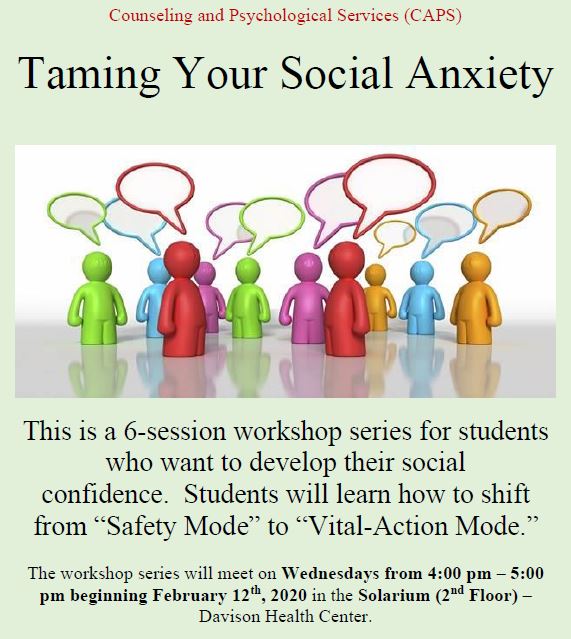 If you are interested, please complete the brief online questionnaire at  https://goo.gl/forms/16XV4BCGJd4dgErl2   by 5 pm on Saturday, February 8th.
Questions? Please contact Dr. Smith Kidkarndee at skidkarndee@wesleyan.edu

STUDENT-RUN GRIEF SUPPORT GROUP
(sponsored by Counseling and Psychological Services)
Meets: Weekly (Thursdays beginning January 30th)
Time: 7:30 PM
Location: Davison Health Center Solarium - 2nd-floor room 201
This student-led group creates a network of support for those who have experienced the death of a loved one.  Please feel free to come and leave when it is convenient for you.
For more information please contact:
vdaar@wesleyan.edu
syeskelmedni@wesleyan.edu
shair@wesleyan.edu
Past - Fall 2019 Groups/Workshop Series: