The Ingrid Bergman Collection
1915-1982; Actress in Film, Theater, Television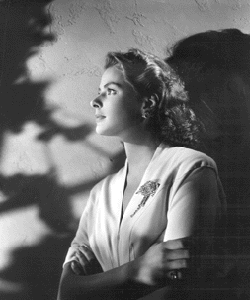 "We have just formed a group of six girls, where we are playing theatre, and we have practiced a play called The Green Elevator. We set up a stage and benches and lamps, etc. I got very excited when I saw all that! A Stage! I ran up to it and I couldn't help it, but I had never felt as happy as that ever before as when I stood there... Please God, make me a great actress!"
—From Ingrid Bergman's Diary (ca. 1930-31); translated from the Swedish


Brief Biography of Ingrid Bergman
Ingrid Bergman found lasting international stardom in film, theater, and television through her combination of exceptional talent, extraordinary beauty, and hard-working determination, Her remarkable career began in Sweden where, after attending the Royal Dramatic School, she began playing roles at Svensk Filmindustri, ultimately receiving major attention for the Swedish version of Intermezzo (1936) and A Woman's Face [En Kvinnas Ansikte] (1938). In 1939, she came to America under the aegis of David O. Selznick, and her career was quickly assured, particularly after her radiant performance in Casablanca (1942). Her films include three Alfred Hitchcock classics, Spellbound (1945), Notorious (1946), and Under Capricorn (1949), and her Oscar-winning performances in Gaslight (1944), Anastasia (1956), and Murder On The Orient Express (1974).
Her European career resumed in films directed by her husband, Roberto Rossellini, and her stage and television work brought her numerous awards, including the Emmy for A Woman Called Golda (1982). Her autobiography, My Story, was published in 1981. Two of her children, Pia Lindstrom and Isabella Rossellini, have found careers in the entertainment industry, following in their mother's footsteps.
[top]
Description of the Ingrid Bergman Collection
The Ingrid Bergman Collection is a complete record of her professional and personal life, beginning with her baby pictures and childhood diaries and continuing through her Hollywood years, her international stardom and on to the end of her life. The Collection includes scripts, awards, portraits, photos of family and friends, scrapbooks, costumes and clothing, legal papers, financial records, stills, clippings, negatives, memorabilia, and excellent correspondence files which contain letters from personalities such as Ernest Hemingway, Greta Garbo, James Stewart, Hitchcock, and Selznick.
Restrictions on access: Access to this collection requires permission of the donors. Please consult the guidelines for use of The Reid Cinema Archives materials.
[top]

Copyright © 2002 Wesleyan University. All rights reserved.