The Kay Francis Papers
1899*-1968; Actress, Movie Star
*Birth date varies, including 1905 and 1911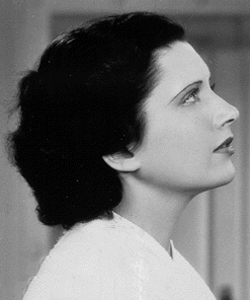 "My life? Well, I get up at a quarter to six in the morning if I'm going to wear an evening dress on camera. That sentence sounds a little ga-ga, doesn't it? But never mind, that's my life...As long as they pay me my salary, they can give me a broom and I'll sweep the stage. I don't give a damn. I want the money...When I die, I want to be cremated so that no sign of my existence is left on this earth. I can't wait to be forgotten." —From Kay Francis's private diaries, ca. 1938


Brief Biography of Kay Francis
Throughout the decade of the 1930s, Kay Francis was a top Hollywood star, her career a perfect example of the sort that once flourished in the studio system. A tall and sultry beauty, she wore clothes with style and grace, and her name became synonymous with glamour, fashion and modern womanhood. She starred in stylish comedies such as Ernst Lubitsch's Trouble in Paradise (1932), and the Marx Brothers's The Cocoanuts (1929), but she is best remembered for her films in which a woman of poise and intelligence "faced life," such as Dr. Monica (1934), Living on Velvet (1935), In Name Only (1939), and House on 56th Street (1933).
She had limited success in the early 1940s and, no longer able to land good roles, retired from film in 1946. In the late 1940s and early 1950s, Francis turned to the stage, appearing with some success on Broadway in State of the Union and touring in various productions of plays old and new, including Windy Hill, The Last of Mrs. Cheyney, Let Us Be Gay, Favorite Strangers, Goodbye, My Fancy, The Web and the Rock, Mirror, Mirror, and Theatre. She also acted in two television programs. She died in 1968.
Restrictions on access: None. Please consult the guidelines for use of The Reid Cinema Archives materials.
[top]

Copyright © 2002 Wesleyan University. All rights reserved.