The Elia Kazan Collection
1909-2003; Film and Theater Director and Producer, Actor, Author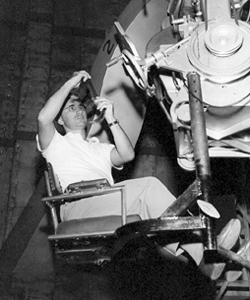 "I learned that I was only good when I was trying to please myself, when I was in command and charge, and when I was trying to please myself and not some superior or fame, money, or power. If a man has talent, it is only because he tells himself from time to time the truth he's been trying to hide from himself. Tell that to your actors and especially your playwrights." —From Elia Kazan's private notes on directing


Brief Biography of Elia Kazan
Elia Kazan has placed his stamp on the history of American film and theater. An immigrant child, he was educated at Williams and Yale, and later became a pioneering member of the influential Group Theatre as well as one of the founders of the prestigious Actors Studio. He was the original director of such stage hits as The Skin of Our Teeth (1942), A Streetcar Named Desire (1947), Death of a Salesman (1949), Tea and Sympathy (1953), All My Sons (1947), Cat on a Hot Tin Roof (1955), J.B. (1958), Dark at the Top of the Stairs (1957), Sweet Bird of Youth (1959), and After the Fall (1964).
The films he directed during the 1940s and 1950s won a long list of awards for both Kazan and his actors, who included Marlon Brando, James Dean, Vivien Leigh, Warren Beatty, Montgomery Clift and Natalie Wood. Kazan's movie classics include the film version of Streetcar (1951), and On the Waterfront (1954), Gentleman's Agreement (1948), East of Eden (1955), Splendor in the Grass (1961), and A Tree Grows in Brooklyn (1945). Kazan is the author of six novels and his autobiography, A Life.
[top]
Description of the Elia Kazan Collection
The Elia Kazan Collection is one of the outstanding collections in American film and theater. It contains extensive and detailed documentation of Kazan's personal, professional, and political life, including his Group Theatre work in the 1930s, his history-making direction of the works of Tennessee Williams, Arthur Miller, Robert Anderson, Thornton Wilder and William Inge, his Oscar-winning films, and his successful career as a novelist. The collection includes scripts, correspondence (personal and professional), journals, directorial notes and analyses, books, manuscripts, production documents, film stills, family photographs and scrapbooks, art, direction materials, and more.
Restrictions on access: None. Although this collection is open, not all material is currently available. Please consult the guidelines for use of The Reid Cinema Archives materials.
[top]

Copyright © 2002 Wesleyan University. All rights reserved.