The Frank Capra Collection
1897-1991; Director, Producer, Author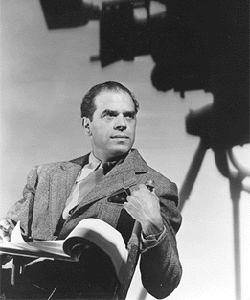 "I want my archive to be available to all the people who have enjoyed my movies. I have nothing to hide from anyone. Let people make of these things what they will, because what they will make of them will tell us not only who I am, but who and what they are. I've saved these things because I've had a wonderful life, enjoyed it, and I believe in people and trust them."


Brief Biography of Frank Capra
Frank Capra's work has become so well-known and respected that it is today used as a yardstick by which critics and the public measure a certain type of purely American film comedy.
Capra was born in Bisacquino, Sicily, on May 18, 1897, and immigrated to the United States when he was five. He earned an engineering degree at the California Instuitute of Techology in 1918 (then known as Throop College of Technology) and then began a long and successful film career. After working for Mack Sennett as gag writer and director, he went to work at Columbia Pictures, and became instrumental in lifting the studio out of the "Proverty Row" category.
Capra's films brought him two Oscars for Best Picture and three for Best Director: It Happened One Night (1934), Mr. Deeds Goes to Town (1936), and You Can't Take It With You (1938). He also directed such landmark movies as Mr. Smith Goes to Washington (1939), Meet John Doe (1941), and the ever-popular It's a Wonderful Life (1946).
During World War II, Capra became a colonel in the Army Signal Corps, directing the Award-winning Why We Fight series. He retired from filmmaking in 1966, after which he published his autobiography, The Name Above the Title, in 1971. Throughout the 1970s, Capra was much in demand as a lecturer and guest at film festivals and other events, and performed service for the U.S. government. He retired from public life in the 1980s following a series of debilitating strokes.
Capra was president of the Academy of Motion Picture Arts and Sciences, president of the Screen Directors Guild, and the recipient of the Distinguished Service Medal, the Order of the British Empire, the White House National Medal of the Arts, the 10th Annual American Film Institute Life Achievement Award, and many other honors.
[top]
Description of the Frank Capra Collection
The Frank Capra Collection is a complete record of his life and career, from his childhood throughout his active directing years, his World War II service, his work with the Directors Guild, the Academy of Motion Picture Arts and Sciences, and on to his years as author and lecturer.
The uncut and detailed version of his autobiography is included, along with a set of his shooting scripts with notes, revisions, shooting plans, and casting ideas. The collection also includes correspondence on personal and professional matters; a vast collection of stills, posters, ads, publicity materials and art direction sketches; WWII documentation, scripts, photos, backgrounds; journals; diaries; family photographs; fan letters; and memorabilia.
Restrictions on access: None. Please consult the guidelines for use of The Reid Cinema Archives materials.
[top]

Copyright © 2002 Wesleyan University. All rights reserved.