The Stuart Byron Collection
1941-91; Writer, Critic, Executive, Gay Rights Activist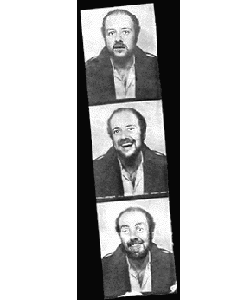 "And why, you ask, a column on the film industry in a general-interest publication like The Village Voice? Would the W do the same for the soap industry—or the car industry? Old Hollywood saying: 'Everybody has two businesses—his own and the film business.'" —From "Rules of the Game" column, The Village Voice, June 18, 1979


Brief Biography of Stuart Byron
Stuart Jay Byron was born on 9 May 1941 in the Bronx, New York and attended public schools there. In 1958 he began his freshman year at Wesleyan University. He majored in history and graduated in 1963.
After graduation, Byron worked in New York City in a number of different writing and film-related positions. Between 1963 and 1965, he was associate editor of the Independent Film Journal. Between 1965 and 1966, he was director of advertising and publicity for Pathé Contemporary Films. He moved to Avco Embassy Pictures and worked as a publicist between 1966 and 1967. In 1967, he was employed as a reporter and reviewer for the entertainment industry publication Variety. In 1969 he left Variety for Natoma Productions (known for its production of the 1960s play, Hair), where he was assistant to the president for motion pictures. In 1971, Byron began working as a film reviewer for The Village Voice, and freelanced for publications, including Rolling Stone, Harper's, The New York Times, Boston Phoenix, Gay, On Film, Film Comment, Movie, Creem, and New York magazine.
It was in the 18 February 1971 edition of The Village Voice, in his review of the film, The Statue, that Byron came out, and was one of the first openly gay film critics in New York. He then became involved in the early gay rights movement in New York. He was a member of the Gay Activists Alliance, the National Gay Task Force, and participated in the planning of annual Gay Pride weeks. He was a member of a number of gay clubs, societies, and organizations, and served as publicist for Fred Halsted's gay film, LA Plays Itself.
In 1973, Byron moved from New York to Boston to become the film editor for The Real Paper, an employee-owned alternative weekly. By 1974 Byron was back in New York, as a contributing editor for Film Comment. In 1976, Byron and Elizabeth Weis co-edited On Movie Comedy, which was published by the Viking Press. In the next years, Byron held a variety of positions, including movie editor of Entertainment, and author of a weekly column for The Village Voice called "Rules of the Game."
In 1982, Byron left New York and moved to Los Angeles to take a position with Rastar Productions as the creative affairs executive for Ray Stark. In 1984, Byron left Rastar, and worked in a number of different jobs, including one as columnist for LA Weekly. Byron also started his own business in Los Angeles called "re:visions, motion picture consultants," a company which marketed his skills as a reader, writer, and editor to the movie industry. In 1989, Byron began writing a monthly column for The Advocate, the national gay and lesbian news magazine.
Stuart Byron was diagnosed with ARC (AIDS Related Complex) in 1988, and died 13 December 1991 from complications resulting from AIDS.
  [top]
Description of the Stuart Byron Collection
The material in the Stuart Byron Archive spans Byron's lifetime, and is heavily representative of his work as a film critic and his participation as an activist in the gay rights movement.
The collection consists of correspondence, including letters and cards from Byron's family, friends, acquaintances, and business associates; other personal material, including bills, date books, invoices, rental agreements, brochures, health forms, and material kept by Bryon that does not fit anywhere else; school, containing papers from elementary school, junior high school, high school, and college; legal materials; writings, containing Byron's articles, book manuscript, interviews, poetry, poetry drafts and notes, reviews, a scrapbook of his articles, and unpublished material, as well as the writings of others; gay and lesbian material, consisting of of advertisements and brochures, clippings, miscellaneous classifieds, material on the film, L.A. Plays Itself, notes and fragments, organizations, and publications; films and film-related material, containing film series programs and calendars, film lists, film synopses, film catalogues, press releases, promotional material, advertising, and other film related material; clippings; periodicals and journals; and books.
Restrictions on access: None. Please consult the guidelines for use of The Reid Cinema Archives materials.
[top]
Copyright © 2002 Wesleyan University. All rights reserved.