The William Hornbeck Collection
1901-83; Film Editor, Lifetime Autograph Collector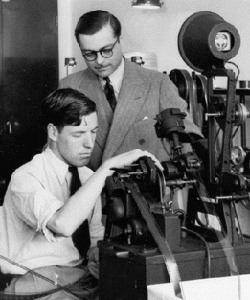 "I'll just say two things. First of all, Bill Hornbeck [standing in photo] was the nicest, kindest man I've ever known in my entire life... and he was without doubt the greatest film editor in the history of motion pictures."—Frank Capra


Brief Biography of William Hornbeck
William Hornbeck's amazing career encompasses the entire history of the motion picture, from silent comedy at Keystone to Sensurround epics at Universal Studios. By 1917, the teen-age Hornbeck was editor-in-charge of the great Mack Sennett's comedy factory, where a new comedy was released every week, fifty-two weeks a year. The years ahead took Hornbeck to England, where he worked for Alexander Korda on such films as The Scarlet Pimpernel (1934), Things to Come (1936), The Four Feathers (1939), and The Thief of Bagdad (1940).
During World War II, he returned to America to assist Frank Capra in the Army Signal Corps documentary unit that produced the respected Why We Fight series (1942-1945). After the war, the films Hornbeck edited comprise a list of some of the greatest movies ever to come out of Hollywood: It's a Wonderful Life (1946), The Heiress (1949), Shane (1953), The Barefoot Contessa (1954), Giant (1956), I Want to Live! (1958), and A Place in the Sun (1951), for which he won the Oscar. In 1960. he joined Universal City Studios as an executive in the editing department, where he stayed until his retirement in 1976.
Restrictions on access: None. Please consult the guidelines for use of The Reid Cinema Archives materials.
[top]

Copyright © 2002 Wesleyan University. All rights reserved.