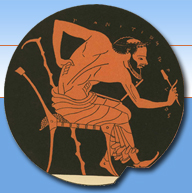 Study Abroad: Student Experiences
INTERCOLLEGIATE CENTER FOR CLASSICAL STUDIES IN ROME
By Jessica Jordan ('13)
For the Spring 2012 semester, I studied abroad in Rome at the Intercollegiate Center for Classical Studies. Only those who have experienced it can understand how exciting it is to be in the Eternal City after studying it for so long. When I started translating stories about Caesar and Augustus back in the eighth grade, I never imagined I would actually get to stand in the Forum itself! It was the experience of a lifetime.  Days at the Centro" were very busy—most days we were out in the city itself for several hours, listening to lectures about concrete facings, conspicuous consumption, and imperial monuments. It was both exhausting and exhilarating, and certainly effective! By the end of the term, I could fill in a blank "map of Rome—I might not even have applied to the program if I had realized that was part of the final exam!  Studying at ICCS also gave me the exciting opportunity to take part in an internship at the American Academy of Rome. Along with several other students, I helped update an online database archiving a number of the Academy's artifacts. Not only did this give me the chance to spend time on the Academy's lovely grounds as well as meet some of the fellows, I actually got to hold ancient objects!  One of my favorite memories of Rome happened during the second week, when we visited Ceveteri, the site of many Etruscan grave sites. I knew when I signed up for the program that I would be studying emperors and amphitheaters, but I had no idea I would get to climb inside ancient tombs! I had so much fun that day, exploring the massive tumuli with my little flashlight—I ended up being late back to the bus! Of course, I saw countless other amazing sites during my time abroad, but I feel that this day was most indicative of the overall experience: full of surprise and wonder, the simple joy of exploring the past and embarking on new adventures. As much as I love Wesleyan, I wouldn't trade my semester in Rome for anything.
COLLEGE YEAR IN ATHENS
By Andrea Ruiz-Lopez ('13)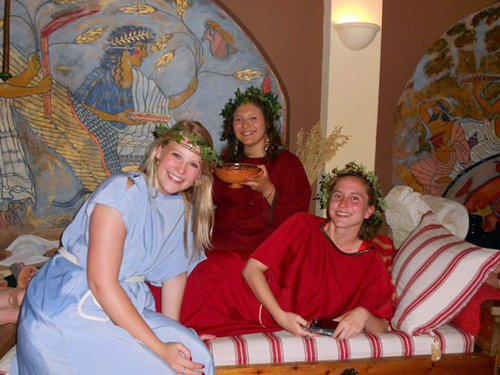 Andrea Ruiz-Lopez '13 (center) with roomates, doing as the ancients did.

Nerdy as it may be, studying abroad in Athens as a Classical Civilizations major in Spring 2012 made me feel like a kid in a candy shop.  College Year in Athens was everything I wanted from my semester abroad and more.  Not only did I gain all the fantastic travelling experiences and life skills that go along with studying abroad in general, but being in Athens I felt like I was getting the best of everything.  Having class three times a week on the Acropolis was heaven.  There aren't many people who can claim that they've stood atop the Propylea itself, or climbed the scaffolding currently surrounding the Parthenon; and the professors who teach these classes are some of the most qualified and respected names in the field.  I had a whole semester of nothing but Classics with these professors; I took classes on ancient Macedon, Archaeological Drawing, Myth and Religion, Athenian Architecture, and Modern Greek.  Not only did I learn from them in the classroom, but I've also had dinner with my classmates in their homes, and the relationships I developed have led me to even more exciting opportunities such as an archaeological excavation at a Roman fort in Romania.  These are a few of many once-in-a-lifetime experiences that I will cherish forever.  Studying abroad with CYA was more than just living abroad and taking on-site classes; it was the perfect opportunity to travel the world and learn a new worldview from strangers and friends from all over.  The CYA program included two week-long field trips, one in the Peloponnese and one in Northern Greece, which were some of the greatest highlights of the semester.  But even though I can die happy now that I've seen Delphi, Mycenae, Knossos, Thessaloniki, Meteora, and Epidauros, what made those experiences incredible was sharing it with my four roommates, who quickly became my best friends.  The bond that we share and knowing that they will always be in my life is the best souvenir I could have gotten.
Lindsey Davis '11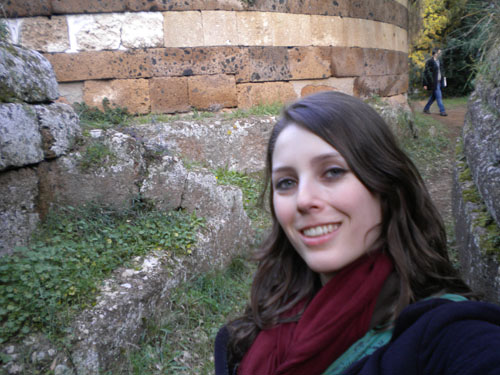 As soon as I had determined to become a Classics major, I knew that I wanted to go abroad to the Centro in Rome, otherwise known as the ICCS Rome program. I spoke with a number of professors and students about how to prepare myself and, as I boarded my plane to Europe, I felt certain that I could gracefully tackle the semester ahead. Yet as rewarding as foreign study can be, diving into a new country and culture was more complicated than I could have imagined. Amid a whirlwind of Italian clips and phrases, I found my way to the English-speaking Centro, ready for a breath of fresh air. There the real work began. Every day at the Centro was fully packed with morning lectures, all-day field trips, and travels through the maze of Rome. My fellow students and I quickly learned the layout of the city as we traipsed from the Coliseum to the Palatine Hill to the Vatican crypts. We learned to identify different kinds of building materials and how to pick out Roman remains from modern reconstructions. If placed in the center of the Roman Forum, any one of us could have led a thoroughly informed tour for all who listened. This, at least, became apparent to me when my mother visited from California. As I walked her around the city, pointing out examples of box-architecture and 1st century columns, I soon realized that one woman had been following us as we traveled. When I noticed her and ceased speaking, she apologized and asked if she could continue to tag-along and listen while I finished my tour. My mother and I warmly accepted her until we went our separate ways, the woman thanking us for the unique commentary.   Certainly the ICCS program is not for everyone. In addition to the demanding course load and in-depth assignments, the close contact between the faculty and students was trying at times. The Centro functioned not so much as a school, but as a large household. We all shared every meal, every cranky morning, every birthday surprise and every late-night cram session. We waded through the rain together, desperately scribbling in our notebooks, and we explored some of the world's most interesting monuments, running around the tombs at Cerveteri and marveling at St. Peter's Basilica.
The four months I spent at the Centro was one of the most challenging periods I have ever experienced, and certainly one of the most enriching. No class can teach you how it feels to walk the city of Rome, to stare up from the bottom of Trajan's column and run pottery fragments through your fingers at most every Roman site. The fodder of textbooks suddenly becomes a real, tangible thing as you feel temple walls beneath your fingertips and gaze over the valley-backdrop of an ancient theater. For those who apply to the ICCS program, I wish you a hearty "Buona Fortuna." Pack lightly, bring a camera, and prepare yourself for an intense ride.