Enzheng Tong Memorial Lectures and Archeology Library
Enzheng Tong (1935 - 1997) was a leading Chinese archeologist and, at the time of his premature passing, Luther Gregg Sullivan Fellow of the Art Department at Wesleyan University. His family has graciously donated his collection of books and journals to the Mansfield Freeman Center. Since 2003 we have sponsored a series of lectures on topics related to his interests. We collect here information about Professor Tong's life and works.
Click here to see a full listing of past Enzheng Tong Memorial Lectures.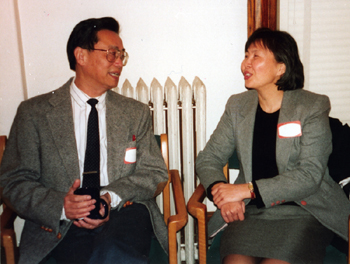 Enzheng Tong and Xiaomiao Zhu
---
MATERIALS ON OR BY ENZHENG TONG