JAPANESE LANGUAGE PROGRAM
WELCOME
Wesleyan established its on-campus Japanese Language Program in 1972 with the appointment of a literature specialist who taught the first-year-level Japanese.  Prior to that, students interested in learning the Japanese language commuted to Yale University to pursue their study.  Within a few years of bringing Japanese classes to campus, Wesleyan added another literature/language position and a second-year Japanese class to its curriculum.  Students' enthusiasm for the language grew rapidly and the program expanded to include more language specialists and advanced-level courses and tutorials.  Many Japanese language students also began to participate in the Associate Kyoto Program, founded by Wesleyan with several other liberal arts colleges to promote study abroad in Japan.  Under the current leadership of Professors Naho Maruta and Miyuki Hatano-Cohen, Wesleyan now offers five levels of language instruction, plus individual and group tutorials.
FREQUENTLY ASKED QUESTIONS
The answers to FAQs can be found on the Japanese Program FAQ page.
FACULTY
Naho Maruta, Japanese Language and Co-Curricular Coordinator & Associate Professor of the Practice in East Asian Studies
Miyuki Hatano-Cohen, Visiting Assistant Professor of East Asian Studies, Japanese
LANGUAGE PLACEMENT EXAM
Students who have studied Japanese previously (ex. High school or self-taught) may be able to skip introductory courses.  An online placement test may be required as well as an in-person oral interview.  For questions regarding the Japanese placement test, please contact Professor Maruta (nmaruta@wesleyan.edu).
COURSES
The Japanese language program offers multi-levels of study.  Please check WesMaps for current class offerings. The CEAS Major and Minor webpage provides information on fulfilling the requirements.
Course Offerings and Materials

| | | |
| --- | --- | --- |
| |                             Fall |                            Spring |
|  1st year level |  JAPN103 Genki L1-L8 |  JAPN104 Genki L9-L16 |
|  2nd year level |  JAPN205 Genki L17-L23 |  JAPN206 Tobira L1-L5 |
|  3rd year level |  JAPN217 Tobira L6-L9 |  JAPN218 Tobira L10-13 |
|  4th year level |  JAPN219 Authentic Materials |  JAPN220 Authentic Materials |
|  *5th year level |  JAPN229 Authentic Materials |  JAPN230 Authentic Materials |
 *5th year level Japanese courses are not offered regularly
Textbook Links:
Genki:  An Integrated Course in Elementary Japanese(初級日本語 げんき): https://genki.japantimes.co.jp/
Tobira: Gateway to Advanced Japanese(上級へのとびら): http://tobiraweb.9640.jp/
CEAS frequently offers courses taught in Japanese in conjunction with selected English-language offerings classified as Cultures and Languages across the Curriculum, (CLAC).  These content-focused classes include readings, discussion, and in some cases, written assignments in the Japanese language.  Native speakers of Japanese are also strongly encouraged to participate in these courses. 
CLAC course offerings are indicated on individual course listings within WesMaps and are listed on the Fries Center for Global Studies.
STUDY ABROAD IN JAPAN
Majors in the College of East Asian Studies are strongly encouraged to undertake at least one semester of study abroad in East Asia.  Interested students should contact their faculty advisor and relevant language faculty for assistance in selecting an appropriate program.  Study abroad typically occurs in the junior year at one of the approved programs listed on the Office of Study Abroad website  (Wesleyan.edu/cgs/osa/programs/asia).
 SUMMER LANGUAGE STUDY IN JAPAN
The Japanese Program encourages students to take advantage of opportunities for summer language study whenever possible. The intense, immersion programs offered both in the US and in Japan provide unparalleled opportunities to make rapid progress in language learning.  The College of East Asian Studies recommends the programs listed below. By completing one of these programs and the credit-transfer procedure, students can receive 2 (two) Wesleyan credits.
Princeton in Ishikawa (PII), Ishikawa, Japan
https://pii.princeton.edu/
Hokkaido International Foundation (HIF), Hakodate, Japan
http://www.hif.or.jp/en/summer/
Kyoto Consortium for Japanese Studies (KCJS), Kyoto, Japan
http://www.kcjs.jp/summer_programs/index.html /
Students who have finished JAPN 104 or JAPN 206 by the end of their spring semester should enroll in PII or HIF programs.  The KCJS program is recommended for those who (will) have completed JAPN 206. 
Students, who wish to attend summer Japanese language programs not listed above and receive Wesleyan credit, must obtain professor Maruta's approval in advance.
To make summer language study possible for more students, the College of East Asian Studies offers limited financial support.  Information on these opportunities is outlined on the Guidelines for Summer Language Support webpage.
ACTIVITIES AND EVENTS
Weekly Japanese Language Table:  A language table is a great way to keep up language skills outside of class and offers the opportunity to interact with other Japanese speakers.  The lunch meeting may include community members as well as university students and instructors.  While the language table is primarily intended for intermediate or higher level students, anyone interested learning Japanese is welcome.  Students can leave early or come late and are free to join anytime during the hour.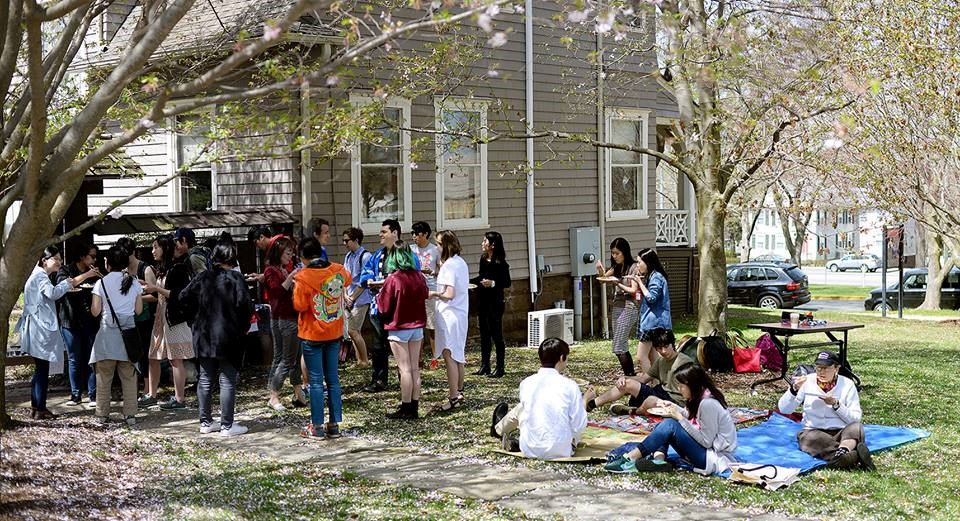 Annual Ohanami (Cherry Blossom viewing festival):  In Japan, the beauty of Sakura (cherry trees) is celebrated every spring with Ohanami.  Wesleyan's Japanese Program holds Ohanami under the beautiful Sakura tree in our Japanese garden at the Mansfield Freeman Center for East Asian Studies around mid-April each year.  Our community Ohanami celebration has been featured in Wesleyan's blog, News @ Wesleyan. For more information about the Japanese Garden, please go to the CEAS Japanese garden webpage.  
Japanese Language Lunch Lecture Series:  The College of East Asian Studies sponsors regular lunchtime lecture/discussions in Japanese throughout the academic year.  Both learners and native speakers—students, faculty members, and staff—are welcome to enjoy these informal events.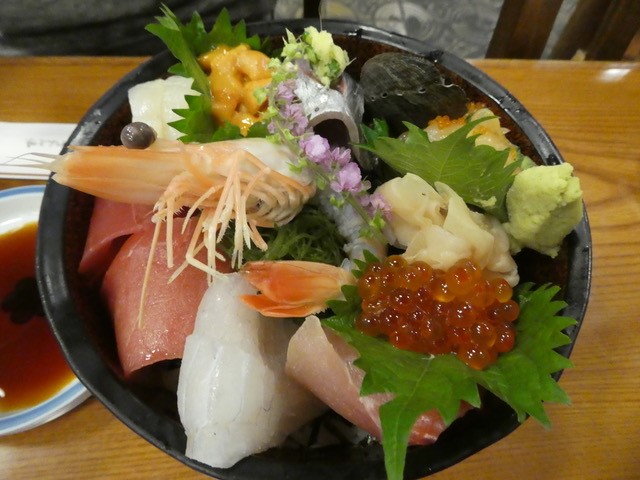 Conversation Partners:  Abundant input is crucial in foreign language learning, and regular and consistent conversations in the target language are extremely important, especially for upper-level students.  Students in the third and fourth years of Japanese study are given an opportunity to meet individually each week with a peer native speaker to hold conversations outside of class.
JAPANESE RESOURCES AT WESLEYAN
 Textbooks and Resources at Olin Library Reserve Desk

The following textbooks, workbooks, and corresponding CD-Rom's for Japanese classes are available at the Olin Library Reserve Desk for 2-hour loan. The Reserve Desk is located in the Olin library on the first floor. 

-Genki 1 Textbook (For JAPN103, 104) 
-Genki 1 Workbook (For JAPN103, 104)
-Genki 2 Textbook (For JAPN104, 205)
-Genki 2 Workbook (For JAPN104, 205)
-Tobira Textbook (For JAPN206, 217, 218)
-Tobira Kanji Workbook (For JAPN206, 217, 218)
-Tobira Grammar Workbook (For JAPN206, 217, 218)

Manga Collections at Olin Reserve Desk: Manga is a great way to develop your Japanese reading ability.  Manga contains short sentences with illustrations showing what is happening, and often includes furigana (pronunciation of Kanji/Chinese characters)—which is especially useful for Japanese language learners.  You will also find a variety of colloquial expressions and speech styles as well as Japanese onomatopoeia, and gain a cultural understanding of the objects and practices introduced in the manga. The following Japanese manga comics (in Japanese) are also available at the Olin Library Reserve Desk for 4-hour loan.

-Dragon Ball #1 & #2
-Shingeki-no-Kyojin #1 & #2
-Naruto #1 & #2 -Meitantei Konan #1 & #2
-Fruits-basket #1 & #2
-D. Gray-Man #1 & #2
-Tennis-no-Oujisama #1 & #2
-Doraemon #1 & #2 -Death Note #1 & #2
-Hana-yori-dango #1 & #2

You can find the titles online through OneSearch: Type "mnga101" in the "OneSearch" bar.  Hit "Search"  and you can see the list of manga (10 results, but Vol 1 and Vol2 for each manga = Total 20 manga)

                                 
STUDENT PROJECTS
 Video 1
This final project for Intermediate level JAP205 is an introduction to Wesleyan's campus life for a Japanese speaking audience. Students applied the grammar and vocabulary they learned in class.                     
Charles Loggins ('19), Sidong Ma ('18), Nahshon Williams ('20)
Video 2
Also a final project for Intermediate level JAPN205, this video is a Power Point presentation of photos students took to introduce Wesleyan's campus life to a Japanese speaking audience. Students narrate the slides using the grammar and vocabulary they learned in class.
Sterre Hesseling ('22), Alissa Nakamoto ('21)
JAPANESE STUDENTS IN THE NEWS
INTERESTED IN INDEPENDENT LANGUGE STUDY?  
Self-Study Resources for Asian Languages
Contact Us
Inquiry regarding Japanese Program:
Professor Naho Maruta
Japanese language and co-curricular coordinator
860-685-3458
nmaruta@wesleyan.edu
http://www.wesleyan.edu/academics/faculty/nmaruta/profile.html
Inquiry regarding College of East Asian Studies:
Takeshi Watanabe
Chair, CEAS
860-685-3059
twatanabe@wesleyan.edu
https://www.wesleyan.edu/academics/faculty/twatanabe/profile.html