25th Anniversary of the College of East Asian Studies Japanese Garden (Shôyôan Teien)
This exhibition runs Wednesday, September 29, 2021 through Sunday, December 12, 2021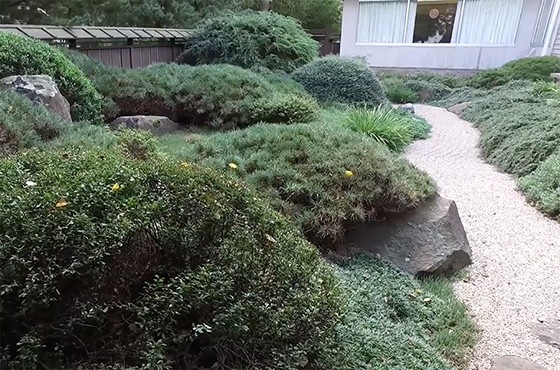 Opening Reception: Wednesday, September 29, 2021 at Noon
The College of East Asian Studies celebrates the 25th anniversary of its Japanese Garden (Shôyôan Teien) with an exhibition in their gallery at the Mansfield Freeman Center. The curated show will feature archival photographs, poetry, photography, video, and installation demonstrating the breadth of the garden's cultural connections over the last two and a half decades. This exhibition was originally planned for the anniversary year of the garden in 2020 but was postponed due to the COVID-19 pandemic.

The Shôyôan Teien was constructed in 1995 through the generosity of Mansfield Freeman '16 and encouragement of Mr. Freeman's son, Houghton Freeman '43. It was designed, built, and is continuously cared for by Stephen Morrell, a landscape architect specializing in Japanese-style gardens. Planned from the start as an educational resource, the garden provides visitors the opportunity to explore the intricate relationships between landscape and culture in Japanese aesthetics. For over 25 years, the garden has been one of the most beloved spaces at Wesleyan University, and actively used for a range of purposes, from art classes to daily meditation practices. This exhibition celebrates and contemplates the garden's rich history.

The College of East Asian Studies Gallery at Mansfield Freeman Center is curated by Associate Director of Visual Arts Benjamin Chaffee and Exhibitions Manager Rosemary Lennox.

GALLERY HOURS
Open Monday through Friday, Noon–4pm

College of East Asian Studies, Wesleyan University
Mansfield Freeman Center for East Asian Studies
343 Washington Terrace, Middletown CT 06457
860-685-2330

Please follow us on Facebook.