Beijingren
This exhibition runs Tuesday, September 12, 2006 through Sunday, December 10, 2006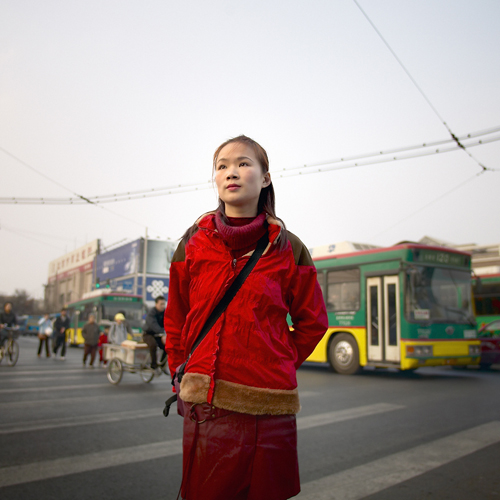 These arresting color portraits of Beijingren-Beijing People-catch the young faces of a great city. Photographer Derek Dudek brings out the character of China's capital through the faces of the people who give it life in these times of growth and change. 

In the two weeks he spent on Beijing street corners with his translator and camera, Dudek's interactions with his subjects revealed more and more to him of the life of the capital. His foreigner's eyes see with clarity, respect and wonder as he engages the people of the city in a creative collaboration. The photographs convey the sense of discovery in this, his intense first encounter with China. 

The exhibition opening coincides with publication of Dudek's book by the same name. 

The computer engineer and IT specialist who work in Beijing's thriving electronics and high tech industries, the hotel receptionist and hairdresser who work in the new domestic tourism industry, all occupy new social spaces created by the rapid economic expansion. Higher education also became available to many more young people: and more of the best universities (including the prestigious Beijing Film School where the Film Student studies) are in Beijing. Some of the new positions are less desirable. Joblessness (and more commonly underemployment) has risen with the abandonment of the old system of state job assignments. Likewise migrant workers (the Toy Merchant and Transporter are most likely migrant workers) have put a strain on services and social relations even as they provide the raw labor (and an important part of the market) for the new consumer economy. 

The scale of these changes and the sheer variety of opportunities have helped soften the natural social contradictions and disruptions in a period of social change. Traffic and noise seem to just be a part of the city's fabric. Derek's photographs illustrate the growth of a new individualism which marks a departure from the ideals of selflessness in both Maoism and traditional Chinese family values. The images in the gallery catch the proud and determined faces of the Beijingers who are part of these changes. Because of their great humanity, Derek's photographs will stand as a testament to these times, a record for the future of one of history's greatest social changes; and at the same time a telling record of the people who made those changes happen.
Gallery Talk and Publication Party:
With photographer Derek Dudek and Center Curator Patrick Dowdey
Wednesday, September 13, 12:00
A luncheon buffet will be served http://derekdudek.com/