Lady of Lilies
This exhibition runs Tuesday, April 4, 2006 through Tuesday, May 9, 2006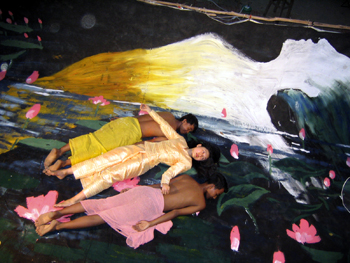 Lady of Lilies, a colorful, figurative and mystic installation, invites you to come in and breathe.
With Eiko and Koma, young artists from Phnom Penh, Cambodia created this space, a primal landscape, a place to be with a painting.
This international collaboration between the artists of the Reyum Painting Collective and Eiko and Koma returns youth and vitality to the ancient heritage of Cambodian painting.