Light of the East: The Beauty of Movement in Silence
This exhibition runs Wednesday, February 3, 2016 through Sunday, May 22, 2016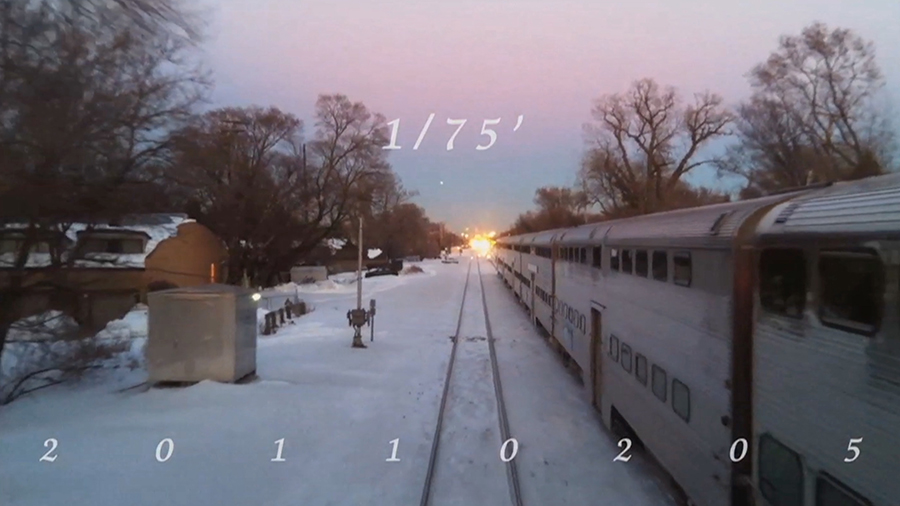 Image captions:
Title Frame from Jisong Lee's video, "1/75'"Youngho Kim and Nam June Paik during the taping of Youngho Kim's video, "Wheelchair Level Eye."
Light of the East: The Beauty of Movement in Silence
Wednesday, February 3 through Sunday May 22, 2016
Closed March 4 to 22
Open daily 12-4 except Mondays
Opening and Gallery Talk with Curator Patrick Dowdey
Wednesday, February 3, 12:00 noon
A luncheon buffet will be served
Artist Talk with Jisong Lee and Youngho Kim
April 7, 2016, 4.30 PM
In this exhibition two prominent Korean digital artists examine the "beauty of movement in silence" through photography and video. The exhibition examines the core principals hiding behind what we see and provides an opening to re-explore, in a contemporary light, the topic of whether the world that we are living in is a dream.
Youngho Kim has been at the forefront of fashion photography working as both a businessman and as an artist with his own unique style for the past 20 years. 
Jisong Lee directed commercial films for almost thirty years until his retirement in 2000. His debut as a media artist came in the year 2012 with 1/75'. Since then he has participated in numerous exhibitions and film festivals.
This is the first exhibition of these artists' work in the United States.
College of East Asian Studies, Wesleyan University
Mansfield Freeman Center
343 Washington Terrace, Middletown, CT 06459
(860) 685-2330