Tibet's Living Art: Paintings by Jampa Tsoudue
This exhibition runs Friday, January 30, 2004 through Tuesday, March 9, 2004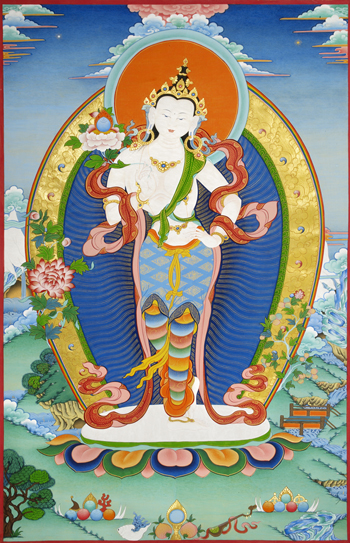 Jampa Tsondue's moving thangka with their subtle colors and detailed gold painting, reflect his own spirituality amplified by his training with a monk of the Gyudmed Tantric Monastery in India. He has painted for over thirty years, first in India at monasteries, private chapels and sacred sites and, after coming to the US in 1992, at the U. S. Capitol in restoration work. He lives now in Old Saybrook. The thangka in this exhibition represent his most recent work.
Tibetan sacred paintings -- thangka -- are the creations of respected painters who, like Jampa Tsondue, were specially trained in the holy tradition, and who work to imbue their paintings with the spiritual qualities of Tibetan Traditional Buddhism.
Gallery Talk with Patrick Dowdey and Jampa Tsondue
Wednesday, January 31, 12:00 noon
Workshop with Jampa Tsondue
Sunday, February 11, 2:00 PM
Jampa Tsondue will talk about his art and demonstrate thangka painting.