College of the Environment
The most important challenge facing current and future generations of humans will be the quality of the environment and the allocation of dwindling natural resources among populations. In the face of severe challenges, we believe in the possibility of changing the trajectory of humans on the planet for the better. To that end, Wesleyan's College of the Environment seeks to develop informed citizens who can discuss environmental issues from a variety of disciplinary perspectives, understand their connections to social or political issues, and derive well-formulated independent conclusions.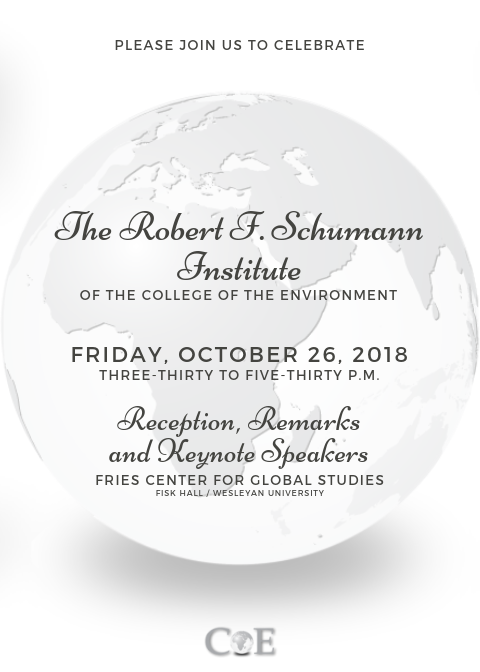 Join in celebrating The Robert F. Schumann Institute of the College of the Environment on Friday, October 26, 2018. The program will include keynote presentations by Danielle Pruitt '15, founder of Oh, Buy the Way, a socially conscious e-commerce company of environmental products; Jennifer Roach '14, co-founder of  Summer of Solutions Hartford, a food justice and youth leadership development program in Hartford, Connecticut; and Evan Weber '13, co-founder of Sunrise Movement, which is building an army of young people to stop climate change and create millions of good jobs in the process. A 3:30 p.m. reception will precede the event.

For more information, please contact Laurie Kenney at lkenney01@wesleyan.edu.