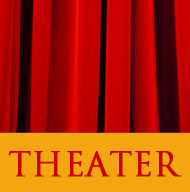 Faculty Productions

2018-9 Season: the American Myth

Myths are stories that are transmitted through generations, through public figures, through parents and ancestors. This year the Wesleyan University Theater Department will stage two American myths: Mr. Burns, a Post-Electric Play and Eurydice. Each of these plays tells a story of America, of integration and disintegration, of the way the worlds might end and begin again. How do we tell the story of our country, of our people, of what it feels like to be amongst each other? This year we turn to Sarah Ruhl and Anne Washburn to imagine provisional answers to the questions of where we are at, where we are going, and how we might tell the story.
Fall 2018
Mr. Burns, a Post-Electric Play, by Anne Washburn
Directed by Visiting Assistant Professor of Theater Pirronne Yousefzadeh
CFA Theater 
Friday November 16, Saturday November 17 - 8pm
Saturday November 17, Sunday November 18 - 2pm
Quoting Ben Brantley, of the New York Times: "Mr. Burns is so smart it makes your head spin…Downright brilliant. This intoxicating and sobering vision of an American future, set during a day-after-tomorrow apocalypse…has depths of feeling to match its breadth of imagination…In tracing a story's hold on the imaginations of different generations, the play is likely to make you think back—way back—to narratives that survive today from millenniums ago…With grand assurance and artistry, Ms. Washburn makes us appreciate anew the profound value of storytelling… Makes a case for theater as the most glorious and durable storyteller of all."
Spring 2019 
Eurydice, by Sarah Ruhl
Directed by Visiting Assistant Professor of Theater Corey Sorenson
CFA Theater 
Friday April 12 & Saturday April 13 - 8pm
Saturday April 13 & Sunday April 14 - 2pm
"Rhapsodically beautiful. A weird and wonderful new play – an inexpressibly moving theatrical fable about love, loss and the pleasures and pains of memory."  - The New York Times

In Eurydice, Sarah Ruhl reimagines the classic myth of Orpheus through the eyes of its heroine. Dying too young on her wedding day, Eurydice must journey to the underworld, where she reunites with her father and struggles to remember her lost love. With contemporary characters, ingenious plot twists, and breathtaking visual effects, the play is a fresh look at a timeless love story. Eurydice has been performed around the country, as well as off-Broadway, and won the 2003 Whiting Award for Drama.
Check back in early 2019 for more information and ticket purchasing.
Senior Projects
Fall 2018 


No Replica
A Sound Design by Gabriel Drozdov '19
This production is in partial fulfillment for Honors in Theater.
'92 Theater
Thursday December 6 through Saturday December 8 - 7pm

Despite developments in how we capture and experience recorded audio and video, theater and live performance persist as popular art forms. Why do we still create and watch theater if we have technology that realistically replicates the live experience? What does it mean to listen to a studio recording of a song on your phone, or see a live performance of the song or watch a recorded video of the live performance? No Replica is an original sound performance that aims to stretch the limits of how we think about recorded media to test what it means to experience art.
 Spring 2019
Action by Sam Shepard 
A Directing Thesis by Ray Achan '19
This production is in partial fulfillment for Honors in Theater.
'92 Theater
Wednesday March 6 through Friday March 8 - 7pm
The Obie-Award winning play Action (1974) takes the audience inside the living room of Liza, Lupe, Jeep, and Shooter in the midst of a mysterious crisis. Limited food and overwhelming boredom begin to take their toll with disturbing and absurd results. Sam Shepard's imaginative voice and deeply rooted characters have transformed American theater and force us to confront the strange and unknown. This production is in partial fulfillment for Honors in Theater.